How great could it be to be able to watch YouTube videos in the middle of nowhere, or simply view favorite videos without the hassle of loading it? With a YouTube downloader for Firefox, videos can now be saved in the laptop or desktop and converted to the appropriate file for it to be transferred to any portable devices.
Part 1. The Best YouTube Video Downloader for Firefox
In terms of the stable quality of YouTube video download and speed of download, we highly recommend iTube Studio. This YouTube downloader for Firefox integrates perfectly with Firefox so users can download YouTube with Firefox in one click. It is certified as safe by Norton antivirus and McAfee antivirus. iTube Studio YouTube downloader for Firefox is popular that it enables one to download online videos for viewing anywhere you want. It is incredibly easy to use as it detects the video opened from any sharing websites like YouTube, Vevo, Break, etc automatically and converts it to be used in iPod, iPhone, iPad, PSP or other devices. With iTube Studio, anyone can enjoy watching favorite videos with no hassle.
Why Choose iTube Studio - Mozilla Firefox YouTube Downloader:
Download online videos from 10,000+ sites directly on Firefox, Chrome and Safari.
Support batch download videos and allow 1 click download the whole YouTube playlist.
Convert videos to MP4, MOV, WMV, MKV, 3GP, M4V, MP3, and any other video/audio format.
Manage your desktop videos and downloaded videos and play videos directly with built-in player.
Download any video on macOS High Sierra, Sierra, EL Capitan, Yosemite, Mavericks, Mountain Lion, Lion, Snow Leopard and Windows 10, 8, 7, XP and Vista.
How to Process YouTube Firefox Download with iTube Studio
What You Will Need:
A Computer;
iTube Studio for Mac
Time Required:
Very fast (Variable depending on the video file size)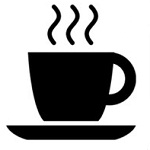 Difficulty:
Easy
Step 1. Install YouTube Downloader for Firefox
Launch iTube Studio installer and a wizard will guide you through the setup process. Then follow up the prompts to set up the program. The downloader will launch automatically once you finish the installation.
Step 2. Download Video from YouTube in Firefox
Play your lovely video from YouTube in Firefox. A Download button will appear at the top left corner of the video window when it is detected by the downloader. iTube Studio provides three options for you to download videos:
Option 1: Click the appeared "Download" button and let the YouTube download wizard do the rest thing for downloading.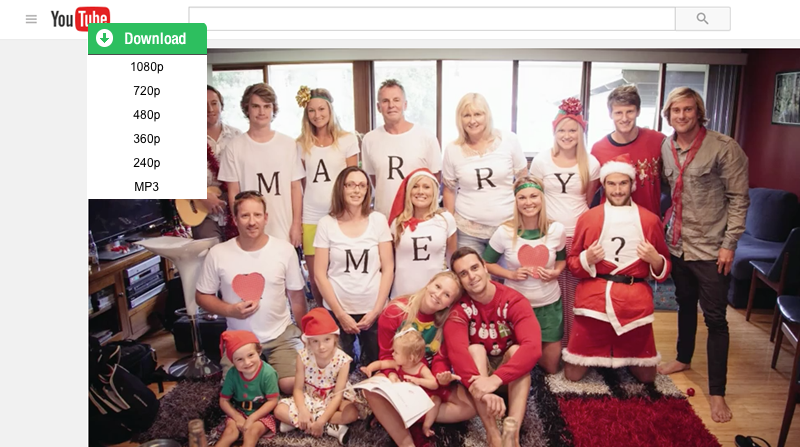 Option 2: Copy the URL of the video page, and click "Paste URL" button in the primary window of iTube Studio to capture the video immediately.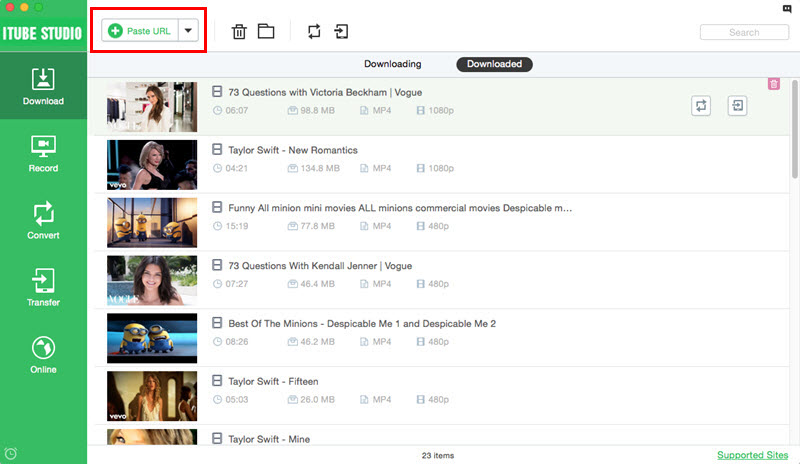 Option 3: You can use "Record video" button to open the recording screen that you can set to the video or full-screen and begin recording.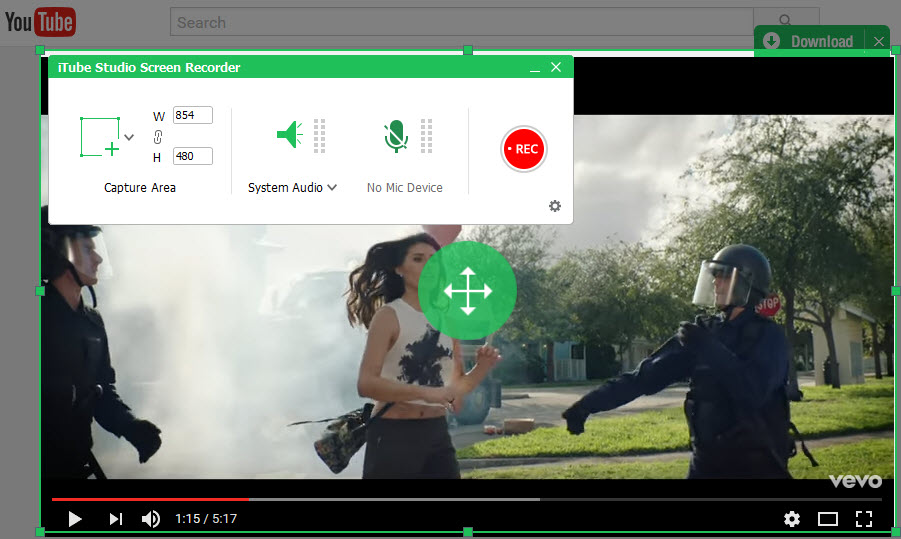 Optional: Download YouTube Playlist in Firefox
You can also download videos from YouTube Channel or Playlist. If you go to YouTube Channel or Playlist, this iTube Studio for Mac will provide a "Download All" button for you to achieve multiple videos downloading. It allows you to select multi videos you want and download all in one click.
Part 2. Troubleshooting on YouTube Download Add-On for Firefox
Have you been experiencing problems while trying to download your favorite YouTube videos with various Firefox downloader add-ons? If yes, you're on the right page. Below we will list the five common issues experienced when downloading your preferred YouTube clips with Firefox extensions. We will also give you the solutions to these problems.
1. "FirefoxDownloader Extension Not Working?"
At times, you might find out that after installing the downloader plug-in to your Firefox browser, they don't work. This is how you can fix this problem.
Solution:
- Try to reinstall the particular add-on you're using.
- Alternatively, update the YouTube Downloader extension for Firefox. Go to Tools Menu > Add-ons > click the Gear button > Check for Updates.
2. "Whenever trying to download YouTube videos, I am always redirected to blank page and no downloads are initiated."
Solution:
Whenever you experience this problem, try using the solutions mentioned for the first issue above (i.e. try reinstalling your add-on or update it).
- In addition to this, you can also try press F5 key to refresh your browser.
- Or remove the cookies by going to Tools > Options > Clear Recent History > Remove Individual Cookies.
3. "The YouTube downloader extension is not compatible with this browser."
This is another common problems mainly experienced when trying to install a new YouTube downloader add-on to Firefox.
Solution:
There are two possible causes for this issue - either you're using an outdated browser or extension.
The ultimate solution, therefore, will be to update your browser as well as the add-on to the latest version and try installing the extension again.
4. "My downloader extension works with other video sites but does not work with YouTube."
Solution:
YouTube sometimes block these add-ons. However, you can try uninstalling and re-installing your extension to see if the problem will be solved. If this one fails, check number 5 for more tips on how to address the problem.
5. "MY Firefox YouTube Downloader does not work even after trying all the above solutions."
Solution:
If you have tried reinstalling, updating your add-on, refreshing your browser, clearing cookies, etc., with no change, just move on to other YouTube downloader alternatives out there. You'll surely find one that will work for you.