As the most famous video website, YouTube builds a pleasant community for its users to watch and share videos online. However, it still has some issues like YouTube green screen problem often causes YouTube users great annoyance. Let's go on to find the solution.
iTube Studio for Mac (or iTube Studio for Windows) allows you to download your favorite YouTube video to your computer to enjoy the convenience of watching them without being interrupted by ads, slow Internet connection and other problems. The free video downloader can automatically shut down your PC or switch it into sleep mode after the download process is over. This means you can leave your PC downloading large YouTube files without having to worry about wastage of power. As soon as you finished downloading your video, you can now watch it using the application itself.
Why Choose This YouTube Video Downloader:
It automatically detects YouTube videos played on a web page and allows you to download them with absolute ease.
It supports a wide-range of video formats. It even supports classic formats from YouTube and download HD videos.
It has a capability of downloading YouTube videos in a batch.
You can use it to download both common and HTML5 videos from YouTube.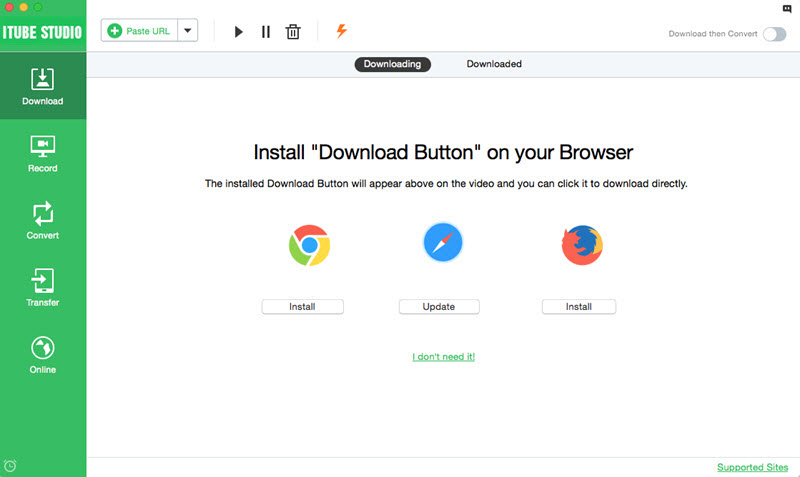 The Green Screen Problem
So you are one of the billions of YouTube users around the world. At the end of a very long and stressful day, you just wanted to relax and get a dose of videos from your favorite channels. You check YouTube and then, all you get is a green screen. Most likely you will be annoyed and in great panic even.
You have a green screen with audio playing? No, certainly that is not how you want your day to end. But then you are not alone in this YouTube green screen problem.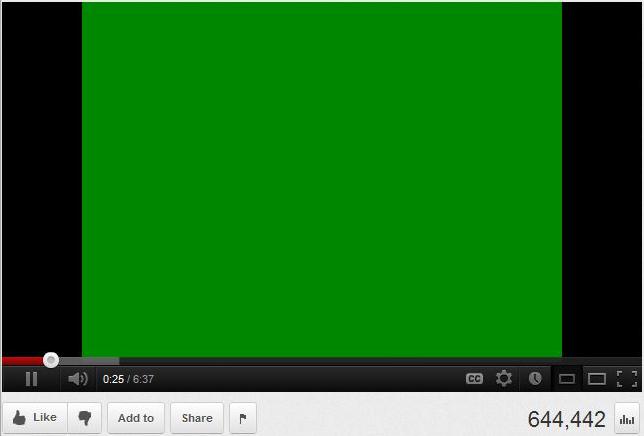 In panic and annoyance, many users think that their browser is the culprit. Back then, it was Internet Explorer that others consider as an issue so they would switch to other browsers like Opera, Google Chrome and Mozilla Firefox. Sadly, the same green screen appears.
The green screen does not allow the visitor to view any video. The audio will still be audible.
Some last ditch effort some users do adjust their video settings, managing their add-ons and enabling shockwave flash. All these things would still be futile as the green screen remains an issue that needs to be addressed.
Why YouTube Videos Have Green Screen
The green screen can be pretty annoying especially if you are never really sure of why it appears in the first place. There are many reasons why the green screen appears when viewing YouTube videos.
The first problem that experts have identified is the use of obsolete video drivers. These outdated video drivers do not support video playbacks; thus, the videos do not run especially that these are based and made to run through the latest video playback technologies.
The other reason that is considered by experts is Adobe Flash player problems. A corrupted flash player is the very likely culprit.
There may still be other reasons that cause the green screen YouTube problem but these two are the most prevalent. It is good to know however that these can be easily fixed.
How to Fix Green Screen YouTube Problem
1. The very first thing to do is to check your computer specs.
As with anything, you have to be fully aware of your computer specs. Many of the videos, especially the latest ones, are made to cater to computers with more recent technology. If the computer is already obsolete, it is very likely that the videos will not play properly. The best solution for this is to upgrade.
2. The second thing that YouTube users should do is look into their operating software.
For users of Windows 8 and Windows 8.1, the issue of YouTube green screen has become very prevalent causing stress to many users. This problem is however still experienced by visitors even if they are using older Windows version and others OS.
For Windows 8 and Windows 8.1 users, who are using Internet Explorer as default web browser, one thing they can do is to change the Internet Settings to Advanced. They also need to check the "Use software rendering instead of GPU rendering" under the "Accelerated Graphics". Once this is changed and restarted, the issue will be resolved.
3. How to solve the problem if your issue is with Adobe Flash player.
Problems with Adobe Flash player are typical and the good news is there is no need to sweat it out to be able to resolve the issue. The first thing to do is to check the settings by right clicking the particular video. The options page will open so users need to check the "Display icon". The next step is to disable the hardware acceleration for Flash and uncheck the box next to "Enable hardware acceleration". Once the first two steps are done, users need to refresh YouTube and check again if the videos are working.
4. Check if you are using HTML5.
In some cases, the videos will play well if you change your setting by using HTML5. In HTML5, changing video acceleration is easier by using "about:flags". The changes in the settings would also have "warnings" as with settings in Google Chrome are limited. Users need to locate the "Disable hardware accelerated video decode" and then click right on the blue "Enable" text.
It is important to note that this is an option which is CPU-intensive so users should be aware of the problems that may arise.
5. Update drivers.
Outdated drivers can cause a lot of problems in playing videos. There are bugs in the GPUs that can cause videos to display improperly, thus updates are needed to properly work. In cases like this, the specs of the computers need to be determined. The makers of these computers often have detailed instructions on the model number which also helps in determining the drivers that must be downloaded.
The YouTube green screen problem can be resolved easily. The users should see to it that they know the basics of changing settings and the computer specs. In case they have doubts, it would be best to tap the help of experts who can efficiently and easily resolve the issue.