YouTube allows you to upload HD videos and stream them in high quality depending on the bandwidth of your Internet. Streaming YouTube HD videos is so fulfilling and addictive in that when you get a low-quality video, you may fail to watch it. As you watch these videos online, you may want to download HD videos on YouTube so that you can watch them offline. Moreover, it is not easier to download videos online directly as it is not allowed by YouTube. However, there is YouTube HD downloader that has been designed to make YouTube HD downloaders so easy. In this article, we will introduce to you best YouTube HD downloaders and easy to use add-ons for YouTube HD video download.
Part 1. Best YouTube HD Video Downloader Software
iTube Studio YouTube HD downloader (or iTube Studio for Windows) has proven to be the best YouTube HD downloader. From its simple user interface to its ability to stream and download HD videos makes it an ideal YouTube HD video downloader. It can download HD videos that are of different qualities such as 4K, 1080p, 4K UHD, 4K, 1920P, 720P, 480P and 360P. Moreover, with iTube Studio, you are assured of getting HD videos from YouTube three times faster compared to other downloaders, furthermore, the process of downloading files with iTube Studio YouTube HD downloader straightforward. This YouTube HD downloader also works perfectly with media player plugins.
iTube Studio - Free Download HD Video Clips on YouTube
Why Choose iTube Studio YouTube HD Downloader:
Support 10,000 Video Sites: download HD video from several supported sharing sites like Vimeo, Vine, Hulu, Metacafe, Facebook, Instragram, Spotify, etc.
Download YouTube Playlist: batch download multiple videos and audios at 3X faster speed with original quality maintained.
Audio Downloader: download MP3 video directly from YouTube and also download audio files from other supported sites.
Media Converter: convert downloaded YouTube HD videos to devices in different file formats.
Transfer to Devices: use this software to transfer videos and audios to your Android device or iOS device.
Record Any Video: record videos from any streaming sites, video sites, Skype calls, computer activities and tutorials.
How to Download YouTube HD videos in One Click
Step 1: Launch iTube Studio YouTube HD Downloader
Download the version suitable for your computer from the above download buttons. After that you can install and open the YouTube HD downloader on your computer.
Step 2: Download YouTube HD Video
you can use in-built browser by clicking on "Online" on the left panel and then click on "YouTube" button. Or go to any of your browser and then open YouTube. Search for the video you want to download and click on "Download" button. iTube Studio YouTube HD downloader will then download the HD YouTube video quickly.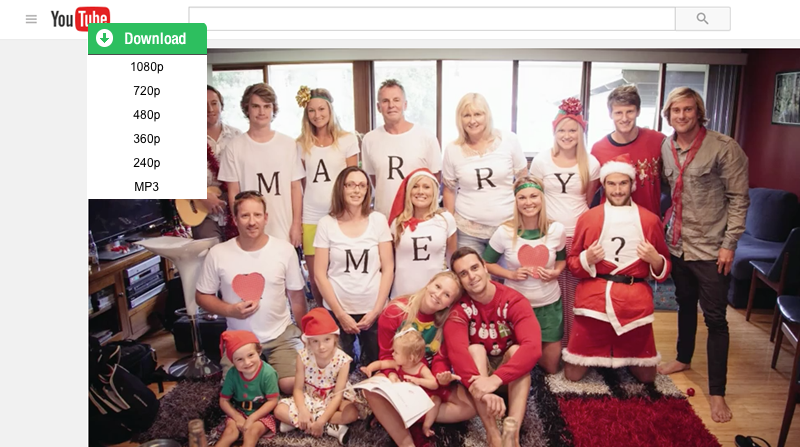 Or go to the home window of iTube Studio and click on paste URL. You will then have to paste the URL of the YouTube video that you want to download from your browser. Once the URL is detected the program will download it immediately.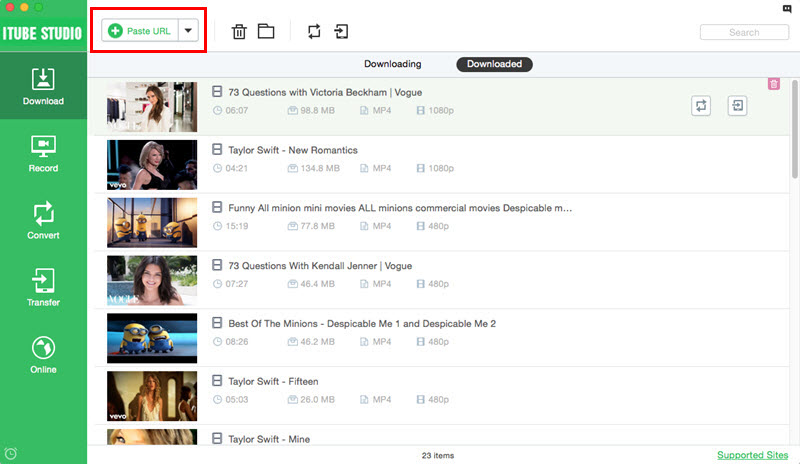 Part 2. Free Download YouTube HD Online with YouTube Add-ons
You can also download HD YouTube videos by using plugins. There are different add-ons that you can add to your browser to download YouTube HD videos. Here are three recommended YouTube HD add-ons that you can try them out.
1. Flash Video Downloader
Flash Video downloader is an add-on that you can install on your Firefox browser. This add-on allows you to download HD videos, MP4 quality videos and low-quality videos from different sharing sites. It supports websites like YouTube, Facebook, Metacafe, MyVideos DailyMotion, Google Video, Blip and Break.com. With this add-on, you will download not only videos but also audios, images and .exe files. You can also download HD files from YouTube since it supports queuing. You can also pause and resume downloads.
2. Easy YouTube Downloader
Easy YouTube Downloader is a quick YouTube HD add-on that you can add-on your browser. It supports three browsers namely, Google Chrome, FireFox and Opera. Once you have downloaded this add-on, you will be able to download instant HD videos from YouTube. The qualities of videos that can be downloaded are Mp4 720p, MP4 1080p. You can also download MP4 and FLV videos that are of 360p, 480p and 144p. Besides, this software can download MP3 files that are of high quality.
3. Video Downloader Professional
There is also Video Downloader professional who also lets you download HD videos from YouTube. It also supports 4K videos. Other than YouTube, this add-on also supports websites like Facebook, Dailymotion, Yahoo, Vimeo and YouTube playlists. Unlike other YouTube HD add-ons, Video Downloader professional can also download 360 VR videos to your device. It can also play videos and download high-quality MP3 files. This add-on is also is easy to use, and it detects links very fast. It works with many browsers compared to Easy YouTube downloader and fast video downloader. The supported browsers are FireFox, Chrome, Internet Explorer and Safari. You can also convert videos to MP3 and MP4 with this add-on.