YouTube is the largest video sharing site. And most of YouTube contents has transited to HTML5 format. Many YouTube videos play with HTML5 in browsers. However, not all the browser support HTML5 format. And you might encounter YouTube HTML5 not working problems when you are playing your favorite videos. You may run into problems of video playback, size, as well as display issues while watching the YouTube HTML5 videos.
The Best Way to Download YouTube HTML5 Videos for Playing without Problems
iTube Studio for Mac (or iTube Studio for Windows) is a free YouTube downloader, allowing you to download YouTube HTMl5 videos for free. It will automatically detect videos and bring forth a download button. All you will have to do is click on this button and the download will start. Another option is to copy the video URL and paste it to the software to begin the download. You may also drag the video URL to the iTube Studio icon on the dock to start the download. With just one click you will be able to download HD videos and music videos from YouTube.
Why Choose This YouTube HTML5 Downloader:
You can download YouTube videos in browser Safari, Chrome, Firefox and Internet Explorer directly.
It comes with an in-built browser where you can access and download YouTube videos and YouTube HD videos.
It supports to download videos from 10, 000 more sites and recrod videos from unable to download sites.
You can convert videos to any format and preset for iPhone, iPad, Android and other devices.
It allows you to transfer the videos to your iOS and Android devices directly.
Part 1. Fix YouTube HTML5 Not Working Problems
Problem 1. No Sound Problem
This problem happens when you are trying to access YouTube videos using Google Chrome when the audio setting in the control panel's sound settings is set to "5.1".
To solve it, go to the Control Panel, and then look for Sound Settings in Google Chrome and then change the audio settings from "5.1" to "Stereo".Alternatively, you can solve this error by basically running chrome.exe with "try-supported-channel-layouts" command line as follows: "C:\Program Files (x86)\Google\Chrome\Application\chrome.exe" --try-supported-channel-layouts.
Problem 2. Video Is Unavailable Error
Another YouTube HTML5 not working problem is a "This video is unavailable" error. It is most likely to happen when you are using Safari browser.
To solve it, enable ClickToFlash compatibility mode in the browser. You could do it by going to the AdBlock button in the browser, and click Options, and then General, and then choose compatibility mode. You can also solve this problem when trying to access YouTube videos in Safari browse by unchecking all filter lists in the browser.
Problem 3. YouTube Video Loading Problem
When you are trying to play YouTube videos in your favorite browser, you may realize that the loading speed has become quite slow when you update it to use HTML5. There are a number of ways that you can use to solve this issue.
First, try reverting to flash playback. If that does not work, you could try using another browser, especially Google chrome which happens to have good HTML5 support. If you are using Firefox and you experience the YouTube video loading problem, you should try to disable hardware acceleration. You can do this by going to Tools, and then Options, and then Advanced, and then General, and then under browsing, choose "Use Hardware Acceleration When Unavailable".
Problem 4. Specific Videos Won't Play
Another YouTube HTML5 not working problem is failure of some videos to play successfully. There is no single solution to this problem because it is not only caused by HTML5, but also your browser settings and even adobe flash.
To solve this problem, one of the things that you can do is to switch to another browser. The most recommended browsers if you do not want to experience this error recurrently are Firefox and Google Chrome. Refreshing your browser or restarting it can also solve the problem. You should also try clearing cache and cookies and see if that also helps to solve the issue.
Problem 5. YouTube Videos Buffering A Lot
The YouTube videos that you are trying to play may end up buffering a lot even if you have stable internet connection. This problem mostly has to do with the number of programs or devices that are using your connection concurrently.
To solve it, make sure that any applications that are running in the background and are taking up a lot of bandwidth are disabled. You can also solve it by changing the resolution of the YouTube video that you are playing. Choose a lower resolution if you want the video to play without buffering a lot. You should also check whether you have a slow internet connection, because that is one of the things that are likely to cause buffering issues when playing YouTube videos. If you notice that your connection has a problem, get in touch with your ISP to upgrade it.
You so do not have to put up with the abovementioned problems every time you want to watch your favorite videos. The best solution will be to install iTube Studio Free Video Downloader to download YouTube HTML5 videos for free to your computer. The good thing about downloading the videos is that you will be able to watch then whenever you want without being inconvenienced by slow internet connections and other problems.
Part 2. Free Download YouTube HTML5 Videos
iTube Studio for Mac (or iTube Studio for Windows) allows you to download your favorite videos from YouTube at a speed that is three times faster. You can save your favorite YouTube videos easily, including the 4K UHD YouTube videos. It automatically detects the YouTube videos when you open them in different browsers such as Google Chrome, Safari, and Firefox. You can download these videos very fast and easily in a single click.
Step 1. Download and Install the Free YouTube Downloader
Just download the software and install it on your mac. It will add download extension to your browser which will enable you easily download YouTube HTML5 videos and common videos as you wish. The browsers to use are Safari 5, Chrome 6 and Firefox 4 or later versions.
Step 2. Download YouTube HTML5 Videos
When you play a YouTube video in any browser, you will see the "Download" button on the video window. You simply need to click that button to initiate the download process. You can use the "Download All" button if you want to download an entire playlist, channel or category.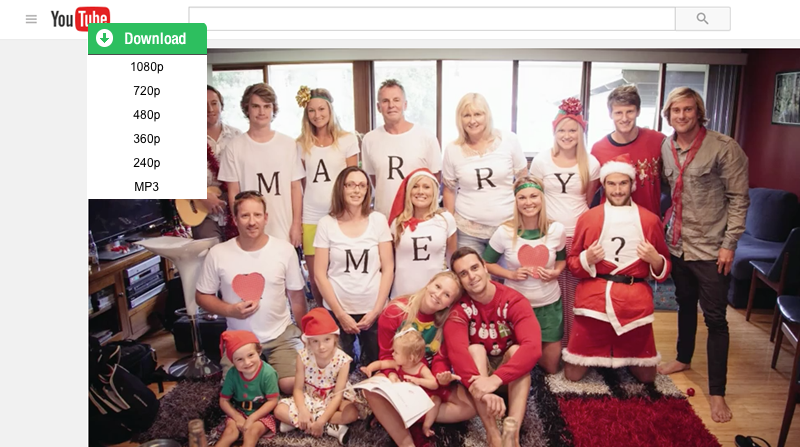 The second method is copying and pasting the URL of a video that you want to download to the program and click the "Paste URL" button on the main interface of free YouTube downloader. Your video will be downloaded soon.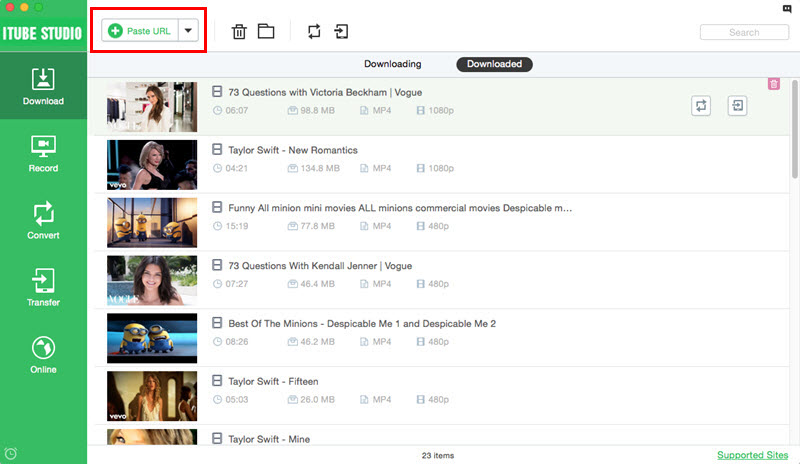 The third method is that you can download YouTube videos using this application by dragging and dropping the URL from the address bar to the dock icon of the program.