Undoubtedly, by adding an interesting introduction to your videos, you can easily entice your audience or the mass viewers to watch your videos till the very end. In order to create video intros, you can use YouTube intro maker. Intro makers help you create appealing introductions to your videos.
There are various free intro maker or Youtube Intro template that you can use. Free Intro maker can be found online or in a video editing software. Some software have good intro editing tools include, Sony Vegas, iMovie and Vimeo. Below are tips for YouTube Intro Maker free download.
The Best Way to Download YouTube Intro Maker for Free
iTube Studio for Mac (or iTube Studio for Windows) is the best helper for YouTube Intro Maker free download. It allows you to download any YouTube videos indlucing YouTube VEVO, 4K UHD, even YouTube playlist for free.
Why Choose This Free YouTube Video Downloader:
100% free download any YouTube videos, the whole YouTube playlist, channel and category.
1 click download online videos from 10,000+ sites and support batch download.
Convert downloaded videos and local videos to any of your desired formats.
With a built-in browser that you can access and download videos in the program.
Steps to Download YouTube Intro Maker for Free
Step 1. Install and run the YouTube downloader
After you get this YouTube Intro Maker downloader free download, install it with on screen instruction. Then launch the program.
Step 2. Free Download YouTube Intro Maker
1. You can simply hover the cursor over any video and the "Download" button will show up on the video's top right corner. Click the button and the button will begin downloading the video.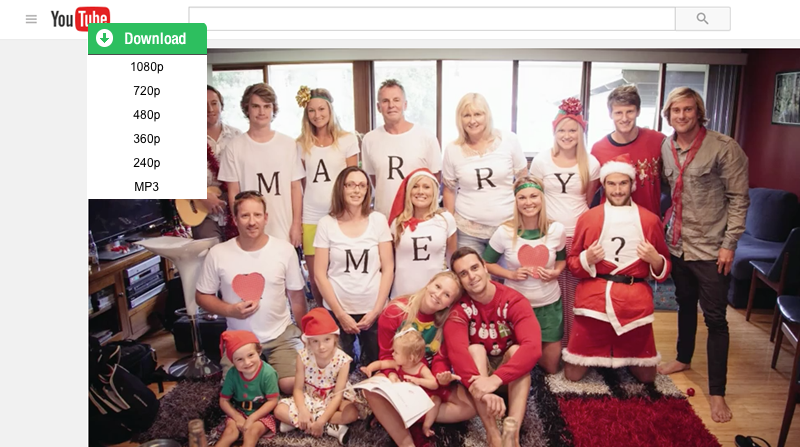 2. You can also copy the video's URL and paste it into the program by clicking the "Paste URL" button to initial the video download.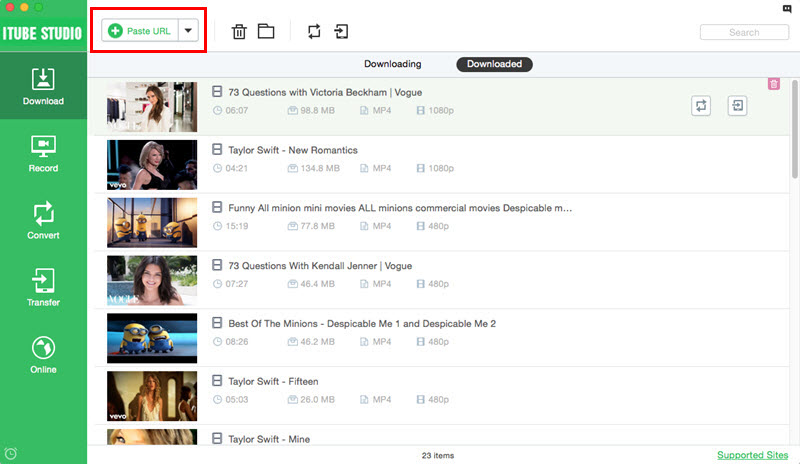 3. The URL can simply be dragged and dropped into the Downloader's dock icon for video downloading as well.
Download YouTube Playlists. In order to download YouTube playlists, just open the video in the YouTube playlist and you will see a "Download" button on the video window. Click the button and select the "Playlist" option, and then select the videos you want to download in the playlist. Then click "Download" to start downloading. The video amount depending on the settings you confirmed in the "Pregerences" menu.
5 Incredibly Useful Tips about YouTube Intro Maker
There are two major benefits of making a compelling YouTube Video Intro:
1. First of all, a great intro will immediately let your audience know who you're & what they will expect from those videos. Obviously, it's a great way to easily grab your viewer's attention from the very beginning.
2. Secondly, a video intro can be extremely effective when people will share your contents to some other online platforms apart from YouTube.
So, if you're still wondering that you'll really need to add intros to your YouTube video contents. The answer is - Yes. And, in order to make an appealing TouTube Intro, all you'll need to use a right tool - a professional YouTube Intro Maker. These tools generally come with an array of useful features and help you to easily create YouTube intros within a snap.
In this context, this article will introduce you with "5 Incredibly Useful Tips about YouTube Intro Maker".
# 1 - Choose the Right Tool: Your YouTube Video Intro creates the first impression among your viewers. So, it's important to create a sleek, catchy, professional looking intro that will immediately catch the viewers' attention. In order to accomplish this, you must use a right tool that should offer you great template videos & layouts and assist you to easily make your desired content.
#2 - The Two Great Mantras: Remember two important things while making a YouTube intro content: keep it relevant & keep it short. In general, a duration of five seconds is the ideal length of any intro. So, when you're using a professional YouTube Intro Making software, choose the theme, template, and layout in such a way that should not exceed the time frame.
# 3 - Append Your Brand Name & Tagline: While using a professional YouTube Intro Maker, do not forget to include your own brand name & tagline (while making any intro). Needless to mention, it's an effective way to build recognition & exposure.
# 4 - Use Proper Brand Colors: In order to make your YouTube videos more recognizable & popular, remember to use your brand's signature colors. So, when you're using a YouTube Intro Making tool, choose the background, filter, or the font colors in such a way that should represent your brand.
# 5 - Highlight the Upcoming Uploading Schedule: It's important to highlight your uploading schedule or inform the audience about your next uploading schedule. This effective process can really increase the return viewership. Furthermore, to make it even more distinctive, compelling & interesting, you can add great animations simply by using a YouTube Intro Maker software.