Some Mac users might face problems when watching YouTube on Safari after they upgrade to the OS X Yosemite 10.10.1, 10.11 EL Capitan or 10.12 macOS Sierra version. Here we collect some common issues and give solutions to fix YouTube not working on Safari problems.
If you are facing problems in watching YouTube videos online using the Safari browser, it is advised that you choose to download the videos using a free video downloader. If you download the YouTube videos on the device, you'd be able to watch those offline even when there is no Interner connection. One such free and efficient video downloader is Free Video Downloader for Mac (or Free Video Downloader for Windows). With the help of the free video downloader, you can download and save all the videos from all categories in YouTube and no need to be worried about YouTube not working on Safari.
It can download YouTube for free and download videos from 10, 000+ sites.
This software supports to convert your videos to any format including MP4, AVI, MPG, MP3, M4A, AC3 and more.
Also you can record online online tutorial if you can't download it.
Its browser download extension helps you to download videos from Safari, Chrome, Firefox and IE directly.
Using the video downloader is free and you can use the software to manage the downloaded YouTube videos too. Moreover, you can give commands like "Sleep", "Exit" and "Shutdown".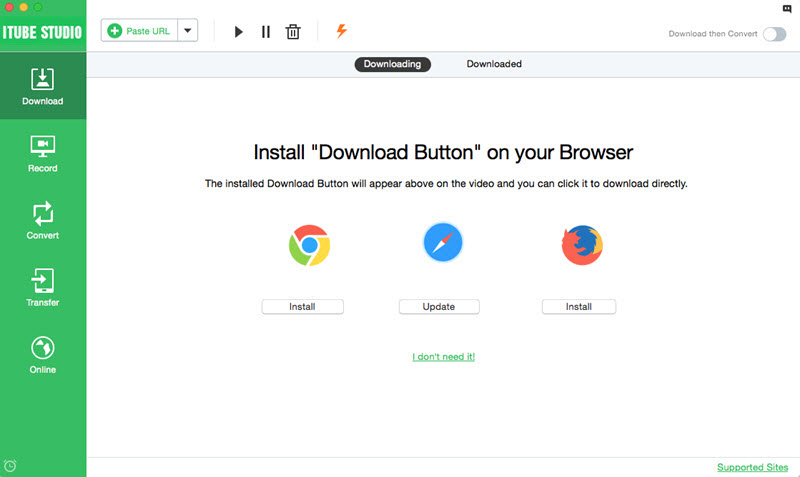 Part 1. Fix the Problems of YouTube Not Working on Safari
After an update of OS to 10.10.1 version, some Safari users have raised concerns over YouTube Not Working. Don't you hate it after a having a stressful day, sitting down on your Mac to catch up on your favorite channel and bam! YouTube isn't working. You may have come across forums like Apple Support Forums discussing this issue, but you can't still figure out fix your little problem. Other browsing sites like Firefox and Chrome might be working correctly, but your favorite browser is still misbehaving. Worry no more mate. This article focuses on the common problems and their solutions to help you solve future issues.
Common errors include black screen, videos not playing, no sound on videos and YouTube not completely working on safari which I will discuss in detail and tell you how to fix the errors.
1. YouTube Videos are not playing on Safari
You favorite video can fail to play on your Safari Browser in the form of slow buffering, jerky playback or completely stuck. The problem may be the browser itself, cache, JavaScript and source video quality.
How to Fix this Error:
Wipe out your browsing history, cookies, and cache.
Download or upgrade your Safari Browser to the latest version available.
Refresh your browser window by clicking on F5 key or Command + R key.
Enable JavaScript by following this guideline. Click on the settings icon> Show Advanced Settings> go to the Privacy section and click on Content Settings> in the JavaScript Section, Select "Allow sites to run JavaScript"> Click Ok, Close the window and refresh your Safari Browser.
1. YouTube Videos are not playing on Safari
You favorite video can fail to play on your Safari Browser in the form of slow buffering, jerky playback or completely stuck. The problem may be the browser itself, cache, JavaScript and source video quality.
How to Fix this Error:
Wipe out your browsing history, cookies, and cache.
Download or upgrade your Safari Browser to the latest version available.
Refresh your browser window by clicking on F5 key or Command + R key.
Enable JavaScript by following this guideline. Click on the settings icon> Show Advanced Settings> go to the Privacy section and click on Content Settings> in the JavaScript Section, Select "Allow sites to run JavaScript"> Click Ok, Close the window and refresh your Safari Browser.
2. Adobe Flash Player required for Video Playback
Another popular YouTube Not Working on Safari error that you may come along when playing YouTube videos on your device. Most Mac users have reported this problem and here's how you can tackle it.
How to fix this Error:
Reset Safari, and repair disk permissions in disk utility section.
Get out of HTML5 if you have opted for its trial.
If both of the above remedies won't work, this one certainly would. 1. Download the official Adobe Flash Player 2. Read the Terms and Conditions of the Flash Player License Agreement and agree to them by selecting the check box and clicking on the Agree Button 3. Install Adobe Flash Player 4. Sign in with your Mac username and password 6. Make sure your Safari remains closed during installation 7. Complete the setup and choose the "notify me of future updates" checkbox 8. Replay or restart your video and enjoy!
3. YouTube Not Working with Safari
Videos may not load after upgrading to Yosemite 10.10.1, EL Capitan or 10.12 macOS Sierra, making it impossible for you to interact with other users either by liking, disliking or commenting on your favorite YouTube videos. The browser may crash altogether. Even after trying the above solutions on YouTube Not Working on Safari, the problem may persist.
How to fix this Error:
Try restarting Safari every time before playing a video.
Opt out of HTML5.
Repair disk permissions.
Check against unwanted plugin by comparing your Mac's settings with that of the MacBook.
4. Black Screen when you play YouTube Videos
A black screen may pop up on your Safari window with a disclaimer "YouTube video won't play now" with the audio still running in the background.
How to fix this Error:
Right click on the Safari Icon and from the menu select Get Info > Open it in 32-bit Mode> exit and reset to change the settings > try playing the video again.
Alternatively, you can uninstall and install the latest version of Adobe Flash Player or repair Disk Permissions.
5. YouTube Videos are producing no sound or audio
You may find annoying watching a video with no sound even after troubleshooting and making sure your sound system is working well. One cause for this YouTube safari not working error is due to the strict YouTube policies restricting audios from videos embedded with music that is copyrighted.
How to fix this Error:
Check the volume on the player, Empty Caches and Upgrade your Adobe Flash Player.
Another way that you can avoid the above errors encountered when watching videos online is to use a video downloader and watch them offline. Download and save the videos to watch them later when there is no internet.
But this is not the problem with all the users of Yosemite, EL Capitan or macOS Sierra latest version, so if you are one of those who are facing Safari YouTube not working problem, you can read on to learn the possible solutions.
Even MacRumors has confirmed that users are facing problems with watching YouTube on Mac's Safari browser. However, it has also stated that it is a problem only with a few of the users. Many users on the support forum of Apple actually tried different methods to resolve problems of watching YouTube videos on Safari. The types of troubleshooting that people have tried include resetting the PRAM, clearing caches and cookies, and rebooting the system. However, there is only one temporary fix that has been found for the issue. It is:
Go to Develop. Click on User Agent and check Google Chrome option there
However, this is a temporary solution and once the browser is closed, the fix is gone! So, the next time you open the browser, the issue is again there. In case you are facing problems in watching YouTube videos in Safari, if you have Chrome and Firefor or any other Internet browser in your device, you can use that until you deal with the issue permanently.
Given below is a list of possible solutions that you can try to ensure that YouTube is running fine in Safari:
Turn off the YouTube5 extensions if you have downloaded the same. However, if you have extensions like YouTube Video downloader 1.1.4 and YouTube5 2.2.1 installed, just turning off the YouTube5 extension should do the trick. After switching it off, you can play the videos normally. It should work.
For some users downloading and installing the 32-bit OS works. So, if possible, install the 32-bit OS for once until Apple comes out with a possible solution.
Another quick fix for the problem of YouTube not playing in Safari is that if you enable the "Develop" menu and change the user agent (change it to something other than the Safari 5.0.3 Mac). By doing this you can ensure that the YouTube would work fine. This should work permanently and the videos should play until there is any solution from the developers.
You can also compare your Mac's settings with that of the MacBook and make sure that the Mac's settings are same as that of the MacBook. Remove all unnecessary plugins from the system. You should be confident of the plugins that are unnecessarily there and need to be removed. Check the Installed Plug-ins list and find out information regarding the descriptions of the plug-ins. You should only remove the unwanted plugins. It is advised that you remove Flash and Shockwave plug-ins. In the description of the Flash Player, you should look for Shockwave Flash entry. Once you know the file name and find it out, you should remove that plug-in. Doing this will uninstall the plug in from the Safari browser.
Part 2. Free Download YouTube on Safari and Watch it Offline
You can use the free YouTube downloader to automatically download a video by detecting the video that you have opened in the browser Safari, Firefox, or Chrome. Follow below methods to download YouTube for free to avoid to encounter YouTube not working on Safari problems.
How to download YouTube Videos for free
Step 1. Download YouTube in 1 Click
When you open a YouTube videos with your browser or built-in browser, a "Download" button appears on its own at the top right corner of the video that you are watching. A simple click on it can start the download process automatically. You need to choose the right resolution of videos that you want to download and that's all! The video gets downloaded to your desired location. You can do this without interrupting the video that you are watching.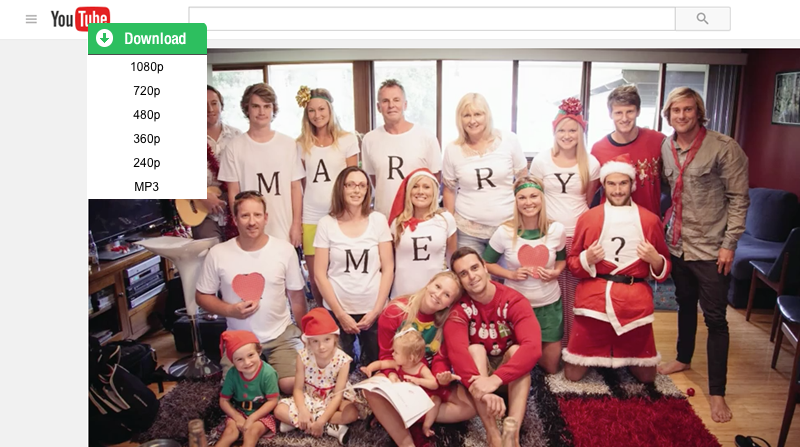 Step 2. Download YouTube by Copying URL
There are other ways to download the YouTube videos easily using the YouTube downloader. One of the most convenient ways to download YouTube videos is to copy and paste the URL of the video you are watching in the right place within the downloader. This sould start downloading the videos automatically.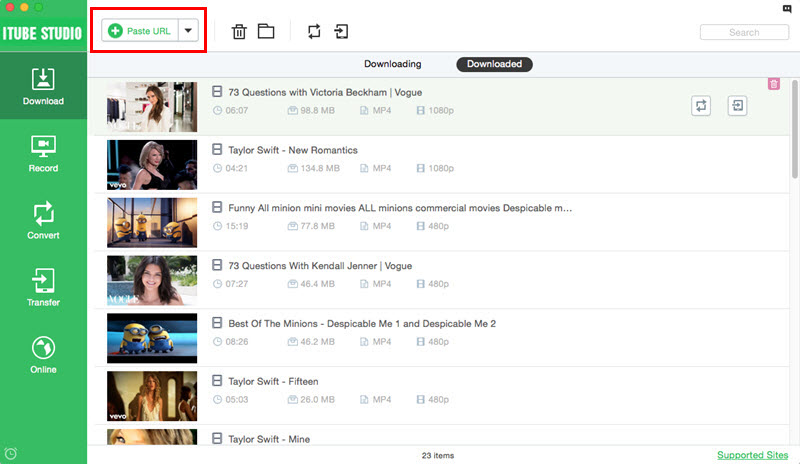 Step 3. Download YouTube by Dragging YouTube URL
Another way to download YouTube is to drag and drop the URL to the downloader. These are three of the most important ways you can download YouTube videos usig this free video downloader. It is your all-in-one YouTube videos browser, downloader, player, and manager. Just take a trial.