There are many reasons and benefits that will inform your decision to watch YouTube on TV. By choosing a certified app for YouTube streaming to TV, it will deliver all your favorite videos right to your comfort. Therefore, make sure you have at all times chosen an app that will not frustrate your mission when playing YouTube on TV.
Solution 1. Watch YouTube on TV with the Help of iTube Studio
No matter what you have for playing YouTube on TV, iTube Studio will always be the best solution. This fabulous program will make it extremely possible to have YouTube files downloaded from your computer to the TV set.
Key Features of iTube Studio:
Download videos from YouTube and other sites;
One click to add the videos to download queue;
Convert videos to any format and mobile device;
Supports 4K resolution and 3X faster speed;
Equipped with a HD video player.
How to YouTube Videos on a TV
Step 1. Browse YouTube Videos
First, install and run the program. And then go to youtube.com to find the video you prefer. Play it as what you usually do.
Step 2. Save YouTube Videos
When you mouse over the video, a Download button will appear on the top right corner. Click it to start downloading the file.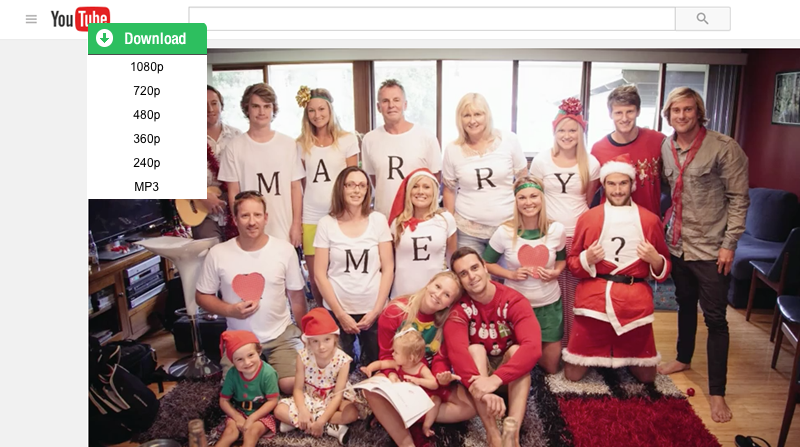 Step 3. Watch Videos on TV
After the download is concluded, you can then transfer the videos to your external hard drive for playing on TV. If you want to watch YouTube videos on Apple TV, here you can click Convert > Apple > Apple TV > OK to start conversion. After a short while, you can enjoy your favorite YouTube videos on TV with ease.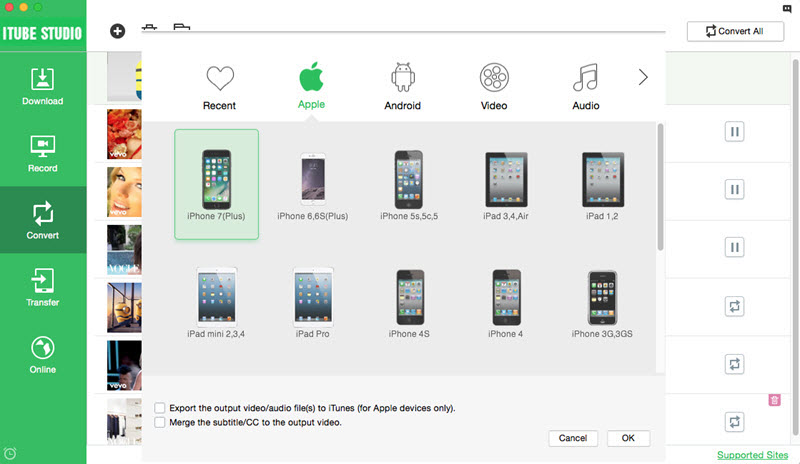 Solution 2. Play YouTube Videos on TV via an Internet-Ready Computer
Watching YouTube videos on TV is easy but it will be easier once your TV is connected to a computer system with internet. The good thing with modern television sets is that they have inputs to allow for connection of exterior devices. The first step when playing YouTube on TV will be putting the TV set and computer apart. They all have different connection inputs for video and it will be proper that you decide on the right one to use.
The connection inputs and outputs for both TV and computer have to be compatible. This has to be replicated on the cables as well because they have to be designed well to transfer both video and audio content in a flawless manner. Once you have gotten matching cables, place in the right sections of the computer and TV set. When firmly in place, it will be time to have both the TV and computer switched on. This will give you access to internal operations of both systems.
Launch the control panel of the computer, click the "Display" icon and it will open up the "Display Properties" folder. From there, you will be able to adjust the settings of the computer appropriately. You will come across the "Enable Output to TV" tab which you will click "OK" to initiate the command. Immediately, this output command will be communicated to your TV set. Open your browser and go to the YouTube website from where you will watch favorite videos on TV with no difficulty.
Solution 3. How to Watch YouTube Videos on TV via Apple TV
If you are an Apple TV user, it has become easy to stream YouTube videos right to the TV set. Just use your remote to adjust settings and will be good to enjoy the best YouTube videos over your television set. A standard remote will make it possible to access all videos on YouTube regardless of format and size. The Apple TV menu has been updated with the YouTube option from where you will easily access it. Choose whether you want to browse or view videos and there are particulars to make your work easy.
You can look for videos by their number of views or the featured ones which are always top on the search list. All these videos are of the highest possible quality and will not be distorted when played on Apple TV. Use the up and down icons on the remote to go through featured videos as you prepare to select the best one for your Apple TV. If your searches match whatever video you are looking for, just click on the "play" icon and you will start watching the video on Apple TV.
There are problems associated with streaming of YouTube videos on Apple TV which results from poor internet connection. It has nothing to do with plug-ins or other technical aspects. The other possible problem could be sound that is not working which results from poorly installed sound drives.
Solution 4. Watch YouTube Videos on TV via Roku
With Roku, you will enjoy fast processors and headphones that will accord you privileges of private listening. It is good for watching and listening to YouTube videos online.
Don't worry about how to watch YouTube on Roku as these guidelines will prove valuable. You have to create an account with Roku and sign in every time you want to watch YouTube. Once logged in, go to "Settings" and update your channels. There will be many sources for videos provided and make sure you choose YouTube. Once on YouTube, select the favorite video to watch and click "Play".
Why Do You Want to Watch YouTube Videos on a TV
It is always easy to make searches for videos on YouTube as well as a good TV channel. Not all channels can play YouTube and it will call for a good search in getting the right one for your YouTube files. Make sure to utilize the search feature of your app in getting the right videos to play on TV channel of your choice. Unlike many other complicated options, you will have an easy way of sending video files to TV.
There are automatic playlists that come with playing YouTube on TV. It is an equally good reason that will make you go for this option over any other that you will be provided with. With just a single channel, it will be very easy gaining access to hundreds and thousands of video files most of which will be associated to what you will be watching. That makes your search simple since going through those entire files one by one will be tedious. You can personalize your own playlist and have videos pop up whenever needed.
Additionally, there is the opportunity of discovering more and more new channels once you opt to play YouTube on TV. This will be made possible by choosing a web browser that comes with limitless browsing options and you will have an online adventure like never before.
Very few people understand that YouTube files are playable on a television set but this article will reveal all the truth. It is very possible to do that and the steps involved are simple and clear. Below are 4 effective solutions that can easily fix your problems. Have a look!