Want to download the whole YouTube playlist for offline watching? To do this, you need a YouTube playlist downloader free. You might find several YouTube playlist downloader free online programs allowing you to download YouTube playlists from your Chrome, Firefox or Safari briwser. And some YouTube playlist downloader tools may support Mac, Windows or Ubuntu OS. Since the YouTube playlist download process is long, it would be advisable to analyze both free YouTube playlist downloader and premium versions, and get that which suits your needs. Here we help you to pick up the best YouTube playlist downloader.
Part 1. Best 10 Free YouTube Playlist Downloader
1. iTube Studio YouTube Playlist Downloader
With a simple and good-looking interface, you can use iTube Studio YouTube Playlist Downloader (or iTube Studio YouTube Playlist Downloader for Windows) to easily download YouTube videos, playlists, channels and user contents to your computer for free. iTube Studio YouTube Playlist Downloader is by far the most complete and easy YouTube playlist downloader for Mac and Windows. This free YouTube Playlist Downloader enables you a "Playlist" download button to download the whole YouTube playlist easily. And you can also directly download YouTube playlist to MP3.
iTube Studio - Best YouTube Playlist Downloader Free
Download any YouTube playlist videos, YouTube 4K UHD, YouTube VEVO for free with Extension or URL.
One click download the whole YouTube playlist, channel and category from browser.
Download videos from Facebook, Vimeo, Dailymotion, and other 10,000 more online sites.
Record unable to download videos from any website online when you need.
Convert downloaded YouTube playlist videos into other video or audio formats.
One click transfer downloaded YouTube video to your mobile devices to enjoy on the go.
Offer a Private Mode to keep your video downloading information under protection with a password.
How to Download YouTube Playlist in Easy Steps
Step 1. Open iTube Studio YouTube Playlist Downloader
After installing this YouTube playlist downloader, a "Download" button will be added to all YouTube playlist so you can select "Playlist" option to download all videos from a YouTube playlist at one go.
Step 2. Download All Video from A YouTube Playlist in One Click
Now open the YouTube playlist, and find the "Download" button under the playlist name. Click "Playlist" option and a dialog will open, in which select the videos you want to download. After selecting the videos and choosing video quality, click the "Download" button to open YouTube playlist downloader and download your selected videos immediately.
Alternatively you can download the whole YouTube playlist with URL. You're able to drag and drop a YouTube playlist URL to the playlist downloader to download all included videos in this YouTube playlist. Or you can copy the YouTube playlist URL from your browser address bar, then try to click "Paste URL" > "Download playlist" button in "Download" tab.
Step 3. Start the Downloading Process for YouTube Playlist
Depending on your settings, this YouTube playlist downloader will start downloading up to 8 videos at the same time (pause others if there are more than 8 videos in a YouTube playlist). When one is complete, another one will start automatically.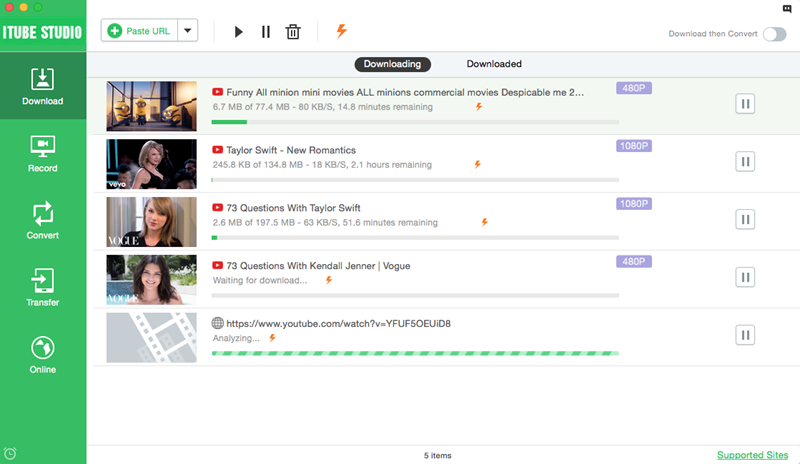 Video Tutorial on How to Download YouTube Playlist
2. XYDownloader YouTube Playlist Downloader (Mac & Windows)
XYDownloader is an easy yet powerful video downloader that enables you to download YouTube playlist in 1 click. It can detect the YouTube video and enable a Download or Download all button to download the video(s) at super fast speed. XYDownloader supports a wide range video sharing-sites, you can download funny, tech, educ, porn videos and more from 1000+ sites. The built-in video browser allows you directly go to the video sites and x-rated video sites to watch and download videos.
3. DVDvideosoft YouTube Playlist Downloader (Windows)
If you are a Windows user, looking for a lightweight application to download playlists or single videos from YouTube, this is your lucky day. DVDvideosoft Free YouTube Downloader will help you going through the basics, supporting batch download even from categories and also conversion to other video formats. The only thing missing is that you need a different application in case you want to extract audio from the videos. Other than that, it will get you out of trouble most of the time (with a few ads here and there).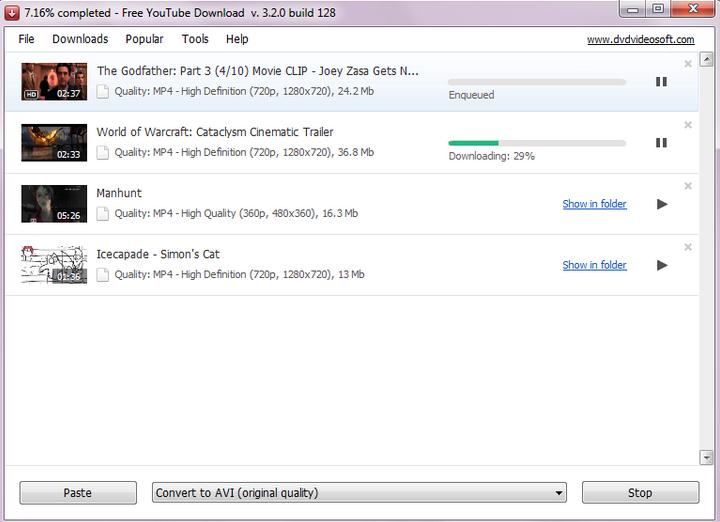 4. Free Video Downloader for YouTube (Windows)
Another free application for Windows users is Free Video Downloader, only this one also supports device presets and audio extraction. While not being as lightweight as our last competitor, it does provide several goodies that make it a little more complete. Once again, you can use this application on your PC for free, since it is ad-supported, meaning it will display some banners as you use it to download your videos or playlists from YouTube and other services.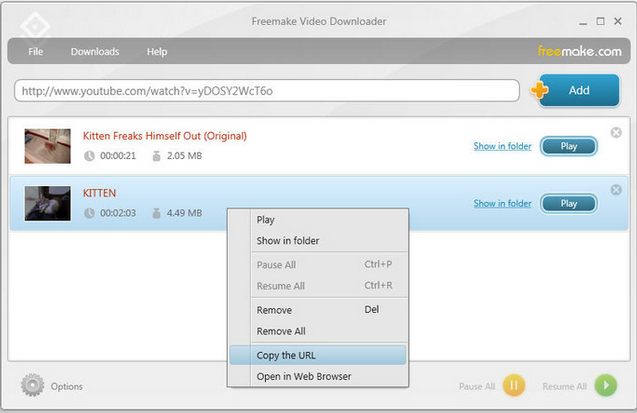 5. Any Video Converter for YouTube Playlist Download (Mac & Windows)
Along with the video conversion as its main feature, Any Video Converter will also allow you to download playlists and individual videos from YouTube and many other sites. You can even edit the videos and export them to other formats or extract the audio. And even when there are different pricing options, the free version can be a very good option on both Mac and Windows.
6. Direct Video Downloader for YouTube (Windows)
While keeping it all easy and simple, Direct Video Downloader can be good enough to download big playlists or channels from YouTube, extract their audio or even convert them into a format that fits your device. The big but is the fact that, again this is freeware that will display third party ads and is only available for Windows.
7. Allavsoft YouTube Downloader (Mac)
Allavsoft is one of the highly used video downloader for Mac. It has the ability to download unlimited playlist from YouTube channels and customize the video into various formats such as MP4, FLV, AVI, MP3 and many others. It is suitable for macOS 10.5 and above. With this YouTube Playlist Downloader, you can as well use it on other video sharing websites such as Yahoo, MySpace, Dailymotion or CBS. The video downloader gets the full video content from a playlist, and the video quality can be set from low to HD. You could just capture video content from any website page through the video playlist link or URL.
8. MediaHuman Downloader for YouTube Playlist (Mac)
MediaHuman Downloader is useful application for those following YouTube channels for favorite videos. It has the ability to download any video format and length. You can download complete playlist from any channel or other video sharing websites, and it supports multiple video qualities up to 4K. In addition, it can extract audio from video, and save it as MP3.
9. 4K Video Downloader for YouTube Playlist (Mac & Windows)
4K Video Downloader allows users to download playlists of all types including audio, video and subtitles from YouTube channels in high quality. The program performance depend on your computer's specs and connection speed. Apart from Mac, the downloader is also available for windows. This YouTube playlist downloader could also download entire YouTube channel and playlist and save them in different formats including 1080p, 720p or 4K. The control panel has an advanced download option for subtitles, where you can select to embed video file to watch on the Mac. Besides, it has a 3D format feature through a special icon on the menu options, available when streaming live shows in 3D.
10. Aimersoft YouTube Downloder (Mac & Windows)
Aimersoft YouTube Downloder can download any playlist completely and videos from YouTube channels. With an built-in video converter, you can batch the list of all videos and convert them all to other media formats before saving the media album. Besides YouTube, it supports other video sharing websites such as Hulu, Vimeo, Facebook, Metacafe and Dailymotion.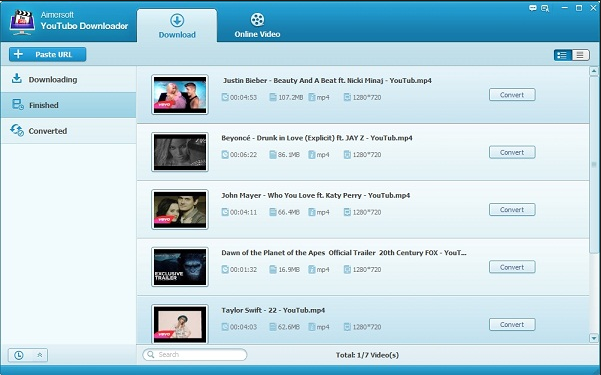 Part 2. YouTube Playlist Downloader for Chrome and Firefox
#1. YouTube Playlist Downloader for Chrome
Since 2014, Google blocked all YouTube Downloader addons on Chrome. But since then, there are few available Chrome YouTube Downloaders. A good example is the YouTube By Link software downloader. It automatically detects when your are browsing a video page, and offers you the option to download the video by a single click. It simply behave similar to Google Chrome extension.
How to Use Google Chrome YouTube Playlist Downloader:
Step 1: Download and install the software from the website link - YouTube Playlist Downloader for Chrome.
Step 2: Open the software and browse YouTube to access your favorite channel or playlist.
Step 3: A small notification will open and offer the option to download the playlist. Choose between the available options for Download the video or Music. Once clicked on, the download starts immediately.
#2. YouTube Playlist Downloader for Firefox
It is not easy getting a reliable method to download full YouTube playlist using Firefox. ByTubeD is one of the bulk YouTube playlist downloader available for free. Although the original software developer for ByTubeD discontinued the program, it has been an open source at GitHub and the development of the same is ongoing from other developers in the community.
How to Use Firefox YouTube Playlist Downloader:
Step 1: Download and install the application from the website - YouTube Playlist Downloader for Firefox.
Step 2: ByTubeD will be installed on your Firefox as Addon.
Step 3: Restart your browser and open YouTube playlist you would like to download.
Step 4: Right click and you will see a drop down menu where ByTubeD will be one of the YouTube Downloader listed. It automatically detects the video on the webpage and downloads it after you click on the application icon from the menu.