YouTube playlist not working problems are common today. There might be many reasons why YouTube playlists top working including poor or slow internet connection, browser cache, third party firewalls, etc. Below we will help you to fix the common YouTube playlist problems easily.
Why Choose This YouTube Playlist Downloader:
100% free download YouTube videos including YouTube HD and VEVO videos.
One click download all videos from a YouTube playlist, channel and category.
It gives three options for downloading video with download button and video URL.
It comes with a built-in media player that allows you to play the videos anytime.
You can download videos from 10,000+ other sites and convert video to any formats.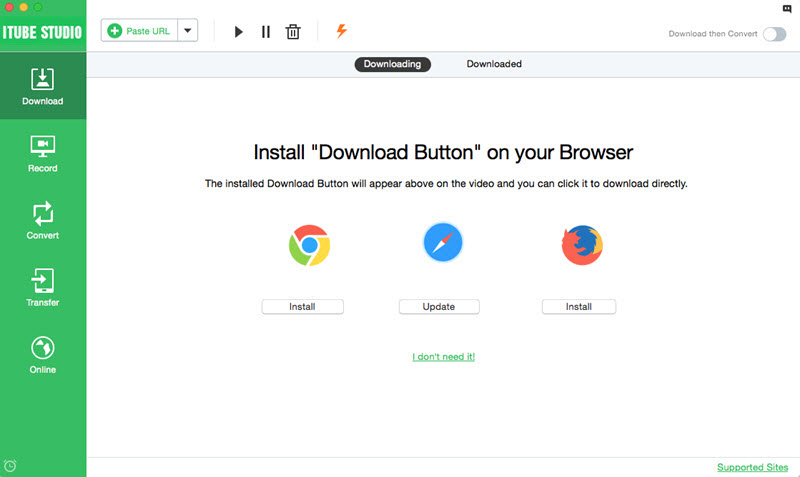 Part 1. YouTube Playlist Not Working in Fullscreen
There are at least two perspectives to this query. Either YouTube has failed to play the songs completely or it has failed to automatically play the next song or video in a playlist in full screen. Some of the general reasons why YouTube will not work in full screen are:
Flash Player: Most YouTube videos play quite well with Adobe Flash Player plug-in installed. The absence of this plug-in could be another reason for playlists not working in full screen. It gets updated from time to time, so you will need to keep upgrading to the latest version. Here is how to install Adobe Flash Player.
Step 1. Before installing the program, you are advised to be sure that other add-ons are not selected. Downloading additional programs together with the adobe flash program may well be another reason why YouTube playlist may not work in full screen.
Step 2. Click the download now button to start your free download. A complete download opens a window that will take you through the installation process as shown below.
Step 3. Select the save file option to save the program. This step leads to another dialogue box that you will click on to run the program and install it in your system.
Step 4. Once you have run the program, you will be prompted to "allow the program to make changes in your computer" Select the "yes" option.
Step 5. Once this is done, a dialogue box showing that the installation is complete will appear. Click "finish" for a successful installation of the program.
Absence the default full screen button: Another reason why YouTube may not open in full screen is the absence the default full screen button on your screen. In this case, the below screenshot will guide you on how to make this button visible to play your videos in full screen. The parameter fs set to 1 makes the button visible. Note that this may not work with HTML5 player.
Part 2. YouTube Playlist Autoplay Not Working
Do you have any issues with your YouTube autoplay playlist not working? Consider it solved. First, you need to know what is causing the problem with your YouTube playlist. There are several factors that may lead to the YouTube playlist problem. However some of the issues will highly depend on the operating system and the browser you are using. The most common causes of YouTube playlist dysfunction include.
Flash Player Most YouTube videos play well when you have a flash player installed on your device. If the playlist can't play completely then you probably have no flash player installed. The most commonly used flash player is the Adobe Flash player. You can download the adobe flash player plug-ins from the internet or update the one on your computer to solve the problem.
Browser cache The browser stores cache and other temporary files downloaded to your computer from the internet. These files may prevent your browser from streaming videos or playlist. To solve this problem you need to go to your browser settings in the privacy option and clear the cache. The location of cache option in the browser settings depends on the browser you are using. If you are using the internet explorer go to tools and clear the history.
Third party firewall If you have any firewalls and antivirus installed, then they may be the possible cause of the YouTube playlist not functioning. To solve the problem try disabling the firewall and restart the browser to watch your videos.
Poor internet connectivity Well internet connectivity may be a major cause for the YouTube playlist not functioning. YouTube videos require a fast internet to stream without any problems. If you are using WI-FI you can try using cable connection. If the problem continues try exploring the other options.
Browser settings If you are using Google chrome, Firefox or Safari browsers then the following problems may cause the playlist dysfunction. First the playlist might have been idle for a long time. In this case all you need to do is refresh the browser and move on. The second problem might be that you are using an outdated browser. If that is the case you can try downloading a new browser or update the one you have to a current version. Lastly Java script might be disabled on your computer. For any browser to play videos java scrip is a must. You can easily solve this problem by turning java script on in your browser settings.
Part 3. YouTube Playlist Not Working on Chrome, Safari, and Firefox
The following are some reasons why YouTube playlists not working on Chrome, Safari and Firefox browsers and why a playlist totally fails to play on fullscreen mode and all you see is a black screen.
i. The browser page may have stayed idle for some time and for this just refresh the page for it to resume working.
ii. You may be using an outdated browser that may not use the new technology on its updated version, hence failing to play playlists as you would expect. You will need to update your browser to the latest version to enjoy streaming on YouTube.
iii. If JavaScript is not enabled in your browser, you will get disappointed trying to run playlists on YouTube. This is because JavaScript is an almost mandatory requirement in your browser for most features to operate.
iv. Video quality could also be the reason why you cannot run your playlist on YouTube. This means that you may be streaming standard definition videos instead of High definition. In most cases, YouTube automatically adjusts the definition of a video to high bit which depends on internet speed. This adjustment may not take place with low internet speed, and so you may be required to do this manually.
The quality of the video being played also depends on the size of the player and the video quality, either standard definition or high definition, used to upload the video.
Go to the gear icon on your YouTube window and choose the quality of video you want.
You may also opt to automatically run your playlist on HD (high Definition) mode. To select this option:
Sign in to your YouTube account.
Click on the avatar at the top-right of your screen to go to settings.
Go to playback and check the "Always play HD on fullscreen (when available)" under video play back quality and save.
v. For Firefox browsers, It could be possible that hardware acceleration is enabled therefore stopping YouTube from playing your videos. Here, right-click the flash player avatar and click settings. On the screen that will appear, click the icon that is on the bottom left side to access the display panel. Uncheck the 'enable hardware acceleration' option then close the window and refresh Firefox.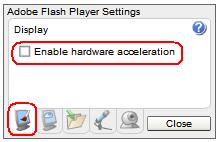 vi. On Google chrome and Safari browsers, there are two possible reasons already mentioned, why playlists may not work on YouTube. A loaded cache or an outdated flash player. Here you simply need to clear cache as well as your browser history and upgrade your flash player and browser to the latest available version as below.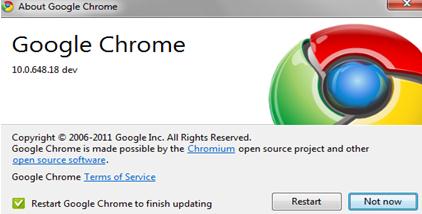 Part 4. YouTube Playlist Not Working on iPhone, iPad and Android
Playing videos on iPhone, iPad and Android is slightly different from playing them on your computer. These handsets normally come with an already installed app that will facilitate running of YouTube playlists. You can download other applications of your choice that support YouTube playlists and videos from the web.
It is also important to note that most of these handsets work best with 3G or Wi-Fi internet connection. A downloader and converter will also help convert videos to formats supported by the phones. If you notice that you cannot run your playlist on any of the mentioned handsets, the absence of a downloader could be the reason why. You can easily download this program from the web.
Another common reason why YouTube playlist will not work in an iPhone, iPad or android, is when there is a virus attack. Viruses corrupt files and apps so that they will not function properly.
Same as in computer browsers, you will need to clear your cache and browser history to allow for proper functioning of your handset. A full cache memory may slow down or stall the normal operation of a program. Incase of a virus attack, you will need to reinstall the app to resume its normal function.
Remember these handsets also work with a flash player so download the latest flash player version from the web and install on your handset.
Part 5. The Best Solution to Enjoy YouTube Playlist without Problems
The problems of YouTube playlist not working are very annoying. To solve the problem completely, you can use iTube Studio for Mac (or iTube Studio for Windows) to download YouTube playlist videos and watch them on your computer without the annoying ads that sometime appear when watching a video on YouTube. After a complete download, you do not need internet connection anymore to watch your downloaded videos. You can watch at your own convenience on the same program.
Simple steps to download YouTube playlists for free
It is easy to download and install the program on your computer. After the installation, the program will launch automatically. And then you can use the below methods to download a YouTube playlist using this free YouTube playlist downloader.
Step 1. Download YouTube playlist in 1 click
Open your browser and search for the music playlist that you would like to download. Go to the playback area and click on "Playlist" and you will see the "Download" button appears at the top-left corner of the window. Click it and choose "Playlist" option, then go to select the videos you want and download them.
Step 2. Download YouTube playlist with URL
Alternatively, you can copy the YouTube playlist URL and paste the URL of your video by clicking the "Paste URL" button on the window that will appear. Then click "Download Playlist" button from the pop-up window, this will start the download of your selected playlist.
In case you are downloading multiple videos, iTube Studio allows your Mac computer to automatically shutdown, exit the downloader or enter sleep mode depending on the option you will have selected. The process is that simple. Now, you are ready to go.