Have you ever tried receiving a message that says "there was an issue signing you into YouTube"? This YouTube sign in problem can be really annoying, now let's discuss the factors and solutions.
Why Choose This YouTube Video Downloader:
It supports to download videos in 3 ways easily from 10,000+ video sites.
You can convert downloaded YouTube videos to MOV(QuickTime), MP4, WMV, AVI(XviD), MP3, WAV, etc. formats and one click transfer to iPhone, iPad and Android devices.
It is also a video recorder which can help to record unable download videos in high quality.
It can directly download YouTube to MP3 format files if you just want to get audio file.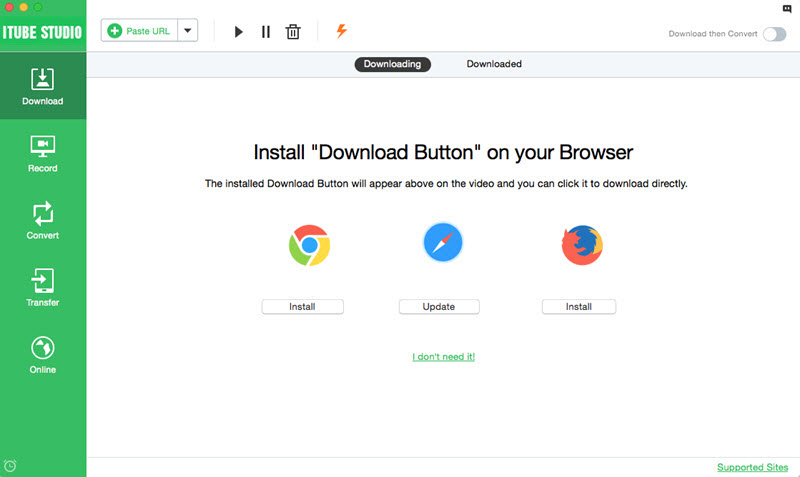 If you are caught in YouTube sign in problem problem, there are times when you just tend to be forgetful and had the minor details taken for granted such us:
1. Internet Connection Stability - even though you have access to an internet source, its stability should still be considered. It affects how you connect to the sites server and gives you a "timeout error" notification.
2. Capitalization - caps! Check your caps lock whenever you type your password, you might have failed to notice it caused you to input the wrong password. 3. Username and Password - make sure that you place the correct e-mail address and password. But in case you forgot either of them, you only have to click the "Need Help" option at the bottom part of the sign in box.
Or you may want to go here to go to YouTube's official Account Recovery Page. Remember that in order to log in to your YouTube account, you have to use your Google account. Therefore, resetting your YouTube password will also affect the other Google services registered with the same e-mail address like Gmail, Blogger, Picasa, Google Play, and Checkout.
If everything above were just fine, we have to opt for a more complicated approach to fix YouTube sign in not working.
1. Enabling Cookies – first, you have to make sure that your browser's setting is setup the right way.
Go to menu settings (located on your browser's upper right corner) and click "Settings".
Scroll down to the bottom and click "Show advanced settings".
In the privacy section, click "Content settings".
Then tick the "Allow Local Data to be Set" box.
2. Clear Cookies and Cache - just press "Ctrl" + "h" to show the "History" page and from there, click the "clear browsing data" and make sure to choose "the beginning of time" then tick the clear cookies and cache options. Or:
Go to your menu settings and locate "Tools".
Click "Clear browsing data".
Make sure you choose "since the beginning of time" and tick the cache and cookies boxes and hit "Clear Browsing data".
3. Extensions - this be the cause of the problem and if so, try disabling them.
Go to menu settings and go to "Tools".
Click "Extensions".
Disable all extensions and try signing in. If you do not get any error message, enable the extensions one by one and try signing in each time to identify which extension is the culprit.
4. Browser Change - the problem may only be in your current used browser, try using other browsers (like Google Chrome, Mozilla Firefox, Internet Explorer, and Safari) if you can sign in with no problems.
5. Sign in using Incognito/InPrivate mode (temporary fix) - if you still fail to solve your sign in problem, you might as well try using your incognito/InPrivate browser mode to sign in. Many people have said that this worked for them. Access Incognito mode in Google Chrome by pressing "Ctrl" + "Shift" + "N" and InPrivate mode in Internet Explorer by pressing "Ctrl" + "Shift" + "P". Then go to YouTube's site and sign in. The problem with this method is that you need to do this every time you use Incognito or InPrivate Mode.
How to Fix YouTube Sign in Problems on Mobile Devices
YouTube sign in problem on your phone can be caused by a variety of reasons. Some common causes are:
1. Sign-in Details - you forgot your YouTube ID/E-mail address or Password.
2. Capitalization - you have accidentally pressed caps while typing your password.
3. Network Availability and Stability - check if you have a fast and stable internet connection.
Of course, there is the possibility of software bugs, which may be solved by just a simple restart, or by complicated things. Here is a list that might help you find the necessary solution for you to successfully sign in.
1. Use Mobile Browser - if you cannot sign in through the YouTube mobile app, you may want to try accessing YouTube through your phones browser application and see if it works.
2. Reboot Your Device - a simple fix to try out. Just hold the power button and select shut down.
3. Clear YouTube Application's Cache
Go to "Settings".
Under "Device" click "Apps".
Look for the YouTube Application and click clear cache.
4. Update Your YouTube Application – you have to go to "Google Play" or "Play Store" in order to update, and make sure you are logged in to your Google account.
5. Undo Changes - undo any recent changes prior to the occurrence of the problem. Changes such us system and application updates and setting changes might have caused the problem.
6. Sign In Using Your Whole E-mail Address - sometimes, you have to use your whole e-mail address instead of just your YouTube ID and sign in with the same password.
7. Link Legacy YouTube Channels to a Google Account - if you made your YouTube Account before May 2009 and was inactive since 2011, your account is considered to be a "Legacy YouTube Channel". To gain access, you need to link your YouTube channel to an existing Google Account. Just follow these steps:
Sign in to your Google Account that you wish to link to your YouTube Channel.
Enter youtube.com/gaia_link in your browser address or click the link.
Enter your YouTube channel's username and password to the box and click "Claim Channel".
8. Two Factor Authentication (2FA)
Download the Google Authenticator (for Apple and Android) or Microsoft Authenticator (for Windows phone).
Go to your "Account Settings" page.
On the Settings tab, select "Expand" beside the "Two factor authentication".
Input your password and click "Enable tow factor authentication".
Open your chosen authentication application and tap the plus (+) or … icon and add your YouTube app.
Open the two factor authorization configuration page, enter the 6 digit verification code that was generated by the application and click "Verify Code".