Want to upload videos to YouTube but find that YouTube uploader not working? When you encounter YouTube uploader not working, there might be problems of the custom thumbnail button not showing and the video will also not get added to the selection of playlist. You must have tried a lot of things - uploading the old videos, uninstalling and installing the browser, try using different browsers, cleared the browser history, and cleaned the cookies. But nothing seems to help. Then what actually should you do to deal with YouTube upload problems if you still cannot upload videos to YouTube after many trys? Keep reading and you will find the right way to upload video to YouTube without hassle.
Part 1. Five Ways to Fix YouTube Uploader Not Working Problem
One of the commonest YouTube upload not working problems that users face is when they try to upload a video and it is stuck at 0% with a message "uploading video". And, it seems to take forever for the video to upload to the site. Sometimes, the message "YouTube uploader has stopped working" will come to the screen. But most of the times it won't and you need to guess that there is a problem just by considering the time it is taking to upload videos to the site. There is a list of checklist that can help to solve the problem:
Solution 1: Restart your browser or your computer
The most basic thing that you can do is to restart the browser and check if it resolves the issue. If restarting the browser does not help, try restarting your computer once and try to upload the video once again. There is problem of YouTube downloader not working on Firefox, try using other browsers for the same. Some of the people are facing problems with YouTube not working on Firefox. In case it does not work, you can clear the cache and try doing it again.
Solution 2: Clear browser cache
One of the most easiest ways you can solve the issue with YouTube uploading problem is by clearing the browser cache. It can help resolve the problem. There may be problems with the browser that you are using. So, if you are using Chrome, Firefox, or Internet Explorer, these are the steps that you need to follow. In Chrome, to clear the browser History, you need to press ctrl+H and then clean the history of the browser. You can delete everything "from beginning of time". Now click on the Clear browsing history. You can clear the recent history from Mozilla from the icon that's there on the top right hand side.
Solution 3: Delete temporary files
You can also try to upload YouTube videos after deleting the temporary Internet files from your system. To do that you need to go to Run and hit Win+R. In the Window that appears, enter %temp% and then hit enter. Now, select all the temporary files from the folder and delete those.
Solution 4: Disable the antivirus
Sometimes disabling the antivirus in your system can also work. It might be causing the problem with YouTube uploading. Not all the antiviruses create such a problem, but some do. You can try after disabling the antivirus once and trying to upload the videos once again.
Solution 5: Option for another browser
Sometimes you may want to uninstall chrome because it is not working properly. But when you try to do this, the browser refuses to uninstall. The solution to this problem is to use Revo uninstaller. Below are the steps to uninstall chrome using Revo uninstaller so that you can reinstall it.
Download an uninstaller like Revo and after the download is complete install it in your system.
On the uninstaller window choose the desired option then you are going to be advanced to the normal uninstaller of chrome while Revo is still behind. In this step you uninstall and once it is complete you are going to be redirected back to Revo.
When this is done, click scan for you to continue. After the scan you will see a message that says that there are no leftovers files that have been found. Click Finish, once you do this you will have completed the task.
Part 2. How to Upload Videos to YouTube without Problems
These are some of the common issues that can occur when it comes to uploading YouTube videos. There are ways you can dodge these problems and can upload the YouTube videos. If you want to upload videos in the most hassle free manner in YouTube, you need to know certain important things. Given below is a list of tips to help you upload videos to YouTube:
Tip 1: Follow rules.
You must remember that it is a website that has been built for people over the age of 13. You should read the terms and conditions of the site before uploading a video. You must upload legal files to the YouTube. Reading through terms of service is important to avoid any issues like non acceptance of the content.
Tip 2: Account setting.
Create an account in YouTube and choose the account settings carefully. There are several tiers of privacy on the site. Youngsters should limit their circles to their friends and you can hide your personal details like your email id. Whatever settings you choose, you need to be careful.
Tip 3: Seperate your Account.
Remember, YouTube is a social networking website. The features of Google+ are entwined with it. You can keep the two social networks separate. So, you can keep your Google+ account for socializing with your colleagues while keeping the YouTube account solely for friends.
Tip 4: Change privacy setting.
You must remember that all the videos that you upload on YouTube are public by default. However, YouTube provides options to change the settings for each one you upload. You need to understand that the videos you are putting in on YouTube can be viewed by everyone unless you put the necessary restrictions. When it comes to putting restrictions you need to be sure whether you are choosing the right amount of restrictions.
Tip 5: YouTube videotaping.
YouTube allows videotaping for every video uploaded by the owner. While coming to fame with the right videotaping is 'okay' it is important that you need to create the tape in a responsible manner. You should not regret something that you'd regret later. You should check the acceptability of the subject matter before taking a video. There are clear guidelines for it on the website. You need to check whether the subject matter you'd speak about is acceptable by YouTube.
Part 3. How to Download or Upload YouTube Videos When YouTube Uploader Not Working
If you are geek of YouTube videos, YouTube upload not working will be rather annoying. Here we recommend the best video donwloader and uploader for YouTube offline playback. iTube Studio Video Downloader is a powerful software that functions as a video converter and downloader. It offers a no-sweat and hassle free way of downloading your favorite videos from YouTube, Vimeo, Hulu, etc. Furthermore, it is 100% free to download YouTube videos. With this video downloader, you can download YouTube 4K UHD videos to your computer and watch them without ads. It is also a video manager with which it is easy to play and manage your own FLV/MP4/WebM videos.
Key Features of iTube Studio YouTube Video Downloader:
It allows you to download free YouTube videos 3X faster.
It supports downloading all videos in a YouTube playlist, channel, or category.
It provides you with settings like Shutdown, Sleep or Exit Program.
It has a built-in HD media player that lets you play downloaded video without installing a third-party player.
How to Download and Upload YouTube HD Videos for Free
Step1: Download Online Videos From Any Video Site
Once installed the YouTube video downloader, run the program and get ready to download your video. There are two ways for you to download free videos.
Option 1. Download Button. Once you hang your mouse over the video player as you are playing a video, the Download button will appear at the top right of the video. Just click it and the video will be downloaded automatically.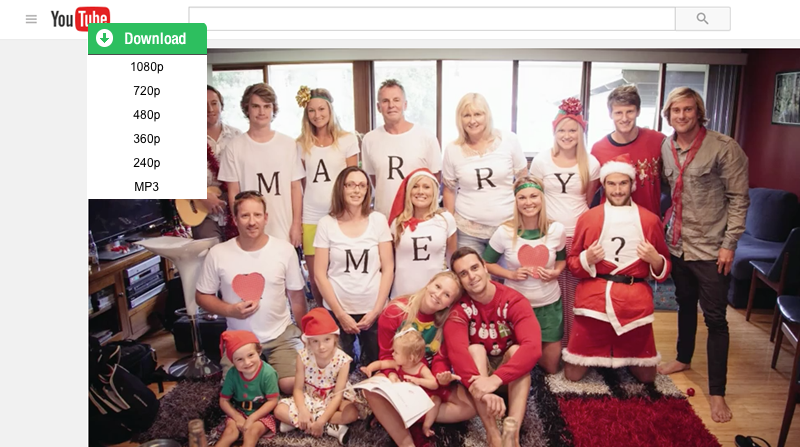 Option 2. Paste URL. Have your videos ready in your browser. If you have different videos, you can open them in different tabs so that you can access them easily.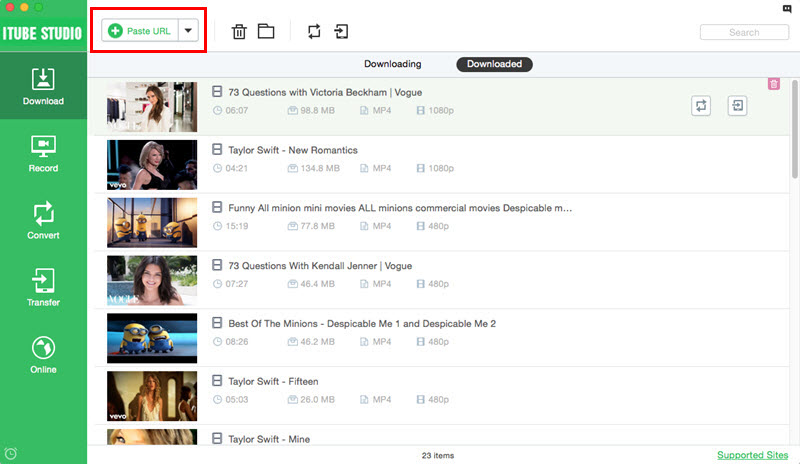 Option 3. Record Video. You can use "Record video" button to open the recording screen that you can set to the video or full-screen and begin recording.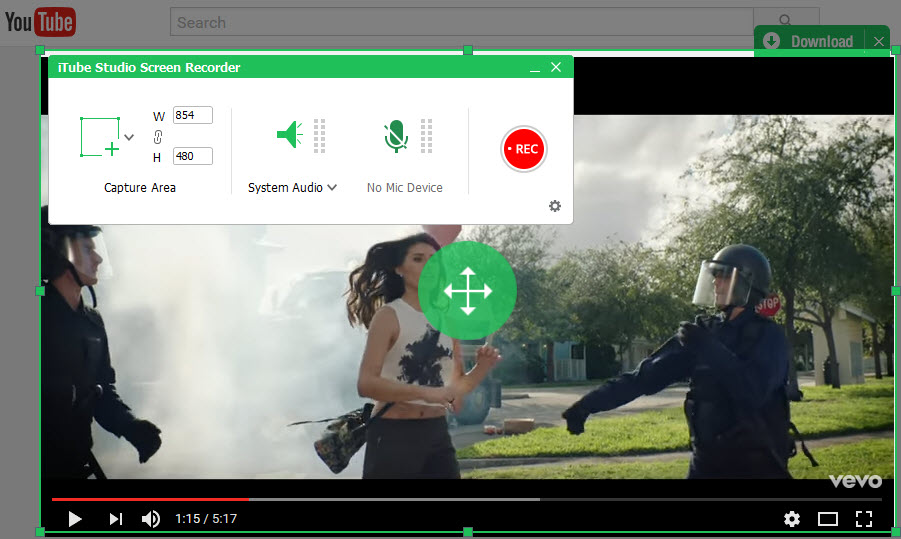 Step2: Convert Your Video to YouTube Upload Format
In the Convert tab of iTube Studio YouTube video downloader, you can choose format for YouTube upload and wait for seconds. Once completed the conversion, now it's time for you to login your YouTube account and upload videos as you like.
Extra Tips: Steps to Upload Videos to YouTube
There are certain requirements that a video must meet to be uploaded easily to a YouTube site, for instance, it must be shorter that 10 minutes, smaller than 1GB and has acceptable formats. If it doesn't have acceptable formats, you will have to get a Mac video converter to upload video to YouTube on mac. If your video meets the requirements mentioned above here are few steps to follow:
Sign up to a YouTube account, on the right corner of the homepage, then click the upload button.
Type the information of your file this includes title, description, categories and tag. Try as much as you can to put as much information as possible to increase the chances of your videos to be found.
Specify the privacy setting.
Upload the video file on your Mac and that's it.