YouTube fans might encounter "YouTube Videos Not Playing" problems when load and play YouTube videos. You might meet problems like below:
YouTube videos might stop playing on Mac and Windows, or play YouTube video without any sound.
You might encounter YouTube not playing on Chrome, Firefox, IE, Safari and other browsers.
While playing YouTube videos, you might only get white/black screen or the spinning wheel in the video windows.
If you know the reasons which lead to the YouTube videos won't play normally, you may find corresponding ways to solve them.
The Ultimate Tips to Solve YouTube Videos Not Playing Problems
To avoid and solve YouTube video won't play problems on Mac and Windows, you can try iTube Studio for Mac (or iTube Studio for Windows) to download your lovely YouTube videos on Mac and play them offline without any problems of YouTube not playing. It is a must have free YouTube video downloader that allows you to free download any YouTube videos in high quality at high speed. It enables you a Download button to download YouTube in 1 click. You can also download YouTube videos with only the video URL.
Why Choose This Free YouTube Video Downloader:
3X faster free download YouTube HD videos, YouTube VEVO and 10,000+ sites.
1 click download all videos from a YouTube playlist, category or channel.
Set your computer to auto shutdown or sleep mode for batch download.
Convert downloaded YouTube videos to any formats or devices.
Directly transfer YouTube videos to your iTunes library.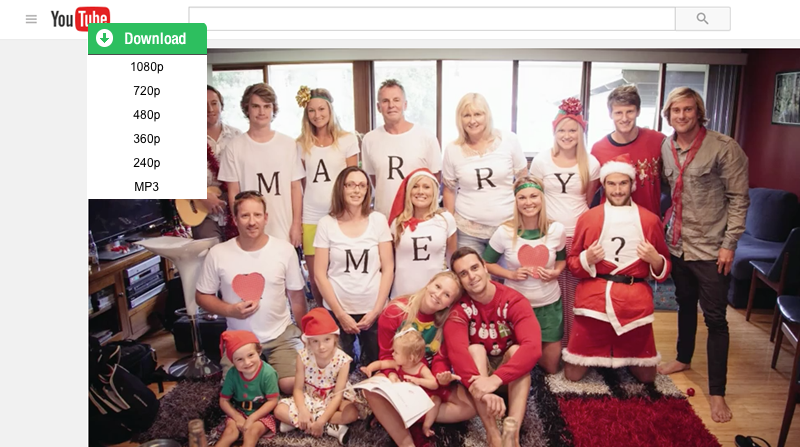 Part 1. Why You Get YouTube Playback Issues
1. Browser Page
One of the causes could be your browser page, if this is the case, what you can do to solve the problem of "why youtube video is not playing on browser" is to refresh your browser page. Once you do this, you are good to go.
2. The Video Quality
YouTube has the habit of adjusting the quality of the video that you are streaming from standard definition to high definition, so that you can be able to get the best viewing experience. YouTube does this on the basis of the Internet connection speed. The video quality is determined by the size of the video player, and the quality that was used to upload the video, if it happens that the video was recorded using the standard definition, that video is definitely not going to be available in the high definition.
What you do if that is the case, you will have to change the quality of the video, you will be able to do this by going to the Gear icon and select the quality that you prefer. In order to stop this problem from occurring in the future, you can set a preference of the default video quality for all the videos.
3. Browser
If your browser is outdated, your YouTube videos will not play. The reason behind this problem is that, an old browser does not have the ability of taking advantage of the speed as well as the security that has been embraced by the new technology. If this is the problem, what you do is to upgrade the browser to an up to date version.
4. Adobe Flash Player
This is a plug in that is used by your web browser. Adobe Flash Player streams, most of the YouTube videos. When you have the latest version, you are able to have a very good viewing experience.
Install the Latest Adobe Flash Player >>
5. Cache and Cookies
Cache and cookies could also cause YouTube videos' playback issue. If this is the case, what you should do, is to clear them and afterwards before you try to play your video again you should first restart your browser.
Chrome: Click Chrome Menu > Settings > Show Advanced Settings > Clear Browsing Data > Empty the Cache/Delete Cookies;
Firefox: Click Firefox Menu > History > Clear Recent History > Details > Cache > Clear Now;
Safari (for Mac OS X): Click Safari Menu > Empty Cache > Empty;
IE: Click Gear icon > Safety > Delete Browsing History > Temporary Internet Files/ Preserve Favorites Website Data > Delete.
6. JavaScript
For many features to work, JavaScript is a requirement on your browser. If it is not enabled the YouTube video that you are trying to play might not play. So what you are supposed to do is to enable JavaScript in order for the features that need it, can have access to it and be able to work the way they should.
At times, it could be devastating when YouTube is not able to play a video that you want to view. The issues above could be the causes. All you have to do is follow the solutions that have been provided and fix YouTube problem.
You can also free download YouTube videos without worrying about the playback issue:
Part 2. Troubleshooting on YouTube Playback Problems
1. YouTube Not Playing Sound
There are at times when you play a video on YouTube and the sound does not play. When this happens to you, you can try to solve the problem by using the steps below.
Solutions:
Adjust the volume on both your speakers and your computers;
Adjust the volume control located at the left corner of the YouTube video player;
Try to restart your browser;
If you have other players such as Windows Media Player, QuickTime or Real Player, you can try to turn up the volume.
Additional Tips:
If your Flash Player is outdated, you should install the latest version;
On your computer, allow a third party Flash content;
Check any Firewall as well as antivirus software, so that you can find out if it is blocking the third party Flash content.
2. YouTube Videos Not Playing in Chrome or Safari
When this happens to you, it can really get on your nerves, the problem could be with the cache or even the adobe flash player. Below are the solutions to this problem.
Solutions (take Chrome as an example):
Ensure that your cache as well as your browsing history has been cleared. After this is done, restart Chrome;
Upgrade Chrome as well as the Adobe Flash to the latest version. Once this has been done, you reboot and then go ahead and reinstall again.
3. YouTube Video Does Not Start
If this problem occurs, your internet connection is the first thing that you should check. The reason for doing this is that YouTube is a heavy bandwidth consumer. Even for the low quality videos, fast internet connection is required. If the internet connection is good and your video still will not start, the problem might be the browser cache, Adobe Flash Player, or Firewalls. Below are the solutions to this problem.
Solutions:
When the temporary internet files folder becomes full, you are supposed to empty it;
You should install the latest as well as the most stable version of Adobe Flash Player;
Ensure that the JavaScript is turned on;
For you to be able to control the incoming as well as the outgoing network traffic and keep the network secure, you need Firewall. If there is software that is blocking the Firewall, you should uninstall it.
4. YouTube Video Gets Stuck
Uploading a video on YouTube depends on a number of things such as the format of your video, internet bandwidth, file size, as well as upload traffic. If your video gets stuck, below are the issues and the solutions to those the issues.
Solutions:
Slow internet connection: you should always ensure that your internet connection is fast and stable, before you can try playing your video;
File type and size: for this problem you should encode your YouTube videos in a format that is recommended;
Upload traffic: if the traffic is heavy, it means that you are uploading during a busy time. The solution to this problem is to wait and upload the video later when the traffic is not heavy.
5. Other Solutions to Solve YouTube Videos Not Playing
You can also use the below methods to avoid any YouTube not playing problems.
Ensure that your cache as well as your browsing history has been cleared;
Ensure that the JavaScript is enabled;
If there is software that is blocking the Firewall, you should uninstall it;
You should install the latest as well as the most stable version of Adobe Flash Player;
Ensure that the internet connection is good;
Check on the upload traffic.