We all love YouTube, and we can get great picture and sound quality whatever device you watch it on: desktop, laptop, tablet, or even your smart phone. Some users, however, are finding that all they get when they try to watch a video, or search for one, is a blank void of nothingness: it's the white screen of death. Don't put up with the sense of frustration you get when you see that familiar white out, here are five solutions that can solve the YouTube white screen problem.
Why Choose This YouTube Video Downloader:
With this YouTube downloader, you can batch download videos from 10,000+ video sites in simple steps.
You can play and manage the downloaded or local videos with this software.
It is also a video conveter which supports to convert videos between 153+ media formats.
It supports to transfer downloaded and converted videos to any devices you want.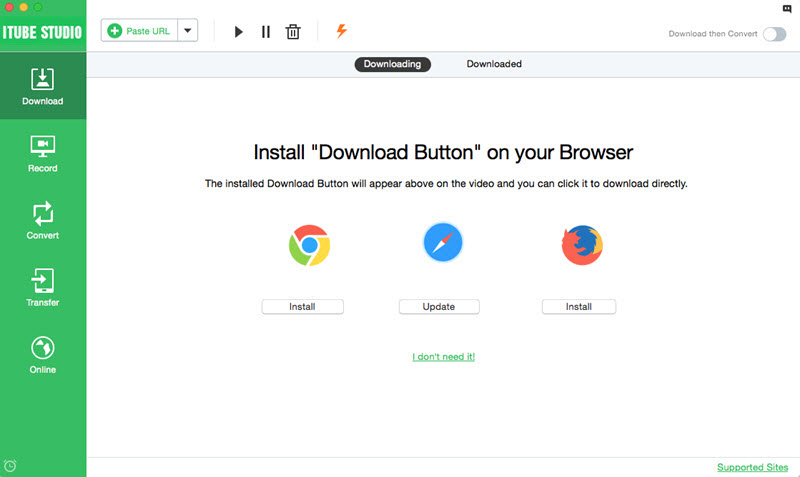 1. Solution 1: Update Your Flash
Adobe Flash Player is a great piece of kit that allows computer systems to watch video at good speeds and in a good resolution. It can also be software that comes under attack from hackers and scammers, so Adobe regularly update it to keep one step ahead of the bad guys. Having an outdated or non-functional Flash Player is a common reason for the occurrence of the YouTube white screen problem, so here's how to resolve it. Go to the Adobe website and find the latest version of Flash Player, and then simply download it or update the version that you already have installed. You may find that this solves your white screen problem right away.
Solution 2: Give Your Computer a Spring Clean
The more you browse the internet the more files take up space on your hard drive. Even if you haven't actually downloaded anything your computer will still be storing cookies, as well as images and information in its cache. Problems with these can sometimes lead to a malfunction of YouTube resulting in that horrible white screen. One of the first things you should try, therefore, is to clear your cookies, clear your cache, and clear your browser history. There are different ways to do this depending upon which internet browser you're using, but the method is often found under the 'Tools' or 'Edit' section of the taskbar. You'll need to restart your computer after the clean-up operation before your changes have an effect.
Solution 3: Put the Block on Your Adblock
Ads are an essential part of everyday life, whether we like them or not, as they provide the funding for companies and people who are putting lots of the content that we love so much on the net. Some people find them just too obtrusive, however, and so they install ad blocking software, such as Adblock. While these are very effective at stopping pop ups and keeping your computer screen a commercial free zone, they can also have a detrimental effect upon YouTube itself, especially as many of the best videos online include an ad at the beginning. If you are seeing the white screen instead of the video you selected, uninstall your ad blocker and try again.
Solution 4:Use an Alternate Browser
There are lots of browsers to choose from, with some of the most popular being Internet Explorer, Chrome, Firefox, and Safari. They all do the same basic job, but in very different ways, and they too are constantly updating their software to provide added security to their users. If you find that YouTube suddenly begins to throw up the white screen of death it could be down to an incompatibility with the browser you're using. Simply shut down your browser and try again on a different browser. They're all free and easy to download, so it's worth having more than one browser option to choose from.
Solution 5: Switch off Your Hardware Accelerator
We all want our browsing experience to be as fast as it can possibly be. Whilst computers are getting more powerful, and consequently faster, every year, some users like to give them a helping hand by installing a hardware accelerator. This is great if you're playing the latest video games but some hardware accelerators can create compatibility problems with YouTube and guess what the result of that is? That's right! It's the white screen again. Disable your hardware video acceleration settings, and try once more.
One of these solutions, or a combination of them, should help you overcome the YouTube white screen problem, so you'll be able to watch your favorite YouTube videos again whenever and wherever you want.