Facebook is highly popular nowadays and it has become much more than just a social networking website. People use Facebook to connect to their friends and relatives and share each and every detail with them. Thus uploading videos on Facebook is not bizarre anymore. People not only upload their own videos on Facebook but also share the most popular videos from other websites. Thus downloading Facebook videos has become quite common activity among people. Although there are several ways which you can download your Facebook video but downloading MP4 format from Facebook is a bit difficult. You can either directly download Facebook video to MP4 or convert the downloaded video to MP4 through this article.
If you are looking for some good Facebook to MP4 downloader for Windows and Mac platform, then iTube Studio is the best software package for you! Available for both Windows and Mac platforms, iTube Studio MP4 downloader carries the trust of brand. There are a number of high end features available that makes it worth a try.
iTube Studio - Best Vimeo Downloader to Download Embedded Videos
Download videos from YouTube, Facebook, Vimeo, Vevo, MTV, Dailymotion, Facebook and other 10,000+ pupular sites.
Exceptionally good in converting any video to more than 150 file formats making the video best suited for your every purpose.
Its ability to record the videos from the websites with its in-built screen recording function makes it stand out amongst others.
Supports all major web video portals and more than 10,000 video sharing websites.
The lightning speed offered by this program to download your videos 3X faster than any other program is remarkable.
This Vimeo embedded video downloader equips with a video recorder which allows to capture from any online site.
It holds a Private Mode to fully protect your video downloading information with a password.
How to use iTube Studio to Download the Online Video
Here is a small tutorial that will guide you to download an MP4 video through iTube Studio:
Step 1

Launch the software and search for your favorite video

Once you have installed the iTube Studio MP4 Downloader, launch the software by double clicking on its icon. The interface of the software is quite user friendly. For downloading your favorite MP4 through iTube Studio, you first need to look for it. The integrated search engine allows you to look for your favorite video. Although you can also use your search engine for the same purpose but this feature by iTube Studio makes it convenient for the users to look for their favorite videos.
Step 2

Start downloading your favorite video

Once you have chosen your favorite video, the next step is to start downloading it. You can download your favorite videos through iTube Studio in two ways:
Using the first method, you just need the URL of the video that you want to download. Copy the URL and click "+ Paste URL" in the iTube Studio interfaceand the software will download the video.

Using the second method, open your browser and search for the video that you want to download. iTube Studio is compatible with most of the video websites and you can easily find a Download button in the browser. Clicking on the "Download" button to start your video downloading through iTube Studio.
Batch downloading
One of the best features provided by iTube Studio is its batch downloading capability. The batch downloading feature of iTube Studio allows the users to download videos simultaneously without the need of finishing the previous download. This is a brilliant feature as users can download a number of videos simultaneously and save time.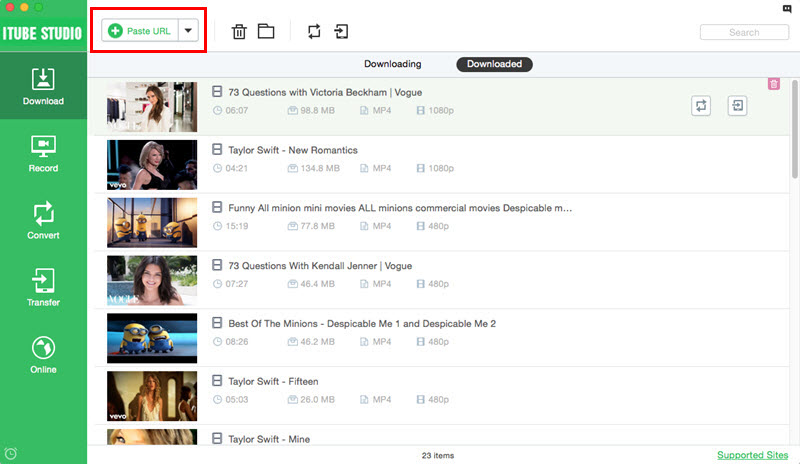 Convert your video to MP4
The conversion of downloaded videos from one format to another is yet another interesting feature added by the developers. So no matter what the format of your downloaded video is, you can always convert it into your device friendly format. Because MP4 format is supported by most of the mobile devices, you can easily convert the downloaded video in MP4 format.
Free Facebook Video Downloader
Developer: Media Freeware
Download URL: http://download.cnet.com/Free-Facebook-Video-Downloader/3000-2071_4-76054691.html.
Key features:
The user friendly interface makes it easy to download and all you need to do is to paste the video URL.
Free Facebook Video Downloader allows its users to convert the downloaded video to MP4 format.
If you are looking for online way to download MP4. Keepvid.com is the perfect solution for you. This website is free of cost and can be used to download videos from Facebook, Dailymotion, YouTube etc.
Download Facebook Videos
Download URL: http://keepvid.com/.
Key features:
It allows to download Facebook video free of cost.
The website interface is quite user friendly and you can download your favorite Facebook video easily.
The website supports MP4, M4A, 3GP formats with different resolutions.
| | Free Facebook to MP4 Downloader | Online Facebook to MP4 Downloader | Best Facebook to MP4 Downloader |
| --- | --- | --- | --- |
| Format | Only MP4 format | MP4, M4A,3GP, WEBM | Supports more than 150 formats for conversion |
| Batch downloading | Yes | No | Yes |
| Video Conversion speed | Good | Good | Fastest conversion speed |
| Video conversion quality | Average | Good | Best quality |
| Burn audio and video to DVD | No | No | Yes |
| Download videos from video sharing sites other than Facebook | No | Yes | Yes |
| Record online videos | No | No | Yes |
| Integrated video search engine | No | No | Yes |
| Transfer videos to mobile devices | No | No | Yes |
1. How to download private Facebook Videos
If you want to download private Facebook Videos to your computer, then you can use an explicit private video downloader. One such downloader is Facebook Private Video Downloader. You can get more details about this private downloader here: http://getfbstuff.com/facebook-private-video-downloader. By using this downloader, you can download private Facebook videos quickly. Open the page source of the video that you want to download and copy it. Paste the complete page source on the Facebook Private Video Downloader and click on the "download" button to start the downloading.
2. What is Facebook video format?
Facebook supports a number of video formats for downloading and uploading videos. The major video formats supported by Facebook include: MPEG-4, MPEG, MP4, FLV, AVI, WMV, 3GP, MKV, MOD, VOB, MOV, DIVX, OGG and NSV.
3. Why are Facebook videos not playing? How to solve it?
If you are caught up in a scenario where your Facebook video just refuses to play, then there can be several reasons behind it. One of the most popular reasons why Facebook videos fail to play is related to Adobe Flash Player. Facebook videos require support from Adobe flash for playing. If due to some reason, your Adobe flash player fails, Facebook video will stop playing too. To solve this issue, please check that you have Adobe Flash installed in your browser. If not, try to install the latest version of Adobe Flash to overcome this issue. Moreover if you already have Adobe Flash installed in your browser, check for its version. There can be a possibility that your Adobe Flash is outdated and won't support videos anymore.