Videos have become a popular means of entertainment and knowledge on the internet. There are a number of video sharing websites on the internet like YouTube and Dailymotion where you can watch all your favorite videos. Some of the videos are so likeable that you want to watch them over and over again even when you are offline. However, you can only watch the videos of YouTube and other video sharing websites if you are connected to the internet. Recording online videos is one way of watching YouTube videos wherever and whenever you want even if you are not online. This guide will show you how to record video on computer with video recorder.
How to Record Video with Computer Video Recorder
The task of record video on computer can be accomplished with the use of a computer video recorder. There are a number of video recorders available on the internet. However, most of them are either too expensive or don't work at all. iTube Studio for Windows (If you are a Mac user,you can download iTube Studio for Mac ) is one of the best computer video recorders that allow you to record online videos in the best possible quality. It is extremely easy to use and you will have no problem in recording all your favorite videos. The thing that makes iTube Studio different from other video recorders is that it offers a number of exciting features which help you in recording videos easily and quickly.
Why Choose This Computer Video Recorder:
Get the chance to download and record videos at very fast speeds.
Get the opportunity to record and convert multiple videos at the same time.
Allow you to convert the videos to fit video editing software like Final Cut Pro and iMovie.
Get your computer shut down automatically when the downloading or recording of the videos has finished.
Step-by-Step Guide on How to Record Video on Computer
You can record online videos from websites like YouTube and Dailymotion using iTube Studio by following these steps.
What You Will Need:
A laptop;
iTube Studio for Mac or Windows
Time Required:
Very fast (Variable depending on the video file size)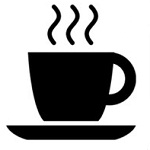 Difficulty:
Easy
Step 1. Starting the video recorder
Start the PC video recorder by double clicking on its icon. The main window of the software is going to appear in front of you. Firstly, you can open the "Record" menu from the main interface.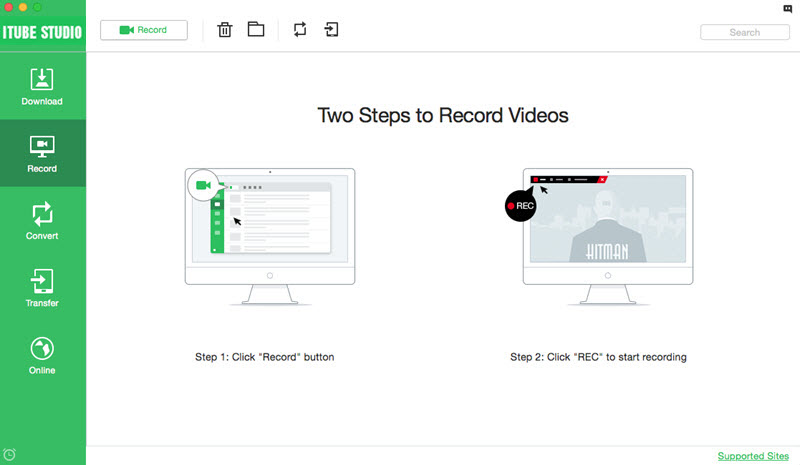 Step 2. Record video on computer
Click the "Record" button on the top of the "Record" menu window. After doing this, return to the main window and now click the Online Video tab. In this tab, play a video from any video sharing website using the built-in browser and then click the "Rec" option to record the video.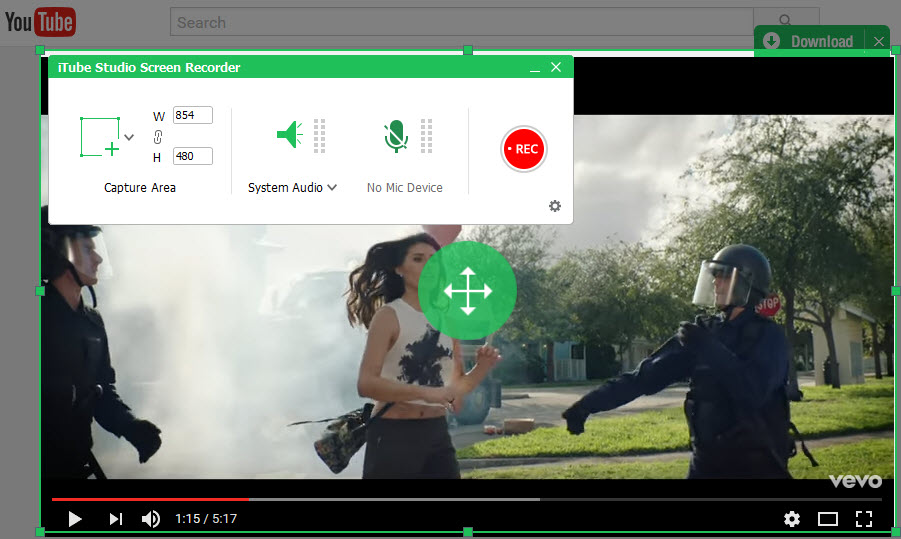 Step 3. Convert video into different formats
The recorded videos will be stored in the "Record" menu. You will find a "Add to Convert list" icon on the right hand side of each of the recorded videos. Click this icon to import the video to "Convert" menu.
Then turn to "Convert" menu, you can click the "Convert" icon on the right to convert the recorded video into a number of different formats of your choice.