Even though YouTube is the world's largest video sharing website, it doesn't allow users to download videos to their PC or Mac. Instead, it allows you to stream your favorite videos – this implies that you need internet connection each time you want to watch videos. If you want to download YouTube videos, then you have come to the right place. In this article, we have compiled a list of 10 easy ways that can help you record YouTube videos for Mac and Windows PC devices. These options are simple and effective. Read on to find out more about how to record YouTube videos.
How to Record YouTube Videos in 10 Ways
1. iTube Studio for Mac and Windows
The easiest way to record YouTube videos on your Mac or PC Windows is by making use of iTube Studio Best YouTube Downloader. It is one of the best software for recording YouTube videos in their original quality. iTube Studio YouTube Downloader and Recorder has a number of excellent features that make it a must have for all PC users. To record YouTube videos, you simply need to click the "REC" button enabled by the program on your YouTube video.
iTube Studio - Best YouTube Downloader and Recorder
Record YouTube videos in batch with original quality and have full control over the recording process.
Download YouTube videos from 10,000+ online sites from URL or browser extension.
Private Mode to protect your private video download with a password set.
Identify the YouTube videos being played online and then download YouTube at lightening fast speed.
Download YouTube videos in batch and convert as many videos as you want simultaneously.
Directly convert the downloaded videos to presets for editing tools like Final Cut Pro and iMovie.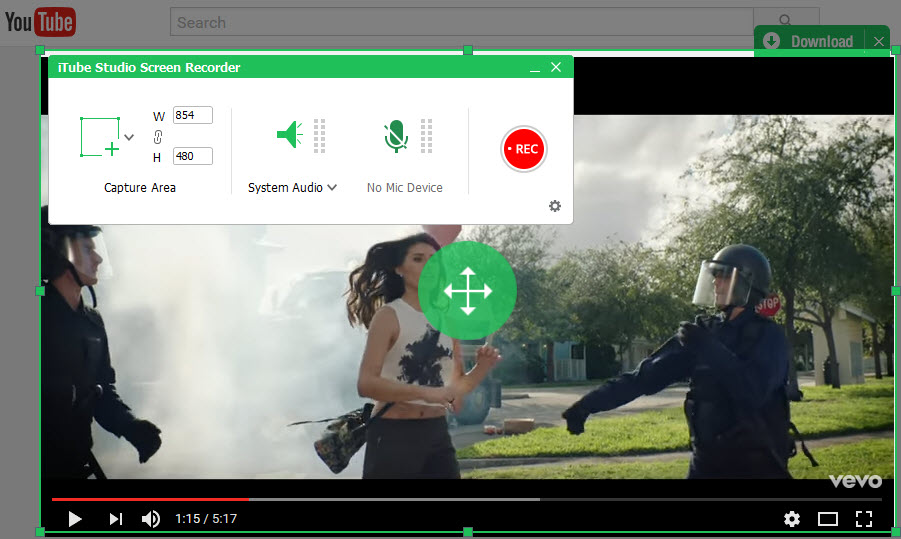 2. ClipGrab
TClipGrab is another application you can use to download or grab YouTube videos for free and record videos from YouTube. The program not only downloads from YouTube and other sites but also helps users search for the desired videos. It also converts recorded videos to MP3, MPEG4, or other formats in just one easy step.
Install ClipGrab.
Copy the video link, then insert the YouTube video URL in program's interface.
Select download format and quality, record the YouTube video clip.
Cons:
Not integrated with web browser
Conversion only works on Intel Macs
3. Fastest Free YouTube Downloader
This is a great Facebook downloader for Windows allowing you to download streaming videos from the Internet. It is very easy to use. You simply need to enter the URL of the video that you want to download in its interface, and then press the download button.
Download the Fastest Free YouTube Downloader software.
Click on the "YouTube" button. Copy and paste the URL to the empty box.
Choose video format that you want and then the folder you want to save the video.
Click on the "RUN" button to start the download process.
Cons:
The conversion process is slow
It does not offer a preview
4. 4k Video Downloader
With 4K Video Downloader for Mac, you can download your favorite videos from YouTube to enjoy offline. The program not only downloads videos from YouTube but also saves the videos, audio, and subtitles in high quality.
Download and install 4K Video Downloader for Mac.
To download a video using this software, copy the YouTube video URL.
Paste the URL on the software's "Paste URL" interface.
Choose the desired video quality and press 'Download' button.
Cons:
Limited number of supported video
Downloader does not work simultaneously with browser
5. Tubulator
Tubulator is also another program that allows you to search, browse and download YouTube videos to view them offline. The program also converts downloaded videos into convenient video formats. It shows the duration and thumbnail of the video you want to download and quality you can expect.
Download and install Tubulator.
Launch the program and search the YouTube video you want to download on the search bar.
Click on the download button. Select the desired quality of the output video.
Click Continue button to start the download process.
Cons:
6. Record YouTube Videos with a "Kiss"
This is a unique method that allows you to download YouTube videos in an easy way. All you need is just to change the URL of the YouTube video you are watching by adding the alphabets "kiss" before youtube.com domain name.
Open your browser and search for your favorite YouTube Video.
In the URL address bar, just enter kiss alphabets in front of the YouTube domain name. For example, if the YouTube URL is www.youtube.com, the new URL will be www.kissyoutube.com.
Click enter to start the download process.
Cons:
Limited video output
Does not offer conversion option
7. Record YouTube Videos with RealPlayer
RealPlayer is a media player that you can use to pay your music videos, songs or movies. When you download this program, the RealPlayer downloader is installed automatically in your device. Every time you watch YouTube videos, the downloader automatically shows up giving you an option to download that video.
Download and install Real Player for Mac.
Open the program.
Open your browser and go to the YouTube video site.
Right-click on the video.
Click on the Downloader icon on the Dashboard. Click download.
Cons:
Not the fastest method
Does not have convert option
8. Record YouTube Videos on Mac with Chrome
You can also download your favorite videos from YouTube using Google Chrome browser. With this option, all you need is a plugin from Chrome Web Store.
Open Chrome browser, click on the menu bar and then navigate to the Chrome Web Store.
Search for the Ultimate YouTube Downloader and install it.
Open Chrome browser and search for your favorite YouTube Video.
A download button will appear under the video. Click on the button to download the video with just a single click.
Cons:
Time is limited for each YouTube video downloaded
9. Record YouTube Videos with Firefox
With this option, an add-on plugin is also needed.
Open Firefox browser and search for NetVideoHunter or DownloadHelper plugin.
Install the plugin and restart your Firefox.
Open Firefox browser and search for your favorite YouTube Video.
A download button will appear under the video.
Click on the button to download the video with just a single click.
Cons:
Time is limited for each YouTube video downloaded
10. Record YouTube Videos on Mac with Safari
Recording YouTube videos is possible with a safari browser. Although, you won't be able to record the YouTube video while it is being streamed but you can download it using the built-in tools that safari has. The download process is fairly simple and does not take much time if you have a fast internet connection. The following is a step-by-step guide, detailing the process of how you can download YouTube videos on Mac using safari browser.
Open safari browser, go to the YouTube video that you want to download and start playing it.
Open the Safari's Activity window by pressing the Command, Option and A keys simultaneously.
In the activity window, look for the file that is being loaded and has a size in excess of 0.5 Mb.
Double-click on this file to begin downloading it.
The file is going to be downloaded in the FLV format and can be played using QuickTime Player.
Cons:
However, there are some limitations to this method. It can be used for downloading flash videos only. You would not be able to download MPEG-4 files using this method.
Tips on How to Upload Videos to YouTube
Step 1: Login to Your YouTube Account
Go to YouTube.com and enter your login details. These include your Google account username and your secret password.
Step 2: Go to YouTube Upload Page
Click the Upload button located on the upper right corner. This will lead you to the Upload page.
Step 3: Select Your Privacy Setting
Choose your preferred video privacy setting from the provided list. This can either be public, unlisted, private or scheduled.
Step 4: Upload Your YouTube Video
After selecting your preferred security setting, click on the big arrow button and then select the specific video that you would like to upload from your files. You can also drag and drop the files.
You will be able to see the video upload progress on a status bar. It will process once it's successfully uploaded. This will also be shown on the status bar.
Step 5: Set Title, Description, and Tags
The video title is what Google values when ranking the video in search results page. Descriptions and tags help you add the keywords for higher ranking. Ensure that you add all these information.
Step 6: Thumbnails
YouTube will generate three choices of thumbnail images. These will be seen on your channels, suggested video previews, playlists and anywhere your video will be embedded. You can either select one or generate your own image. Click on the "Custom thumbnail" to upload your thumbnail images.
You can visit your YouTube page. The video has its own URL and users can comment, like and even share your video. From the video page, you can access settings, audio, enhancements, annotations and more.
Things You Should Know on Uploading Videos to YouTube
1. YouTube Account

You must have a Google account to log into your YouTube account. If you don't have one, you will have to set it up before you can log in to your YouTube account. A Google account is not only meant for YouTube, but also Google+ Gmail, and other platforms.

2. Privacy Settings

Your YouTube videos should have different levels of privacy. Therefore, set the privacy level before you can upload your videos. Here are the meanings of each privacy setting.

a) Public: Anyone can see and view your video once it's uploaded. It can even appear as a suggested video to YouTube users and will appear on your channel, in the videos section. The public setting fits video uploads that are meant for brand promotion, to inform or educate your audience.
b) Unlisted: Only the individuals with a link to the video will be able to watch it. The video will not appear in the video section of your YouTube channel. It will never be found in the YouTube search results or on YouTube suggested views. This privacy setting allows you to share your videos with people who will find it relevant and not everyone.
c) Private: Any video uploaded with a private setting can only be viewed by you and users you choose. These videos do not appear on YouTube channel, and all other YouTube users will never discover them.
d) Scheduled: With scheduled, your video will be uploaded to YouTube, but YouTube users will not be able to see it, until the date and time you selected during the upload. If you would like to share series or TV shows, this setting will enable you to share them without uploading each video individually.

3. YouTube Copyright

On uploading videos to YouTube, you should ensure that your content is original, you automatically own copyright to it, and you have exclusive rights to upload it. If the content isn't original, then ensure that you upload it without infringing the owner's copyright.