Mobile devices changes our life, more and more people like to watch movies, TV shows, news on their iPhone or Android phones. Always, you may want to save a favourite video but you can't get it. If you have this problem, you should know that it is easy to save videos if you have a video recording software for iPhone and Android. Now, you can choose a suitable one from this article.
Why Choose This Video Recording Software:
It is an all-in-one tool which supports to download, convert, record and transfer videos.
This video recording software can record videos from Netflix, Hulu, Vimeo, iTunes, Hollywood Video, BBC iPlayer Live, CNN, Dailymotion, etc. in high quality.
It supports more than 10,000 video sites and you can download videos with 3 easy ways.
It can batch download videos, and it supports 3X faster video download speed.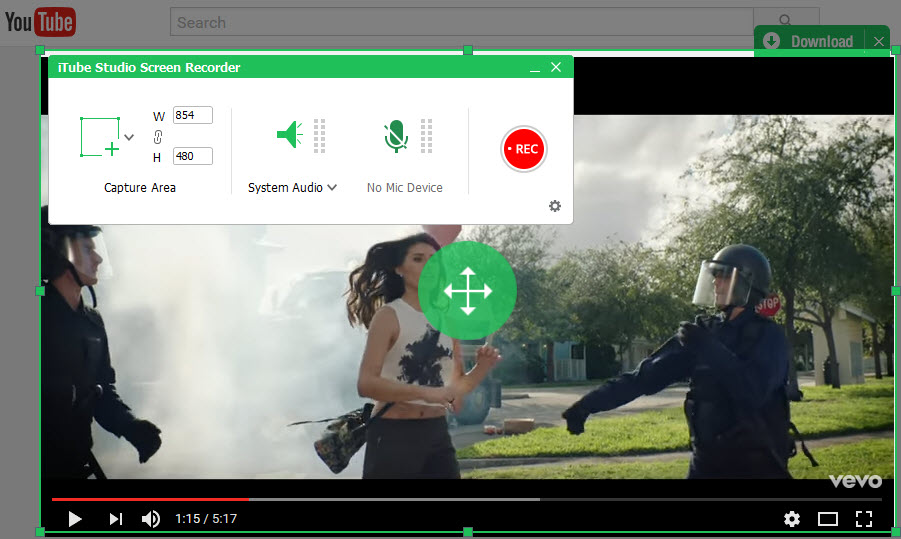 Part 1. Top 5 Video Recording Software for iPhone
1. Magisto
If you're not necessarily looking to create professional content, but rather want something well-designed and efficient to capture your videos and post on social media, then Magisto is the perfect choice for you! All you have to do is choose the still photos and clips you want to include, select a theme and a song from the app's collection and the software will condense the material and make it worthy of a fun, shareable Facebook post.
2. Horizon
Next time you're trying to take a group selfie, but the camera angle gets distorted and all you're left with is a crooked picture, remember you should have purchased Horizon. Your friends will thank you for it. This video recording software accurately captures fast-moving events and provides various resolutions, as well as lock focus and exposure. However, what makes this app unique is its ability to reframe videos recorded in the wrong orientation. What this means is that Horizon automatically takes those horizontally recorded videos and converts them to the proper landscape orientation by using your phone's gyroscope to level your recording.
3. VivaVideo Pro
This compact video recording software features several easy-to-use editing and saving tools, which allow you to create a short and entertaining video for your social media platform. With over 30 million users all over the world, VivaVideo Pro can turn even the most uneventful everyday moment into a fun vine or viral video.
4. Filmic Pro
If you're willing to pay extra for performance, then take a look at this video recorder software. Cinegix's posh and versatile app provides its users with the finest, high-quality recordings. Featuring audio control, speed zoom and frame rates up to 240fps, Filmic Pro turns a regular iPhone into a veritable High Definition video camera.
5. MoviePro
This is the most powerful, user-friendly video recording and film-making app on the market. Featuring a myriad of ingenious recording options, including audio compression, secret mode recording, stills while filming, flexible fps and resolution, this software is just what you need if you're looking to upgrade your social media presence – whether you're targeting your personal or business-related profile. MoviePro is a sophisticated and highly-reliable software that allows you to capture your most worthwhile moments to later share and enjoy with your family and friends.
Part 2. Top 5 Video Recording Software for Android
1. Unlimited Screen Recorder
This app offers the basic tools that allow you to record your Android screen. The first and only completely free mobile video recorder software, Unlimited Screen Recorder is perfect if you're looking for something low-cost and simple that can ensure you seize all those unforgettable moments from house parties and fun events.
2. Motion Detector Video Rec Pro
This software is the only professional HD video recorder that triggers on motion detection. Designed for casual users, but also built to function as a CCTV and security video recording, surveillance camera, or infant baby monitor, Motion Detector Video Rec Pro features an auto lock device/screen, sensitivity adjustments and custom sender email option for complete privacy.
3. Night Video Recorder Camera
This is currently one of the trendiest apps on the market, devised using over 10 years of imaging technology expertise. What's unique about this particular software is its high fidelity color enhancement. Used as a night vision or surveillance camera, or for low light video recordings, Night Video Recorder Camera is the only professional night vision app that supports picture and HD video recording. This is perfect for Android lovers that enjoy recording in darker settings. You can also test this software out before fully purchasing it, by selecting the free option available on the Android market.
4. Mobizen
Thanks to this app, recording your mobile's screen in HD is only a tap away. Mobizen allows you to see, type and control your mobile device from your personal computer. This fun video recording software offers you a few perks that other apps on the market can't. For example, you can transfer files to your PC, reply to text messages from your desktop, or even stream videos directly to your computer screen. You can also record your Android's screen without using any roots. If you're passionate about gaming, you can record your Minecraft and Clash of Kings sessions with a single tap. If Facebook and Instagram are more your cup of tea, then Mobizen allows you to record and use your Android anywhere, anytime.
5. AZ Screen Recorder
As seen on Google Play, Android Police, Droid-Life and Yahoo News, this app is currently one of the trendiest, most sought-out video recorder software for Android. Allowing you to record your screen in HD and Full HD, this is the only screencast on the market that can be paused and resumed while recording. Moreover, AZ Screen Recorder comes with several fun and handy features, including an overlay front camera option, a countdown timer, video trimmer and magic button.