YouTube is one of the best sites to watch your favorite music online. However, for you to be able to enjoy watching videos on this site, you need to have fast internet connection. An alternative will be record or download the music that you love and then enjoy watching it anywhere and anytime on your phone or computer. Below are top 10 YouTube recorder app for iPhone, Android, Mac and Windows, which enable you to record videos with ease.
Top 5 YouTube Recorder App for Mac and Windows
The easiest way of recording YouTube videos on your Mac is by making use of iTube Studio (or iTube Studio for Windows) is a smart tool that can detect any video that you play on your Mac or Windows computer. It can record videos from YouTube, Hulu, Netflix, iTunes, Facebook and 1000 more sites. And it can help you to convert the videos to any format so as to play the videos on any platform.
Key Features of iTube Studio:
3X faster to download and record videos from any sites.
Easily extract audio from video in high quality.
Convert videos to any format and devices.
Directly play videos with the built-in media player.
#2. 4K Video Downloader
You can use 4K Video Downloader to record audio from YouTube in high quality depending on how fast your computer is going to allow. It does not have toolbars, malware, or adware to disturb you when you are using it.
It allows you to record entire playlists and channels from YouTube.
It supports 360 degrees videos.
It can record embedded YouTube videos from many sites.
Select download format and quality.
Cons:
It can be quite problematic to embed in some browsers.
#3. ClipGrab
ClipGrab is free downloader and recorder that you can use to record audio from YouTube, Metacafe, and other sites online. It works independently of your browser.
It records videos at a high speed.
You can use it to convert videos to other formats.
Cons:
It does not integrate in the browser.
#4. YTD Video Downloader
Apart from YouTube, you can also use YTD Video Downloader to record audios from many other sites, including Facebook, Dailymotion and more. It is very easy to use and super-fast.
You can use it to download free videos from more than 50 sites online.
It has an integrated video player that you can use to watch videos right away.
Cons:
It is full of ads and buttons that make it hard to use it.
#5. Fastest Free YouTube Downloader
Fastest Free YouTube Downloader is capable of recording audio from YouTube at a very high speed and in super high quality. You can use to download videos and convert them into different formats.
It can convert YouTube videos directly to MP3 format.
It can capture 720p and 1080p videos from many sites online.
Cons:
If you want to enjoy premium performance speed, you need to get the paid version.
Top 5 YouTube Recorder App for iPhone and Android
#1. Videoder
Videoder is a video downloader and recorder app that allows you to search for any video you like using a personalized search engine that looks up different streaming video sites such as Vimeo, YouTube and others. You will be able to download or record the videos that you will find directly to your Android phone. You do not have to go through the trouble of YouTube videos loading slowly or a lot of buffering when you want to watch your favorite songs or movies on this site. You can record the videos in whichever format you like as per the resolution and quality.
It allows you to download and record videos in MP3 format without the need for converting them later on.
You can download the videos in various different resolutions, for instance MP4, 720p, 360p, 480p and WEBM.
It comes with a built-in search engine that you can use to search for YouTube videos using keywords.
Cons:
It displays ads, something that can prove to be annoying when you want to view or record your favorite videos online.
#2. TubeMate
TubeMate is another YouTube recorder app offers you the easiest and quickest way to download and record the videos you like on YouTube. It enables you to have your favorite YouTube videos on your SD card and have the convenience of watching them whenever you want. To use it, you simply need to look up the video you want in the search bar and then press the green arrow that is found at the bottom side of the screen. You will be able to get your hands on the music you like in seconds when using it.
It allows you to select the quality you want when recording the videos.
It has many resolution options that are suitable for different iPhones and Android devices that are compatible with it.
It allows you record videos whenever you want.
It can prove difficult to download certain types of videos with it.
#3. EasyTube
If you are looking for an easy way to record YouTube videos, EasyTube will be a great pick. Once you have downloaded and installed it on your iPhone or android device, you should not have any problem at all to use it. It shows some categories of YouTube videos by default, but can still be able to search for your own videos. It is very simple to use and suitable to all people.
It allows you to record videos in MP3 format.
It also acts as a download manager that you can use to watch videos that you have recorded.
Cons:
It can be a bit difficult to embed it as a plugin in certain websites.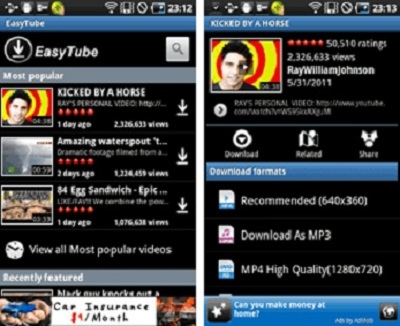 #4. YouTube Downloader
You can use YouTube Downloader to record your favorite YouTube videos for free. It is fast, lightweight and comes with a built-in search engine that allows you to locate the videos you want to record easily.
It supports Full HD as well as 4K videos at 60 fps.
You can use it to download MP4 videos instantly without converting them.
Cons:
It has a lot of ads and buttons.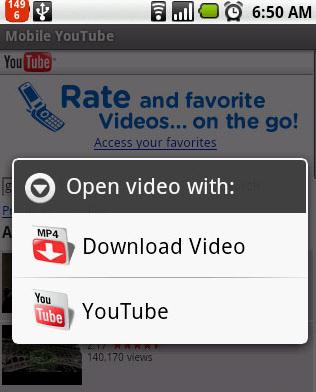 #5. Tubex
With Tubex you will be able to record YouTube videos at high speed in multiple formats. It also supports video streaming and downloading.
It has various resolutions available to choose from.
It has a built-in player that you can use to stream videos.
It shows ads at the bottom.