Nowadays, more than 70% of Internet users prefer to freely download anything online instead of buying original copies. In this post, I will share with you the 3 best websites that I have used to download movies and TV shows for free, without any subscription or membership fee.
Part 1. 3 Best TV Download Sites for Free
URgrove has one of the largest movie and TV show databases and gives us the access to an assortment of Hollywood and Bollywood movies as well as the latest TV shows as soon as they are released. And to make things even better, it has a simple user interface that allows easy navigation. Screenshots are added to each video's description to make it easy for users to evaluate the quality of the videos before downloading. URgrove supports direct download through single links. The only drawback to this website is that users have reported that it is not very mobile friendly.
O2TVSseries offers a wide variety of movies, TV shows, applications, music and games. You can search for your target TV shows or movies by alphabet quickly. Moreover, it is updated very frequently, which guarantees that you will never have to wait to watch the new episode of your favorite TV shows. Luckily, each TV series owns its own views, rating which let you know the popularity soon. But there are many ads buttons which will mislead you to the ad page.
Kickass Torrents has always been one of the leading websites to download anything, from eBooks and documentaries to the latest TV shows, movies, anime and much more. It is ranked third because it is a torrent website and many people are not willing to go through the hassle of learning to use Bit Torrent clients. The best feature of Kickass Torrents is that there are thousands of comments and ratings for anything you download, especially movies. So, it is easy to know what you are getting into. But recently, it is not stable because of the copyright issues.
For watching a YouTube video on your TV, you'd better download the video on your computer firstly, and then stream your downloaded video on your TV. To download video from YouTube to your computer, we recommend you to use iTube Studio. This application is specially designed for downloading videos in any format. Here are also other key features that why we choose this specific software.
Part 2. How to Download the TV & Movies by Using iTube Studio
The amount of websites that allow you to watch movies and TV shows online for free are endless. However, what if you are someplace quiet, you decide to watch a movie, take out your mobile device and unfortunately, there is no Internet connection or the website won't load? Having your favorite TV show or movie already downloaded on your device is a much safer idea as it guarantees that you will have access to it whenever you need it. If you've ever used any video converter and downloader in the past, you may find they are difficult to use, do not offer many conversion formats and are extremely slow. iTube Studio is the exact opposite. It incorporates a video downloader that makes downloading videos easier than it ever was before. Its main features are outlined below.
iTube Studio - Download/Record TV Shows/Movies Free Easily
Download videos from YouTube, Facebook, Vimeo, and other 10,000+ pupular sites.
Convert downloaded videos to many formats including 3GP, MOV, AVI, MP4, MP3 and much more.
Batch download videos like YouTube playlists & channels at high speed.
Download YouTube HD videos (even 1080p HD and 4k videos) and YouTube 3D videos.
Download YouTube high bit-rate MP3 in one-click.
Download videos 3X faster with task scheduler.
Support downloading online videos in Safari, Firefox and IE.
Record screen or any video from online websites.
A built-in video player to play videos.
How to Download/Record Movies and TV Shows Using iTube Studio
iTube Studio offers two methods in which you can download videos from YouTube, Vimeo and any other website that streams videos. Here we only mention one solution for your reference.
1. Download Movies and TV Shows Using iTube Studio
Step 1 Download and install iTube Studio on your PC.
Step 2 Launch your browser and copy the URL link where you want to download the movie or TV show.
Step 3 Go back to iTube Studio, and click "+ Paste URL" from the "Download" tap. The video download process will be started.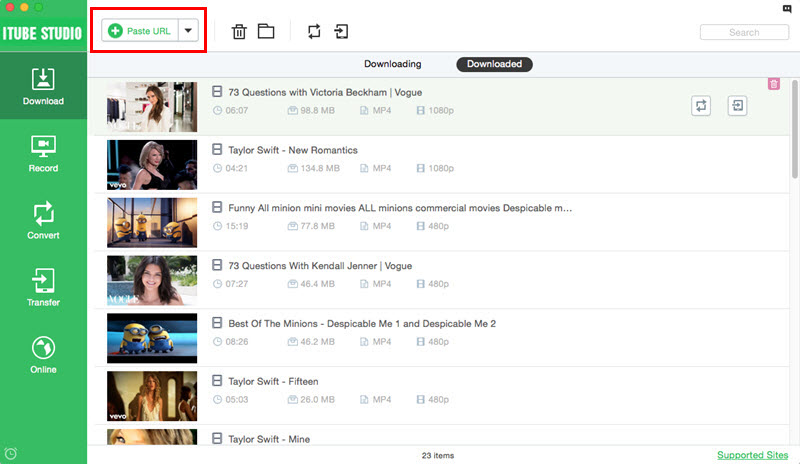 Step 4 (Optional) Once the video is downloaded, you can also convert it to another format if you did not choose the "Download then Convert" option.
2. Record Movies and TV Shows Using iTube Studio
If you are unable to download the video or want to record the video of applications or program running on your computer screen, you can use this option.
Step 1 Download and install the software iTube Studio and then open it by double-clicking the software icon on the desktop. Then find the video you want to record.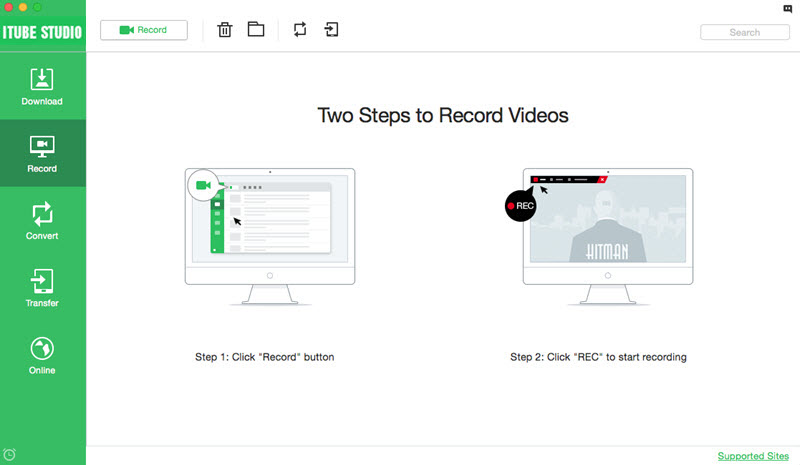 Step 2 Go to "Download" > "Record Video" of iTube Studio, a Rec window will pop up. Then go to the video page and adjust the size of the "Rec" window if necessary. Tap the "Rec" button to start recording and play the video.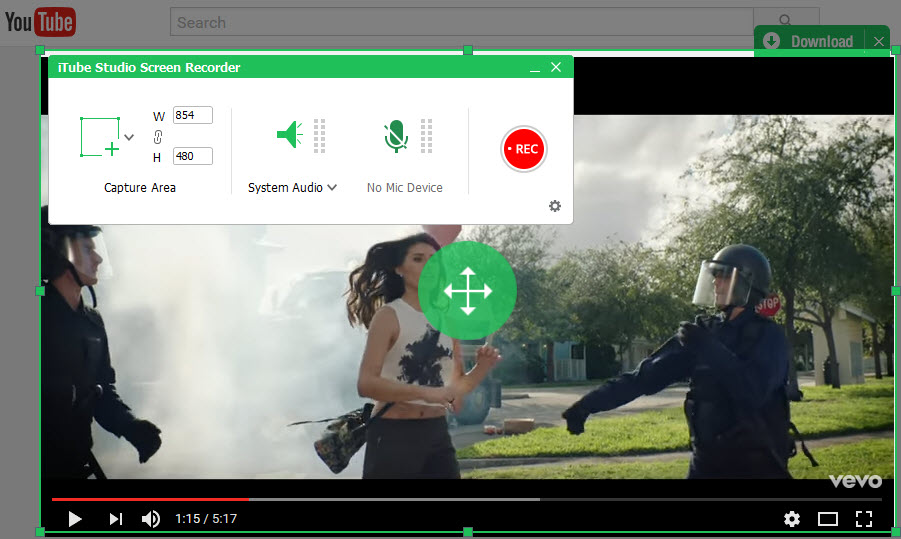 Step 3 After done, you can find the recorded video in the "Finished" library.