TV sets were in a similar spot, though there have been gigantic improvements in that field as well. The older generations in particular might remember watching shows and sports on black and white TV sets that could only display 240p resolution and the picture looked serviceable. Today, we have 1080p-capable 24-inch TV sets available on Amazon for as little as $160.
When you combine the two – modern usb sticks and modern TV sets – you arrive at an extremely powerful and flexible combination for enjoying any video content, right there in your living room, for under $200, including the shipping costs. Forget about hunching over your monitor or watching the endless stream of obnoxiously loud ads, lay back in your couch and enjoy the show on the largest display in your house – your TV screen. It's entertainment when you want it and how you want it. You have the remote and you rule the TV schedule. Don't settle for anything less than that.
Part 1. How to Play Videos on TV from USB
Filled with glee, you decide to acquire a USB, a quality TV set and a show to knock your socks off. You copy the show to the USB and… now what? The TV set doesn't seem to have an USB port. Even if you do manage to find one, it doesn't seem to be recognizing your USB or your show. Fret not, since the purpose of this article is to teach you all about hooking up a USB and playing a video file from it on your TV set.
Even though there is a USB port on your TV, it doesn't necessarily mean it can be used play video files, since some TV sets have the port solely for the repair technicians to insert their customized USB and access the TV set's software. In other cases, a USB port may be inactive until it is enabled through a preference found deep in the options menu on your TV.
Three tips for playing video from USB on TV
1. Enable USB Port - Generally speaking, TV sets have the USB port disabled by default. Consult the paper manual that came with your TV set or find an online copy to see how to enable the USB port. When it comes to LG TV sets, the USB will be enabled once you've activated it through a secret menu accessed through a secret combination of key presses on your remote.
2. Check compatible formats and resolutions – If the USB port still won't work after you've enabled it, try checking to see which formats and resolutions your TV set does support. To find this out, refer to the manual you received with your TV.
3. Check USB type – Some TV sets won't accept usb sticks unless they are of certain specifications or made by a specific manufacturer. To find out if this is the case and what kind of USB stick you need, check the user manual that you got with your TV. To check the file system type of your USB, plug it into a computer and open its properties menu.
Part 2. Best TV Shows Downloader - iTube Studio
YouTube is the greatest invention since sliced bread. You can watch anything from homebrew videos to fancy HD Hollywood movies purchased through YouTube Red. Trailers, cartoons, documentaries, how-tos, music videos – all of those are right at your fingertips. But, what happens when you can't access the Internet for any reason or you get pushed over the edge by yet another 10-minute YouTube ad? It would be a great idea to have an offline version of your favorite videos, whatever they might happen to be. And then you could also put them on your USB and watch them on your TV. That would be really sweet.
This is the perfect situation for iTube Studio . This video downloader is used for downloading videos from the video sharing sites, and saves them to your local hard drive for offline enjoyment. This part will introduce how to use this video downloader to save videos on your computer with iTube Studio in detail.
Download videos from YouTube, Facebook, Vimeo, and other 10,000+ pupular sites.
Convert downloaded videos to many formats including 3GP, MOV, AVI, MP4, MP3 and much more.
Batch download videos like YouTube playlists & channels at high speed.
Download YouTube HD videos (even 1080p HD and 4k videos) and YouTube 3D videos.
Download YouTube high bit-rate MP3 in one-click.
Download videos 3X faster with task scheduler.
Support downloading online videos in Safari, Firefox and IE.
Record screen or any video from online websites.
A built-in video player to play videos.
How to Save Videos with iTube Studio
Download and install iTube Studio on your computer, then start it. You'll see the main interface of downloading video. You have two ways to save videos from YouTube to your local hard drive, and the following guide will show you in detail.
Method 1. Copy & Paste URL
Step 1.1 Copy Video URL
Now go to YouTube and find the video you want to download, then copy the video URL in the address bar.
Step 1.2 Paste URL and Download Video
Click the Paste URL button at the upper left corner of iTube Studio, and the video downloader will automatically analyze the video URL then start downloading.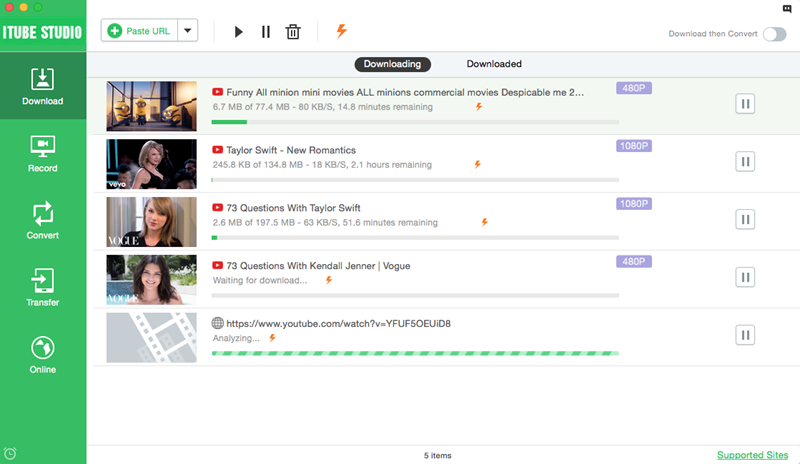 Method 2. Download Video within iTube Studio
Step 2.1 Choose Online Video Option
After starting iTube Studio, choose the Online Video option at the top middle of the main interface of iTube Studio. You'll see the icons of the video sharing sites in the window.
Step 2.2 Download Video
Click YouTube and the program will navigate to the site. Search for the video you want to download, and then you'll see the download option at the upper right corner of the video screen. Choose the video quality you need and the program will start downloading.
Step 3 Finish Download
When the downloading process finishes, you'll get the downloaded videos in Finished category. And that's how iTube Studio helps you to save videos from the video sharing site to your computer.