YouTube provides a platform for people to inform, connect, and inspire others around the world, acts as a distribution platform for original content creators and advertises large and small industry. So there would be lot of reasons to visit YouTube on your laptop, mobile and tablet. But watching videos on small screen instead of your big LED TV screen, is not great experience. You might miss the picture size and quality while watching YouTube on your notebook or mobile small screen.
If that's the case with you, then don't worry, we have a solution for you. Through this article, you would be able to download, convert and play, watch YouTube videos from your laptop/computer to TV easily.
Part 1. Best YouTube Downloader to Downlad YouTube on Your Computer
For watching a YouTube video on your TV, you'd better download the video on your computer firstly, and then stream your downloaded video on your TV. To download video from YouTube to your computer, we recommend you to use iTube Studio. This application is specially designed for downloading videos in any format. Here are also other key features that why we choose this specific software.
iTube Studio - Best YouTube Downloader to Downlad YouTube on Your Computer
Download videos from YouTube, Facebook, Vimeo, and other 10,000+ pupular sites.
Convert downloaded videos to many formats including 3GP, MOV, AVI, MP4, MP3 and much more.
Batch download videos like YouTube playlists & channels at high speed.
Download YouTube HD videos (even 1080p HD and 4k videos) and YouTube 3D videos.
Download YouTube high bit-rate MP3 in one-click.
Download videos 3X faster with task scheduler.
Support downloading online videos in Safari, Firefox and IE.
Record screen or any video from online websites.
A built-in video player to play videos.
Part 2. How to Download and Stream Your YouTube Video from Computer to TV
Firstly, in order to have a good experience to watch YouTube with limited bandwidth or enjoy YouTube offline, fristly you would prefer to download your favorite YouTube video which your want to play on your TV, then stream to play video from your computer to your TV.
1. Steps to download YouTube video to your computer:
Step 1 After downloading and installing iTube Studio on your computer, then launch it.
Step 2 Select and download YouTube video you want to download
After launching the application, you can see that there are two methods you can use for get the video: download the video or record the video.
Method 1: Direct download, if you know the URL address of a video, or if you are watching any video in any browser, simply copy the URL from the address bar on the browser, then click on "Paste URL" on iTube Studio, iTube Studio automatically starts downloading video.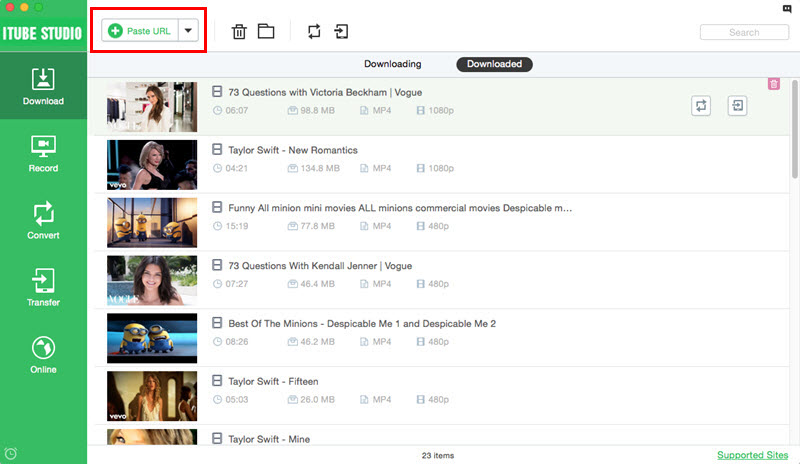 Method 2: Record video, you can also use the "Record Video" from "Download" tab of iTube Studio. Using this option, it creates a box on top of the your screen. You can adjust, resize the required area you want to record, then click "Rec" button and play the video to start recording. This method is a good choice for tutorial video record.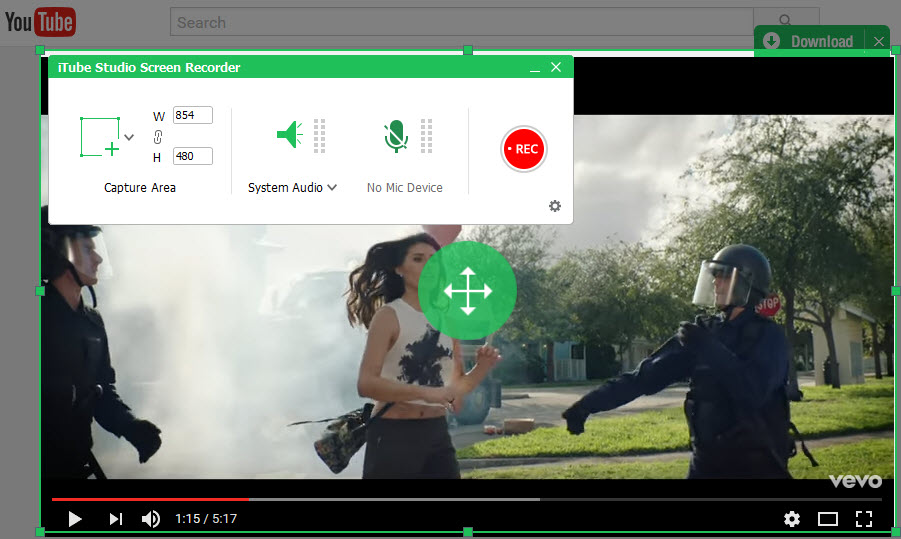 Step 3 Find the YouTube video in the "Finished" library.
After you download or record the video from YouTube, you can find it in the "Finished" library on the left panel. And right-click on the video, you can find the path of the video by clicking "Open file location".
2. Steps to stream YouTube video from computer to TV:
You have downloaded your desired video file from YouTube. Now you want to play this YouTube video on TV from computer. For this purpose, you can use AV cables (Like S-Video, HDMI, DVI or HDMI-to-DVI, VGA) for streaming your video on TV from computer depending on your TV type.
After connecting your computer with TV via the cable, then use a scan converter that translates the computer's video signal into standard TV formats. You will need to build a scan converter to connect your computer and TV between them, if the two do not support any compatible combination of AV cable technologies mentioned above. But newer televisions, generally support multiple types of digital inputs, and finding the right cable won't be too difficult.
Note: If you don't want to use any cable, you could try to use the wireless dongles like Google Chromecast, Roku, Apple TV etc. plug into a TVs HDMI port and enable Wi-Fi.
Part 3. How to Watch YouTube Videos from Your Phone to TV
If you are using UPNP supported TV, your phone can connect to your TV automatically when both devices are on the same Wi-Fi network. Tap or click the streaming icon
on your mobile phone to stream the YouTube on your TV.
If your TV supports connecting over Wi-Fi, your device will be visible on the Connected TVs screen on your phone, tablet, or computer.
Manual pairing
If you're unable to connect over Wi-Fi automatically, you can manually pair your TV with your second device. Please follow the instruction below for pairing your Mobile and TV, for controlling YouTube from your mobile.
Note:

Make sure that your Mobile and TV are located in the same network.
I am using Android base smart TV, got built-in DLNA and UPNP supported. If you have simple TV, then you have to use any UPNP supported device like "Chrome cast, Roku, Apple TV" etc.
On the other hand using Android base Mobile, procedure are similar in Apple phones.
Step 1 Find the TV code on your TV.
Open YouTube Application on your TV, then go to "Settings > Link TV and Phone", Scroll down to "Link with TV code", you will find a blue TV code on your TV.
Step 2 Enter the blue code from TV to your phone.
Open the YouTube app on your phone and choose "Watch on TV" under the menu. Tap "ENTER TV CODE" under the "Link with TV" code section, then enter the blue TV code to your phone.
Now you can play any video on you mobile and just click Stream button
.