ClipConverter is a free online tool to download (record) and convert streaming web videos. It fully supports these websites - YouTube, MySpace, Dailymotion, Vimeo, Metacafe, Veoh, etc. With it, you can easily download and convert video to MP3, WMV, FLV, AAC, etc. However, it sometimes doesn't work on Mac, and MOV format is not supported. For Mac users, they should find a ClipConverter for Mac alternative.
Part 1. How to Download and Convert YouTube Video with ClipConverter for Mac
For ClipConverter for Mac alternative, we naturally recommended iTube Studio for Mac, which has features similar to ClipConverter, but is easier to use on Mac (OS X 10.9 Mavericks) and support more sites and more output formats (including the missing MOV by ClipConverter). For Windows PC users, please click to download the iTube Studio for Windows.
Why Choose This ClipConverter for Mac Alternative:
It supports 3 easy ways to download videos from more than 10,000 video sites.
3X faster speed makes it more quickly to save these videos and it can batch download videos.
This alternative to ClipConverter for Mac is also a video converter which can convert download or local video to 153+ video and audio formats.
It can also work as a video file transfer and a video recorder.
Tutorial for How to Use ClipConverter for Mac Alternative
Now see how to download and convert video with iTube Studio step by step below. If you're familiar with ClipConverter, it's just a piece of cake.
What You Will Need:
A Computer;
iTube Studio
Time Required:
Very fast (Variable depending on the video file size)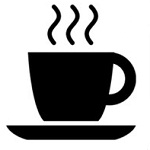 Difficulty:
Easy
Step 1. Run ClipConverter for Mac Alternative
First, download and install iTube Studio for Mac. Make sure all the extension for browsers are selected while installing. This way, a "Download" button will be added to any video on supported sites. Therefore, you can download and convert web video in any browser. After installed, double click the app icon in Application folder to open it.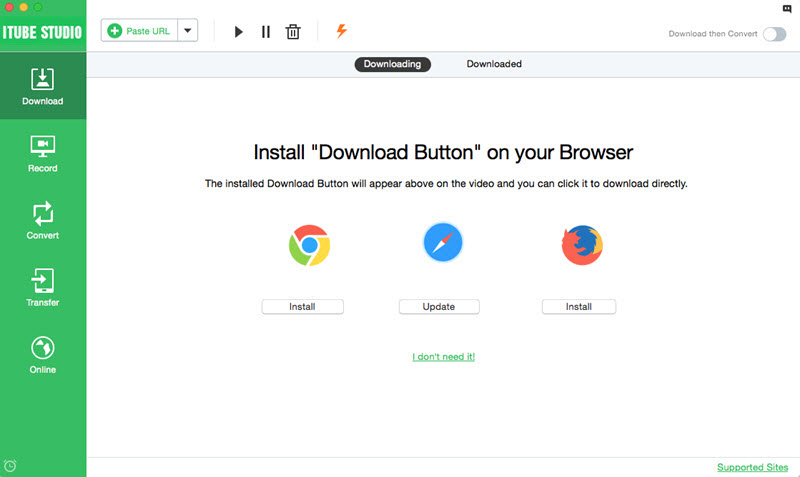 Step 2. One Click to Download Online Videos
Now open your favorite browser and go to play the video you want to download. While playing, you'll find a "Download" button on the top left corner of the video. Click it to add video to the download queue in the ClipConverter for Mac alternative.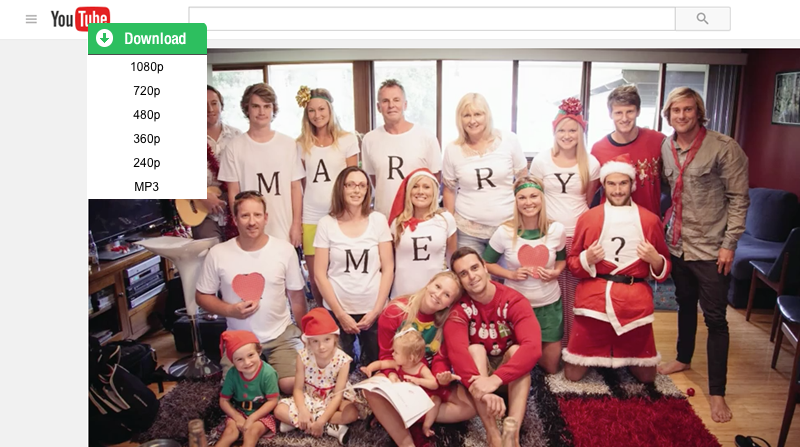 If you don't want to play the video, just copy the URL of video page from your browser's address bar and click the "Paste URL" button in the primary window to start download video online. The other way to download online video is to drag and drop the URL to the dock icon of this ClipConverter for Mac alternative.
Step 3: Download Video to Any Format, Directly
All the downloaded video will appear in the Downloaded tab. Therefore, it's easy for you to play and convert the downloaded video. All popular video and audio formats are supported, including but not limited to MOV, MP3, MP4, MPG, WMA, AAC, M4A, AVI, etc. You can also directly convert video to play on iPod/iPad/iPhone, PSP, Android, BlackBerry, and so on.
Usually, you download video and convert video by clicking the Convert button to continue. But now, you can do it before downloading video, which means the video will be directly downloaded to the specified format. Imagine that online videos are be downloading to your computer. When complete, easily enjoy on your Mac or portable devices. Amazing! Get started by clicking the "Download then Convert" button on the top right to have a try.
Tips: iTube Studio for Mac can also convert your local FLV/MP4 videos. To add local FLV/MP4 videos, go to the Downloaded menu, and choose Import to go.
More about ClipConverter for Mac Alternative
iTube Studio for Mac support download video in batch - up to 8 videos at the same time. This saves you much time. Now enjoy the most convenient and fastest way to download and convert online videos.
Over 10,000 sites are supported, including YouTube, Facebook, Metacafe, DailyMotion, Vevo, Vimeo, MySpace, Break, Video Bash, Liveleak, MyVideo, FunnyOrDie, PhotoBucket, etc.
Video Tutorial on How to Use ClipConverter for Mac Alternative
Part 2. How to Fix ClipConverter Not Working
What is ClipConverter?
ClipConverter is one of the few fully-loaded online video downloading and conversion tool. It is mostly used on video streaming and sharing websites such as YouTube, Dailymotion, Metacafe, Vimeo, Veoh, and many others. It supports the conversion of the downloaded video into the more popular formats such as WMV, FLV, MP4, 3GP, MOV, and the rest.
ClipConverter works with Windows and Mac computer. It supports the format popularly used by today's leading media players, such as the Windows Media Player for Windows and Apple QuickTime for Mac. The only cause of concern could be among Linux users. But even that shouldn't be an issue if the standard video file formats and players are used.
This tool is the most recommended one for occasional movie downloaders and enthusiasts, especially for those who works with just a few video clips every so often. Heavy downloaders, on the other hand, would benefit most from a more stable, system installed software. But anytime you found an interesting video over the internet as you browse your tablet, you only have to call up this site, paste the video link in the field provided, and wait for the video to load accordingly.
ClipConverter also supports audio download and can also convert videos to a format that is compatible with the PSP, iPhone, mobile phones, and almost all portable devices. It is possible to just use the converter feature by using the file upload facility. ClipConverter can be installed as a browser add-on for users who want to enjoy the one-click downloading feature of their favorite shows or channels over the internet.
5 Common Issues on ClipConverter Not working
ClipConverter is a very interesting application, which allows the user to download and convert any video and audio file. Using it, you can change the format of your media file and adapt it to your needs. Even if the ClipConverter is a useful online video downloader, some of its users often encountered different problems. There's nothing to worry about, because this app remains one of the top options, when it comes to converting media files. Bellow, we will present you the most common problems that may occur and how can you solve them.
1) Problem: You're unable to get video infos from Youtube
This is not a problem with the platform itself but with Youtube. Most of the times, the video is not available because of copyright issues or some country restrictions. It figures that if you cannot watch a video, you cannot convert it either.
Solution: Most of the times, this is just a temporary problem. Try again in a few minutes and then, you might be able to convert your favorite media file.
2) Problem: Conversion server is not available
This video downloader significantly improved its infrastructure in the past few years. However, the number of users grew as well and sometimes, the server simply crashes. Even though is not a common problem, it can happen from time to time.
Solution: Same as the previous one, this problem is also temporary. So, you should try it until it works. It usually doesn't take more than a few minutes.
3) Problem: The "Waiting for conversion ticket" loop
This happens sometimes, when you try to download and convert a YouTube video. The conversion doesn't even start and the whole process gets stuck at the "pending" status. The problem is usually generated by JavaScript or by your browser, and it has nothing to do with the platform itself.
Solution: Try to update the JavaScript software from your computer. Also, you should use an updated version of a browser. Besides IE6, all the usual browses are supported. Just make sure that they are updated.
4) Problem: ClipConverter not working
This is a very common problem and many users complained about it. The servers are up and running but you cannot access them. However, the other users can use the app without any problem. It's a very tricky issue but fortunately, it can be solved.
Solution: In order to solve that, you have to force refresh the whole application. Do that by pressing CTRL + F5 when you're on the website. If this method doesn't work, you should clear your DNS cache.
5) Problem: My antivirus detects anything downloaded with ClipConverter as malware
First of all, ClipConverter is a very safe online video downloader. You shouldn't worry about any kind of malicious software when you're using it. Still, this problem remains, and you won't be able to use the converter, if the antivirus blocks anything coming from it. This problem mostly occurs when your antivirus is simply "overprotective" and doesn't take any risks.
Solution: Access your antivirus options and search for the exception list. Add ClipConverter in that list, in order to "inform" your antivirus that the file converter is safe.
ClipConverter is one of the best file converters available on the internet. If you're prepared and you solve all these minor issues, you will be able to use it with no problem.