ClipNabber is a powerful video downloader and converter allowing you to download videos in your browser and convert videos to AVI, WMV, MP3 and more. I've found ClipNabber and Vixy have the similar website and the same desktop program. It's probably from one company. However, both Vixy and ClipNabber Freecorder support Windows only. If you're a Mac user, you have to find a ClipNabber for Mac alternative.
The Best ClipNabber for Mac (10.12 macOS Sierra) Alternative
Naturally, we highly recommend iTube Studio for Mac as an alternative to ClipNabber for Mac OS X 10.12 macOS Sierra, EL Capitan, Yosemite, Mavericks, Mountain Lion, Lion and Snow Leopard. It comes with the in-browser download and conversion features, like ClipNabber. The main difference is that ClipNabber is for Windows, while iTube Studio is for Mac(including OS X 10.12 macOS Sierra). Another difference is that iTube Studio allows you to directly convert video to device-compatible format so you can enjoy them on your iPod/iPhone/iPad, PSP, PS3, Walkman, Creative Zen, etc. It's definitely the best ClipNabber for Mac alternative to meet all your needs. (For Windows users, you can download iTube Studio for Windows.)
Why Choose This ClipNabber for Mac Alternative:
You can download videos from 10,000+ video sites including YouTube, Vimeo, Facebook, Myspace and more.
Convert videos to any video and audio format, even directly to mobile devices and players.
It enables a Download button to download any videos and a Download all button to download the whole YouTube playlist.
You can directly play video with the built-in media and organize your videos easily.
It allows you to transfer videos to your iPhone and Android directly.
Steps to Download Videos with ClipNabber for Mac Alternative
Now see how to download and convert video on Mac (including EL Capitan and Yosemite) with iTube Studio step by step below. If you're familiar with ClipNabber, this is easy for you.
Step 1. Run ClipNabber for Mac Alternative
When installation complete, go to Application folder to open it. You'll see its primary windows as below. Make sure the extension has been installed in Preferences before switching to the next step.
Step 2. 1 Click to Download Online Videos
Open your favorite browser, e.g. Safari, and go to play the video you want to save to your Mac. Normally, you'll see a download button in the top left corner of the video. If no, go to step one to check the extension for the specific browser has been installed. Click the "Download" button to start downloading video with this alternative to ClipNabber for Mac (10.12).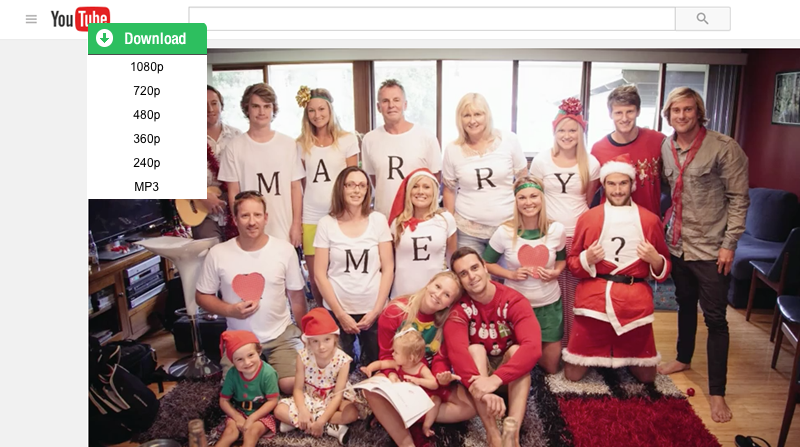 You can also add video to download by these methods: 1) Copy the URL of video page and click the "Paste URL" button in the primary window of iTube Studio. 2) Directly drag and drop the URL to the dock icon of this ClipNabber for Mac alternative.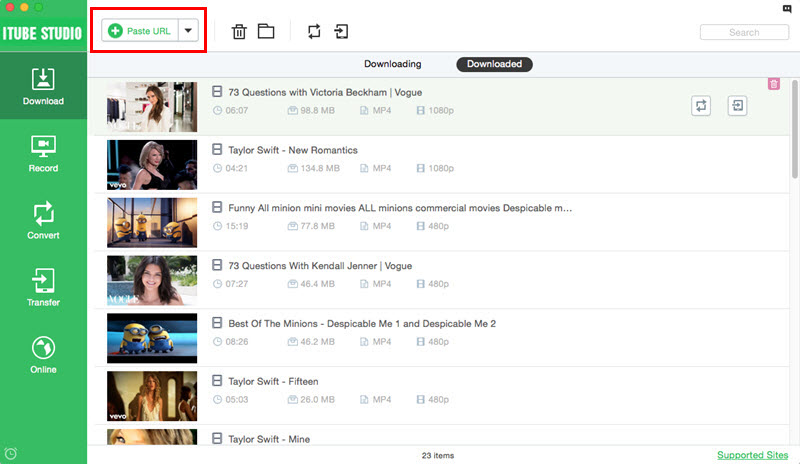 Step 3. Convert to Video or Audio Format
You can manage all your downloaded videos in the "Downloaded" tab. Also, you can import your local FLV/MP4 video to play and convert. To convert the videos format, just add the videos to the "Convert" menu first.
And go to the "Convert" menu and click the "Convert" button on the right of your video. In the resulting dialog, choose an output format and make settings you want. Lastly, click "OK" to convert video to the specified format.
More about ClipNabber for Mac Alternative
The support to over 10,000+ sites and all popular video and audio formats makes iTube Studio for Mac the best alternative to ClipNabber for Mac. It also saves you lots of time by the batch download feature. You can download and convert YouTube up to 8 videos in one go. It's a must have for a video fans.
Here is one of our respected users send a good review for iTube Studio:
"Thanks for iTube this great tool! I have been looking for a good YouTube downloader works on Mac for a long time and finally satisfied. What's more, it supports many other video-sharing websites, it help me a lot to enjoy my favorite videos!" - Michael Page from USA
Fix the Problem of ClipNabber Not Working
ClipNabber is a great tool for whenever you want to download a video from the web. Ever since ClipNabber for Mac was rolled out, though, Mac users have experienced a few glitches and issues with it. Luckily, the most common issues are easily solved, and ClipNabber can work as smoothly as can be. Below, you will find the 5 most common issues that Mac users have with ClipNabbler, alongside their solutions.
1. ClipNabber won't load at all.
If you cannot get the ClipNabber site to load at all, and your internet connection is totally fine (test this by seeing if you can access other sites on the web with no problem) then chances are the ClipNabber site itself is down. Head over to http://www.isitdownrightnow.com/clipnabber.com.html to find out. If the site is not down, then try out one of the four further fixes below.
2. You cannot get a file to download due to restrictions.
Some countries place restrictions on which videos can be downloaded, and if you are on the internet in one of these countries, you may find that ClipNabber is affected. ClipNabber has recently had issues with users trying to download videos from Youku, a Chinese video sharing site, for example. Letting ClipNabber know about these issues by emailing them or contacting them on social media can prompt them to find a solution to these issues. In the meantime, though, using a VPN to 'trick' websites into thinking that you are accessing video sites from a country with fewer restrictions will usually enable you to use ClipNabber with no problems.
3. ClipNabber cannot locate a video file on the webpage you are looking at.
ClipNabber works by identifying which file on a given webpage is a video file. If you are on a webpage with several video files, however, ClipNabber may struggle to isolate the file you are trying to download. Isolating this file and then pasting the URL of the video alone (rather than the webpage as a whole) will usually solve this issue.
4. Slow to download.
Change the file size so that you download videos in slightly lower definition. This will usually make downloading much more speedy.
5. Unsupported video format.
ClipNabber will usually download videos in FLV format. If you do not like this format, simply adjust your download options or try out the site force-download.com which will enable you to download media files in formats that work better with your Mac.