People watch streaming videos on popular video websites like YouTube, Dailymotion, Hulu etc. every day. You may find a lot of interesting videos that you want to keep at your fingerprint. But those streaming video sites usually cannot allow to download. You should go for backdoor to download those videos offline and watch on your portable devices. This backdoor is known as a video downloader software which can download videos for you in just one click only. Video downloader software enables users to download video and record them as well. Users can easily download videos from different videos sharing websites using these downloader software's. Our article is about these downloaders today. We will share different video downloader software with you through this article.
Part 1. Best Video Downloader – iTube Studio
You should find a good video downloader which is powerful enough to download videos from almost all the popular video websites. You are lucky here to find a great video downloader - iTube Studio. This software enables you to download videos very easily in just one click only. This software can download videos from different videos sharing sites and allows you to record those videos as well. This software can work for you as downloader, converter and recorder software itself. This software enables you to transfer downloaded videos to any device in just one click.
Key features:
iTube Studio enables you to download videos from 10000+ videos sharing sites.
It allows you to record videos as well and you can directly download videos in mp3 formats.
Convert the downloaded videos to any common format. It supports 150+ formats.
iTube Studio enables you to download videos in batch as well.
It can transfer videos to other devices in just one click after downloading or recording.
It can convert videos while downloading or after downloading with only one click.
iTube Studio enables you to download videos with 3x faster speed than any other downloader.
iTube Studio can download videos in mostly every hd formats. It supports 4k, 1080P, 720P video formats as well.
There is no limitation about downloading you can download unlimited videos from unlimited video sharing sites.
How to download videos using this great video downloader - iTube Studio
Step 1 First of all, users required to download video downloader free from the official page of iTube Studio. Once downloaded, launch it to start downloading.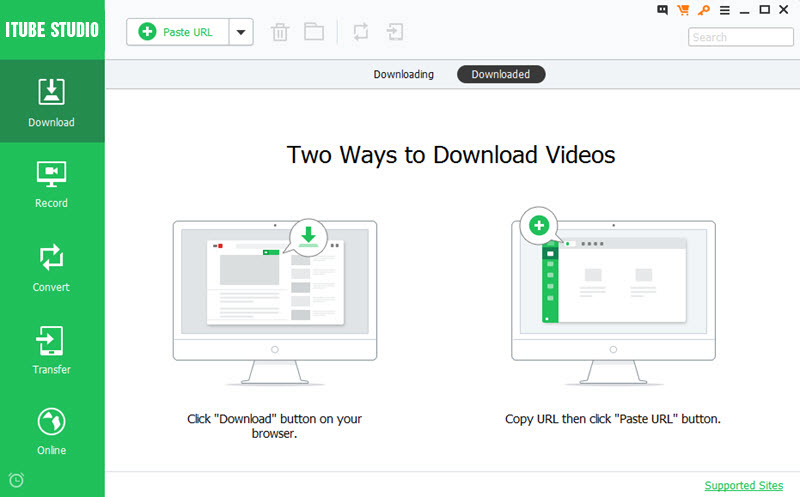 Step 2 Once it is downloaded and running on computer. Now visit video streaming site to download free videos. We going to YouTube here. Visit YouTube and find out your favorite videos which you need to download. You will see a "Download" button floating on the top right corner. Click it, and you will see different resolution for your choice.
Step 3 Your video is started downloading automatically now.
Once downloading is finished, you can find videos in Downloaded tab these video.
Part 2. How to Download Online Videos Free
iTube Studio Extension
Users are not limited to download videos offline using software only. There are online video downloaders available to download your favorite videos and movies. These downloader doesn't require you to install software on your computer. Like iTube Studio extension, this is actually a plugin which you can install in your browser and download videos from 28 videos sharing sites easily. You can download videos for free and it enables you to download videos in different available formats but you can't convert them. This plugin is available for mostly all major browser such as chrome, Firefox and safari browser. You can follow steps below to download videos using this extension.
How to download online video and movies with iTube Studio Extension
Step 1 To download video free from video sites. Open this link below in any supported browser. Whenever you open it in any browser, it will automatically show you different available plugin for browser. For example we are using Chrome here. Open link Chrome browser and click on TamperMonkey because iTube Studio Chrome plugin name is Tamper monkey. On the next page install it in browser and restart browser.
https://chrome.google.com/webstore/detail/tampermonkey/dhdgffkkebhmkfjojejmpbldmpobfkfo?hl=en-US
Step 2 Once this extension is downloaded on your browser, click on iTube Studio Extension button on main url of extension. It will install iTube plugin properly on your browser.
Step 3 Now you can visit any supported video site and play any video. When you play video, you will see a KV Download button under every video like the below picture. Click on KV Download to download the video.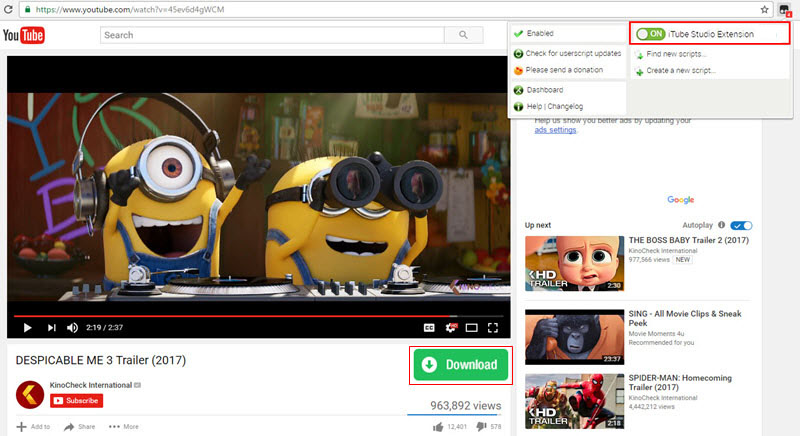 Step 4 When you click on KV Download button, it will redirect you to iTube site and show you different formats of videos. Select your desired quality here and click on Download button. Your video will start downloading now.
Part 3. Tips
3.1 How to Download Video Downloader
Downloading video downloader software is really very easy. The installation will be completed automatically there. You don't need to do anything. Specially in the case of iTube Studio. You just need to visit official website of iTube Studio and click on Download for windows or mac button like the below picture. A small MB .exe file will be downloaded. Now you need to run this file. Once clicked, there is nothing you need to do and everything is automatic now.
3.2 How to download online videos
Once you download video downloader free software on your computer, you can easily grab any videos sharing site video for free. You just need to find out videos from online videos sharing sites and copy video url and paste it in the downloader interface or download video with Download button directly from browser.