Many Google Chrome users are confused about what to do if they want to download videos from YouTube, Facebook or other sites on browser directly. They want to find some Video DownloadHelper for Google Chrome like the Video DownloadHelper for Firefox. If you have the same question, or you can not choose the best one after found many Video DownloadHelper for Google Chrome alternatives. No worry! Here we will help you to choose the best Google Chrome Video DownloadHelper, helping you to download videos from any video-sharing sites on your browsers.
Part 1. Download Videos with the Best DownloadHelper for Google Chrome Mac
Easily and Directly Download Videos in Chrome:
iSkysoft iTube Studio for Mac (or iSkysoft iTube Studio for Windows) is a good solution to download video in Chrome, which is a Chrome extension downloadhelper for Mac (macOS Sierra, OS X 10.11 EL Capitan and Yosemite included). It adds a "Download" button to every video on the supported website like YouTube, Google, Facebook, Vevo and other 10,000+ similar sites. It's even more convenient than DownloadHelper. Thus highly recommended as a DownloadHelper for Chrome alternative.
It supports to download videos from more than 10,000 video sites in Chrome, Safari, Chrome and IE directly.
It can converts videos to all regular formats and devices without installing anything else.
It is a professional Chrome downloadhelper can perfectly support Mac OS X 10.6 or later, including 10.9 (Mavericks), 10.10 (Yosemite), 10.11 (OS X EL Capitan) 10.12 (macOS Sierra).
It also supports to record online videos from streaming sites and other unable to download sites.
Simple Steps to Download Video with DownloadHelper for Chrome Mac Alternative
Step 1. Launch Download Helper for Chrome Mac
After downloaded the setup, double click to open it and a wizard will guide you through installing this Video DownloadHelper step by step. After installation, the program will launch automatically. And then install the iTube extension in your Chrome before downloading videos in Chrome.
Step 2. One Click to Download Video in Chrome
Now, just go to play the video you want to download in Chrome. You will see a "Download" button appears on the video window, click it to start fetching and downloading online video to computer.
Besides the "Download" button, this DownloadHelper Chrome app also helps you download video via the video URL. Simply drag and drop the URL to the program for downloading. Or copy and paste URL with the "Paste URL" button, your video will be downloaded.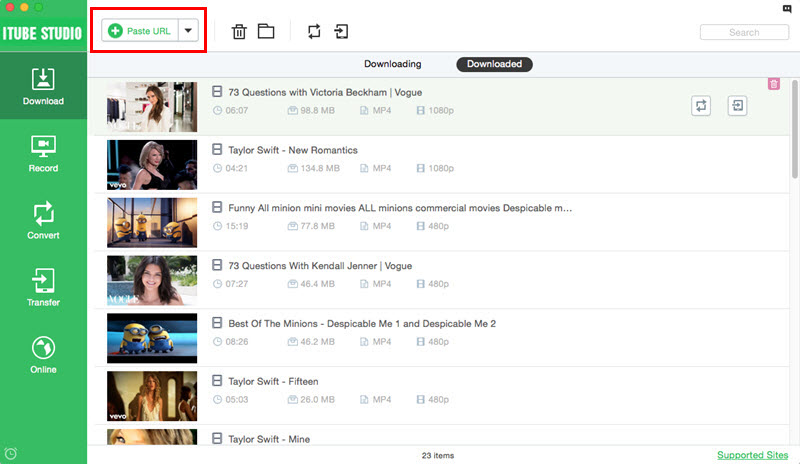 Step 3. Convert FLV video to MP3 (Optional)
iSkysoft DownloadHelper for Chrome features powerful video conversion tools so you can watch online video anywhere without using internet connection. To convert the downloaded video, go to "Download" menu and view the videos in "Downloaded" tab, and then click "Add to Convert List" to import the videos to the "Convert" menu.
And click the "Convert" on the right of each video. In the window that appears, choose the output format you want to start the conversion.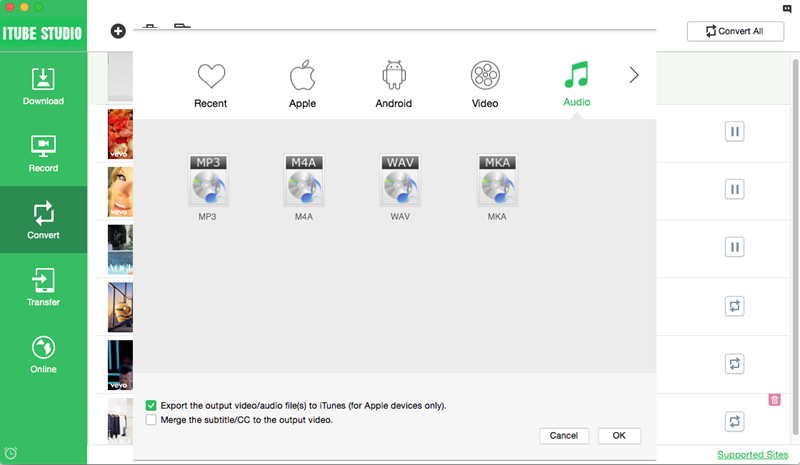 Video Tutorial on How to Use DownloadHelper for Chrome
Part 2. More Tips about Video Downloader for Chrome
Actually, Chrome web store provides you with a Video Downloader professional allowing you to download web videos or add them to your favorite list. However, this Chrome video downloader does not support downloading YouTube videos. And if you enable the video downloader on your Chrome browser, it will change the settings of your browser and sometimes get unknow stuck on playing videos. So it is better for you to choose the more safe and powerful DownloadHelper for Chrome alternative.
Video DownloadHelper for Chrome Not Working: Common Issues with Video Downloadhelper for Chrome
1. DownloadHelper not downloading YouTube videos
Sometimes, when you are using Video DownloadHelper for Chrome, you might notice that the add-on stops downloading videos from YouTube. This can be as a result of a browser compatibility issue, especially after the add-on is automatically updated. To fix the problem, simply remove the DownloadHelper add-on and try installing an older version.
2. DownloadHelper for Chrome not working after browser update
Updating the Chrome browser is another issue that can lead to compatibility problems with the Video DownloadHelper add-on, thus causing the extension not to work. If you have recently updated your browser and the Video DownloadHelper has stopped working, first try to update your add-on to the latest version. If that does not work, roll back the add-on and the Chrome browser to an earlier version.
3. DownloadHelper is not downloading some videos
When downloading videos using DownloadHelper, you might realize that the add-on is not downloading some specific types of videos, especially ones that are not MP4. In this case, the problem might not be the add-on, but the videos. To fix the problem, try using an alternative video downloader that also comes with a converter, for example, iTube Studio.
Comparison of Downloadhelper for Chrome & Downloadhelper for Firefox & iTube Studio
Products
Key Features
Downloadhelper for Firefox

One-click video download - the add-on automatically detects videos from several websites, allowing you to download with just one click.
Screen recording - it has a screen capture functionality that you can use to capture and download videos.
Multiple file types support - it can download almost any type of videos - mp4, mpg, Mkv, Flv, etc.
Video conversion - the add-on comes with a built-in video converter that you can use to download and convert your videos.
Multiple resolutions supports - it allows you to choose the type of resolution you want to download.

Downloadhelper for Chrome
1. Multiple website support - the extension allows you to download videos from almost any website.
2. Smart naming - the extension detects the original filename of the video and automatically saves it in that name.
3. Blacklisting - the extension allows you to prevent the download of videos from sites you do not want by blacklisting them.
4. Playing downloaded videos - you can open the videos you have already downloaded and play them directly from the extension's user interface.
5. Batch download - you can configure the download settings, thus allowing you to download multiple videos simultaneously
iTube Studio
1. 1-click video download - it allows you to download high-quality videos from various video sharing websites at just a click of a button.
2. Accelerated video download - it uses a hyper-threading technology that provides up to three times faster download speed.
3. Multiple website support - the downloader is compatible with over 10,000 websites that share videos.
4. Built-in converter - comes with a converter that you can use to convert your videos to various formats, including audio formats.
5. Screen recording - it comes with a screen recording function for use with websites such as Hulu, Netflix, iTunes, and others that do not support video download.
6. Batch download - allows you to download several videos simultaneously.