"Is there DownloadHelper for Safari available that is like Firefox's DownloadHelper?" - Jarad
"I want to save online video. Is there an Safari video downloader for Mac?" - Sarah
Many users would like to use a DownloadHelper for Safari to directly download videos on Mac through Safari browser. Video DownloadHelper is a free Firefox extension to download videos from websites that stream video via HTTP protocol. With it, you can free download unlimited video from YouTube, Facebook, Vimeo, etc. But if you are a Mac user, you may want a similar tool to download video in Safari. Here we will provide you the solution.
Part 1. How to Download Videos in Safari Using the DownloadHelper for Safari
Well, here is my recommendation - iTube Studio for Mac (or iTube Studio for Windows). It enables you to fetch and download any video embedded in the page with one click. Over 1000 sites are supported. It also lets you to save the whole YouTube playlist, download YouTube to MP3 with one single click. It can work well on the new Mac OS X 10.6 or later, including 10.9 (Mavericks), 10.10 (Yosemite), 10.11 (EL Capitan) and 10.12 (macOS Sierra).
The Best DownloadHelper for Safari:
It can converts video to all popular video and audio formats without installing anything else.
With it, you can download most online videos to play on your iPhone/iPod/iPad and other mobile devices.
It can directly download YouTube 4K HD and YouTube to MP3.
It supports to play the videos with built-in media player.
Steps to Download Video with DownloadHelper for Safari Alternative
See how to download online video in Safari with iTube Studio step by step, and convert to any format you want, including MP3, MOV, MP4, iPod, iPad, iPhone, etc. For Windows users, DownloadHelper for Safari Windows version is also available.
Step 1. Run Download Helper for Safari
After downloading the .dmg file to your Mac, open it by double clicking and a wizard will help you install this Video Download Helper for Mac quickly and easily. After installation, a download button will be integrated into Safari to download Safari video on Mac.
Step 2. One Click to Download Video in Safari
From now on, any video of supported sites you play in Safari will provide you with a "Download" button. When the "Download" button appears at the top left corner of the video, click it to start downloading the video to your Mac. You're able to process multiple downloading at the same time.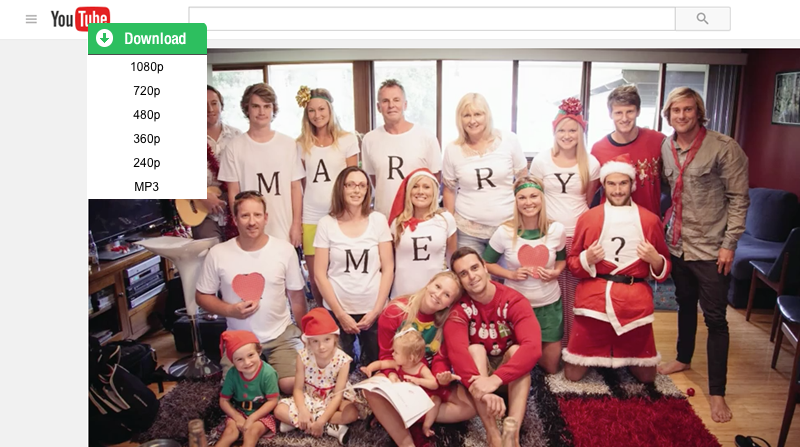 Besides downloading online video from web browser, this DownloadHelper Safari application also helps you download video via the "Paste URL" button. Make sure you've copied the video page URL prior to clicking the "Paste URL" button in the primary window of the program.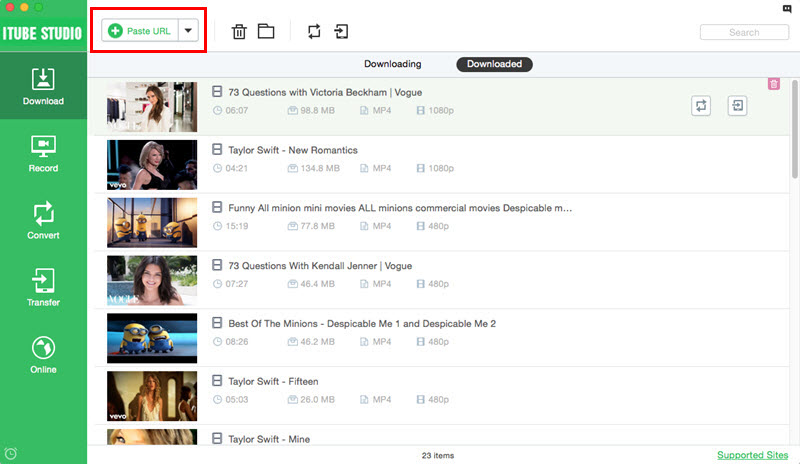 Step 3. Convert FLV video to MP3 (Optional)
iSkysoft DownloadHelper for Safari is also a robust video converter which lets you watch online video anywhere by converting to the compatible format of your device. To convert the downloaded video, go to click the "Add to Convert List" icon in the "Download" tab. This way, you can import the video to "Convert" tab for converting.
Then in "Convert" tab, you can click the "Convert" icon beside your video, in the window that appears, choose your desired format. Click "OK" to start converting.
Video Downloader for Mac is the best DownloadHelper for Safari alternative, highly recommended. Try it. Also see the video tutorial about how to use DownloadHelper for Safari alternative.
Part 2. How to Download Videos Using Safari
Actually, Safari has a hidden feature that allows you to download videos directly on the browser without installing extra add-ons, or programs. The steps to download video using Safari as below:
First update your Safari to the most recent version on Mac.
Launch Safari, and click "Windows" tab, and then select "Activity" option.
Now go to the website to open the video you want to download.
And then go back to "Activity" to find the video in the list. Double click it to download the video.
However, you will encounter many problems when downloading videos with Safari. Sometimes, it can only load YouTube videos. And you might not find the video in the "Activity" list. Or you will get error when downloading videos. So the security way to download video on Safari is to get help from Video DownloaderHelper for Safari.
[Tips]: Cannot Download Videos When Using Safari
Downloading videos from the Internet is a big part of the internet experience; but often you cannot download videos directly from your Safari browser. Sure, you can opt to stream videos online, but streaming requires that you be connected to the internet all the times, which may not be realistic. Downloading videos is also a great solution when you have a slow internet connection that leads to long periods of video buffering. There are some common issues users face when downloading videos from the Safari browser directly such as:
Problem 1. Saves in the wrong format
When trying to save video files directly using Safari, the window brings up a "save as" option and once downloaded it becomes a .webarchive file as opposed to a .mp4 or .mov file as preferred.
Problem 2. Requires built-in-apps
Unlike other files you can probably download into built in apps like e-books, e-PUBs, and PDF files, videos don't usually download into in-built video apps when using Safari. This is especially a problem when using iOS.
Problem 3. It's not an obvious feature
It is possible to download by clicking on the "window" tab, followed by the "activity" tab and double-clicking the largest file. However this is not available in Safari 8.0 or other newer updates and it's not as immediately obvious to the user as a "download" tab.
Problem 4. More often than not, you can't download
Download videos directly from Safari may not be possible at all. You may require third party tools such as apps, some add-on's or converters to do it. As such, more often than not, it's not an option.
Part 3. More About Firefox Video DownloadHelper
Video DownloadHelper is an online video download addon that is exclusive for Mozilla Firefox. It can help you download videos from 1000 plus video sites, for totally free. It's extremely easy to download video with Video DownloadHelper plugin. When it detects videos on a web page, its icon will start rotating. Just click it to save your desired video to your computer. Since DownloadHelper only works in Firefox, you have to find a DownloadHelper for Safari alternative. iTube Studio for Mac provides similar and even easier way to download online video (via a download button on the video). Plus, iTube Studio for Mac supports Firefox, Safari and Chrome. It's the best DownloadHelper for Safari alternative you can rely on.
How to Use DownloadHelper on Firefox
Step 1. Install DownloadHelper on Firefox
Go to the mozilla Add-ons site and click the "Download Now" button. And you will get instructions to set up the DownloadHelper on your browser. Once completed, you will get the DownloadHelper icon on your browser toolbar.
Step 2. Start downloading videos
Now go to the video site and find your favorite video. When DownloadHelper can download the video, the icon will animate. At this time, you can click the arrow beside the icon and start downloading the video.
[Tips]: Troubleshooting on using DownloadHelper
Firefox Downloadhelper is an add-on that is useful for extracting web content. It is capable of detecting videos in your browser and it can be used to download videos onto your device. It is very helpful with the Firefox browser, but it is not available in other browsers. However, "Downloadhelper not working" is a common error and it can be very frustrating. Some issues with Downloadhelper include:
Problem 1. DownloadHelper does not work with YouTube
YouTube might sometimes block add-ons so you will no longer use DownloadHelper to capture YouTube videos but you need to get help from a third-party video downloader like iTube Studio.
Problem 2. Cannot disable DownloadHelper
You can go to the "Tools" tab and find "Add-ons". Then you can find the DownloadHelper in the Add-on list. Simply click "Disable and Uninstall" to disable it from your browser.
Problem 3. The Version of Firefox in Use
Sometimes with a new version of Firefox an older version of Downloadhelper is required for it to work. Similarly sometimes the Firefox version is too old for it to work with the version of Downloadhelper. The mismatch can be very frustrating.
Problem 4. Not Working with YouTube
YouTube is the most popular video sharing website with videos ranging from cat videos to science tutorials to the moon landing. So downloading videos from it is commonplace. Yet sometimes Downloadhelper will work for years and then suddenly stop working with YouTube due to compatibility issues with the website.
Problem 5. Troubleshooting may be too technical
Most internet users only have layman computer skills so when the need to troubleshoot Downloadhelper arises, they may only be able to do basic things like restarting their browser or updating the extension. Anything more complicated than that may leave them stumped.
Problem 6. Downloadhelper does not detect the video
Sometimes the video file is available on the browser but Downloadhelper does not detect the video and therefore doesn't offer the download option. Even with the latest versions of the browsers and the extensions, this could still happen.
Problem 7. Flash files may require conversion
When a file is in MPEG-4 format, once it's downloaded on an Apple device, you're set to watch it again offline. However if it's a Flash file you might need to convert it and when using Downloadhelper the conversion process is technical and may be difficult to execute.
For more troubleshooting, go to "DownloadHelper Not Working Fixed".