Get Tube is a popular program to help you to download videos from YouTube for offline viewing. It places a download button enables you to download YouTube videos and audio in browser. However, Get Tube needs VLC for downloads and only works on YouTube with slow downloading. So, many people are looking for a Get Tube alternative. And Mac users are trying to find a Get Tube for Mac. Look no further! Here is the best solution for you.
The Best Get Tube for Mac Alternative
Among many alternatives to Get Tube for Mac, iTube Studio for Mac stands out for it allows fast download speed and supports thousands of video sites. And you can convert the videos to other formats for playing on any platforms. (For Windows users, you can download iTube Studio for Windows.)
Why Choose This Get Tube for Mac Alternative:
1 click download videos and music from YouTube, Google, Facebook and 10, 000 more sites.
3X faster download videos in batch and download HD YouTube videos, including YouTube playlist.
Convert videos to 153+ video and audio formats or directly to iPhone, Android and other devices.
Transfer downloaded and local videos to Android, iPhone, iPad and iPod directly.
How to Download Online Videos with Get Tube for Mac (macOS High Sierra) Alternative
iTube Studio for Mac is incredibly easy to use for anyone, whether you are downloading videos or converting them for use on your mobile devices, everything is straightforward and simple to achieve. See how to download video from YouTube for example with iTube Studio step by step, and convert to device compatible format in no time.
Step 1. Open Get Tube for Mac Alternative
Download and install this Get Tube for Mac alternative downloader. After this process, a download button will be added to your select browser while installing. Then you have the liberty to use any browser such as Safari, Google Chrome or Firefox because iTube Studio works for any kind of browser. Thus, this Get Tube Mac alternative gives you all the features in your original Get Tube.
Step 2. Download YouTube Video in 1 Click
Next, launch your browser and navigate to a video you want to download. On the video window iTube Studio will place a "Download" button. Clicking the "Download" button will display a drop down menu showing all available resolutions for the video that are available. You simply click the one you want to start the download.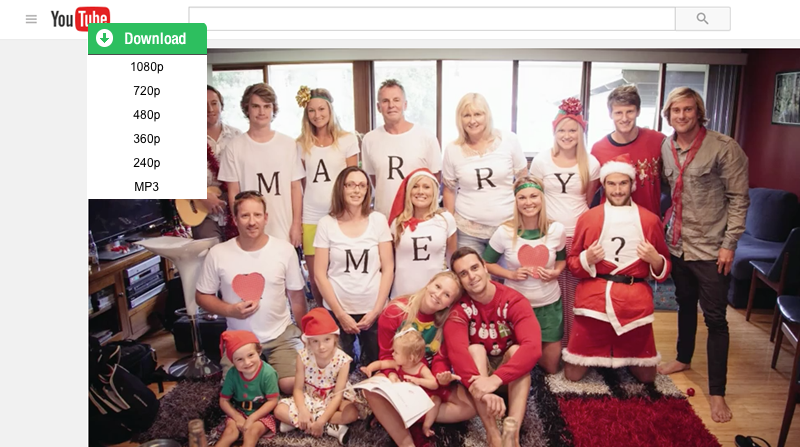 Alternatively, you can simply copy and paste the URL of a video directly into iTube Studio itself to start a download is you prefer.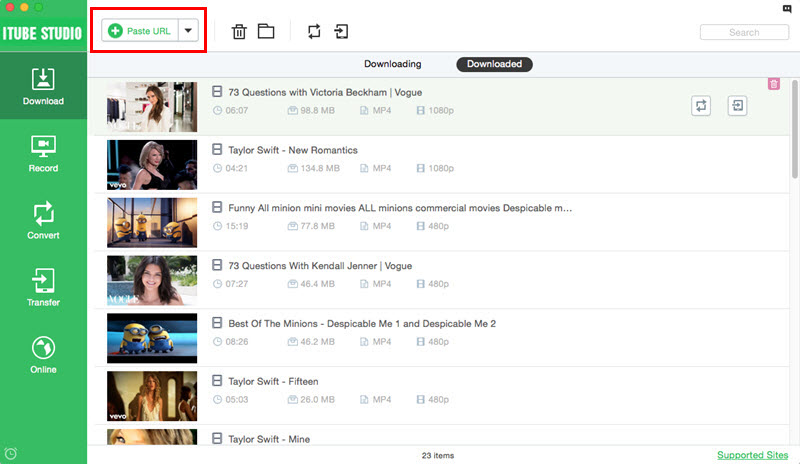 Step 3. Convert YouTube Video to Other Format (Optional)
Once downloads are completed they can be accessed through iTube Studio itself via the "Downloaded" tab. If you need to convert files to suit your intended use this is where you start, first add the video to the convert list.
Go to the "Convert" menu and click the "Convert" button at the right. This brings you to the conversion menu, simply pick from the tabs at the top that nest fits the device you wish to convert for and click "OK". The converter will subsequently do the work itself and you have the video in the format that you need stored safe in the hard drive of your Mac.
Now you can easily convert online video to any other format such as MP3, MP4, AVI, MOV, M4A, and many more. HD video is also supported. Get Tube for Windows is great tool, while iTube Studio does the job better on Mac OS X (macOS High Sierra included). It's a popular YouTube downloader among Mac users. If you want a Get Tube for Mac alternative, the best one is the iTube Studio.
Fix Get Tube Not Working Problems
Do you use Get Tube to download and view videos on your Mac Book? Well, you must have noticed that sometimes, there are issues with the application. There are numerous technical errors which occur when one is downloading their videos on Get tube which result in failure to view the content. However, little known to many, there are several solutions for Get Tube for Mac not working. I have flexed muscles and delved into research in order to unearth not one, not two but five solutions to common technical issues with Get Tube which result in failure to view content.
1. Get tube screen turning black while it is loading.
This is a common issue that has been witnessed my most Mac users. The screen turns black while the video is loading and neither voice no video is available. Solution: When this happens, it is advisable for one to either refresh their browser or simply log off first. Deleting cookies and ensuring that internet connection is well established are also other solutions to this issue.
2. Appearance of a persistent buffer logo.
I must admit that buffer logos are quite irritating. This issue is common with most Mac users and causes the video to appear to download while in real sense nothing happens.
Solution: The solution to this issue is disabling HTML 5 which has been said to be the main cause. Going to settings and then choosing use of hardware acceleration could also solve this problem.
3. Get Tube displays a black screen.
In some cases, get tube displays a black screen before it can even start downloading. It could also display a black screen after you download one video and want to go to the next one.
Solution: When this happens, it is advisable for one to ensure that cookies are cleared and also enable hardware acceleration. This helps to curb the situation in most cases.
4. Get Tube screen remains black after deleting cookies.
In some cases, the screen still remains black even after one deletes all cookies. This is mainly caused by installation of a new version of Firefox especially for those who use Firefox as their browser.
Solution: When this occurs, in most cases, one needs to install "no script" update required after installing a new Firefox browser. It is very crucial for the browser and its absence causes this issue.
5. Playing of audio without video display.
This is yet another common issue for Mac user. It is quite disappointing especially if one wanted to view an urgent video.
Solution: Commonly, this issue is caused by connectivity failure. For this reason, you need to check your connection to the internet before taking further action. Flash player could also cause this issue. One should re-install their flash player as well in case this issue persists.
Armed with these solutions, perhaps it is time to say goodbye to all issues of Get Tube for Mac not working.