Watching Internet videos can often be a great source of entertainment or education. Most of us will have a favourite video which we want to save onto our hard drive for future replayability. The most common problem in relation to video download on video streaming websites is that the videos being played is encoded in a different format, and there are no direct links for download. Even if we manage to download the file, we will often not be able to play it on our video player or on an Apple or Android device. What to do? Don't worry. This article will not only introduce you the most effective Internet video downloader, but also show you how to download videos from the Internet with clear steps.
How to Download Videos From The Internet
iTube URL Video Downloader is a cost-effective software that will allow us to download and save online web videos from all the popular video streaming sites that we access. It is a highly efficient and user friendly tool as the download video feature embedded inside the browser of the user. It automatically detects videos available for download in th e browser. The program is capable of downloading multiple videos simultaneously to save you time. What's more, it is not only a fast Internet video downloader, but also an excellent video converter.
One click download Internet videos from 10,000+ online video sites like YouTube, Facebook, Hulu, Vimeo, Netflix, etc.
Download then convert Internet videos into 150+ video and audio formats, or directly to your mobile device model.
Support batch download of multiple videos and multiple conversions of downloaded videos at once.
Useful features like "download then convert", "sleep mode", transfer functions help you to manage your downloading process easily.
How to Free Download Internet Videos
Step 1: Download and launch iTube HD Video Downloader
After you download and install iTube HD Video Downloader on your PC or Mac, open the program and follow the instruction to install iTube Helper, which is a Chrome browser extension Javascript. It can helps you to download and save online web videos in Chrome browser directly.
Step 2: Download Videos from Internet
Open a browser such as Chrome, Safari or Firefox and type in the URL of your desired video website. You should see a "Download" button appearing at the top left corner of the video as iTube HD Video Downloader detects a supported video on the website. Click the Download button to easily start to download video from Internet.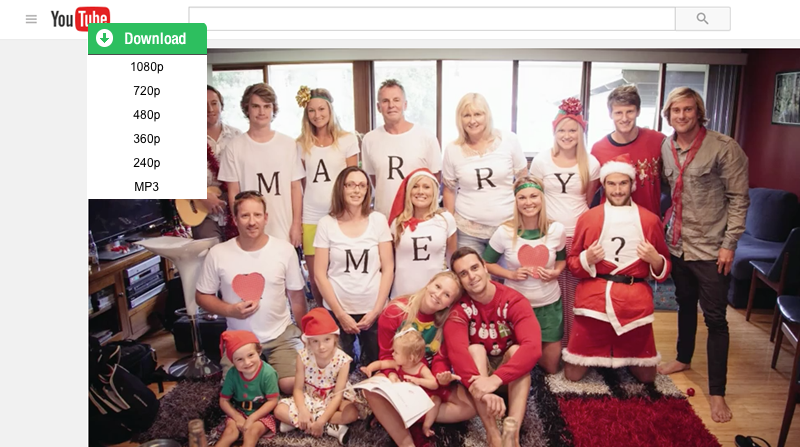 Also, you can manually copy the video URL and click the Paste URL button in the primary window, or drag the video URL to the iTube HD Video Downloader dock icon.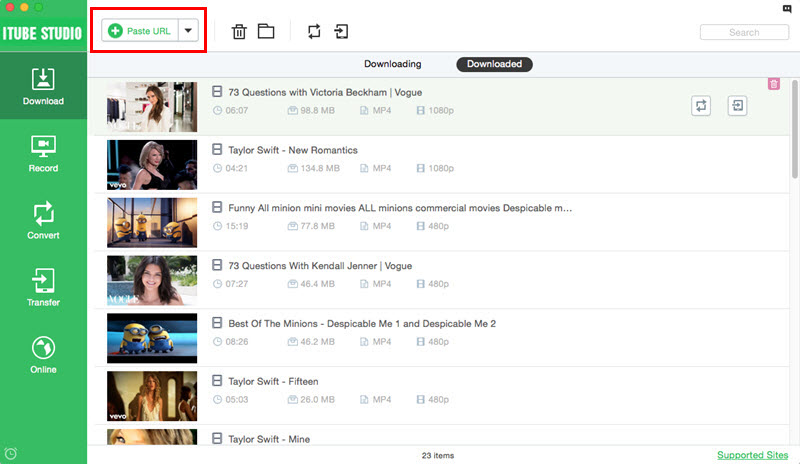 Step 3: Play the Downloaded Videos
To utilize the inbuilt video player on iTube HD Video Downloader you can select the "Downloaded" located on the top side of the Download tab in iTube HD Video Downloader window. Select any item to play the video with the inbuilt video player. You will also have the option of managing your FLV/MP4/WebM files located on your hard disk. To manage the files on your iTube HD Video Downloader, select File and import the file from the folder where your videos are located in. After you have completed this process, the videos will be available for customization and viewing in your iTube HD Video Downloader.
Alternate Solution - Online Internet Video Downloader
Utilizing an online video downloader provides an alternative for downloading your favourite videos from web streaming video sites. Savevideo.me is a user friendly online video downloader service where a copy and paste of the streaming website's URL into the download box is required to initiate download. The online tool offers support for a wide range of web streaming video websites such as Facebook, Vimeo but does not offer access to YouTube. Although it supports a range of online video streaming sites, it is still very limited compared to the capabilities of iTube HD Video Downloader which supports up to 10,-00+ sites, including YouTube.
Disadvantages of Using Online Downloader for Internet Video
The utilization of online video downloaders is severely limited given that they do not have customizable features. Firstly, a manual copy and paste approach to downloading online videos is extremely slow and inefficient. Once the user inputs a URL into the download box, there is often a delay time as the web server processes the request. Another disadvantage of using online video downloader is that you cannot download multiple videos at once. Given the server delay and the clumsy copy and paste approach between videos, the time required to download a large amount of videos start to add up. In contrast, iTube HD Video Downloader can download several videos at the same time with a simple click to download feature. Download speeds are also much faster on the iTube HD Video Downloader.
Online video downloaders also lack customizable features such as the direct download of MP3 from video streaming sites for users who want access to high quality and lossless audio formats in MP3, M4A, WAV or MKV format. iTube HD Video Downloader also offers user-friendly support for video outputs compatible with Apple and Android Devices.
In conclusion, if you are looking for a user friendly and power video downloader, you should look no further than the iTube HD Video Downloader given its wide support for a wide range of video streaming websites. It also has a wide range of customizable features that makes it much more user-friendly than most online video downloaders.