KeepVid.com is a popular free online video downloader. While KeepVid not working problems occur frequently due to the Java error, Ads interruptions, and video sites compatible issues. Luckily, there are many KeepVid alternative available to download online videos. If you are a Mac user, you need a KeepVid alternative for Mac. Here we will pick up top alternative to KeepVid.com, helping you to download videos from YouTube, Facebook, Vimeo, Google Video, Dailymotion, Metacafe, and more.
Part 1. Best Solution - KeepVid Alternative for Mac and Windows Users
The Best KeepVid Alternative to Download Videos from 10,000+ Sites
The best alternative to KeepVid we highly recommended is Video Downloader for Mac (or Video Downloader for Windows). This KeepVid alternative program is the easiest solution to download online videos without any advertisement. It allows users to download flash videos from a wide range of video sharing websites including YouTube, Vimeo, Facebook, Dailymotion and more. You can even save the whole YouTube playlist, or save YouTube video to MP3 with a single click.
1 click download videos from 10, 000+ sites.
Batch download videos in high speed.
No limitations on the videos size.
Convert the videos to any audio or video format.
Directly download online video for iPad, iPod, iPhone, Android devices, game consoles etc.
Why Choose iTube Studio for Mac/Windows
| Products | | KeepVid |
| --- | --- | --- |
| Download videos in 1 click | | |
| Download videos with URL | | |
| Download videos from YouTube and 10, 000+ sites | | Limitated support |
| Batch download videos at one time | | |
| Convert videos to video and audio formats | | |
| Optimize presets for iPhone, iPad, Android and more | | |
| Download videos including YouTube to MP3 | | |
| Download YouTube playlist in 1 click | | |
| Play videos with built-in media player | | |
| 24-hour customer support | | Limited support |
| Advertisements free | | |
Easy Steps for Downloading Online Videos on Mac (macOS Sierra Included)
Step 1. Launch the Keepvid Alternative
First free download the Keepvid alternative and drag the downloaded program file to the "Applications" tab to install the program. After that, run the program.
Step 2. One Click to Download Videos
Go to the video sites and play the video you want to download. When you mouse over the video, you will see a "Downloaded" button appearing on the upper left corner. Click it to add the video to the download queue.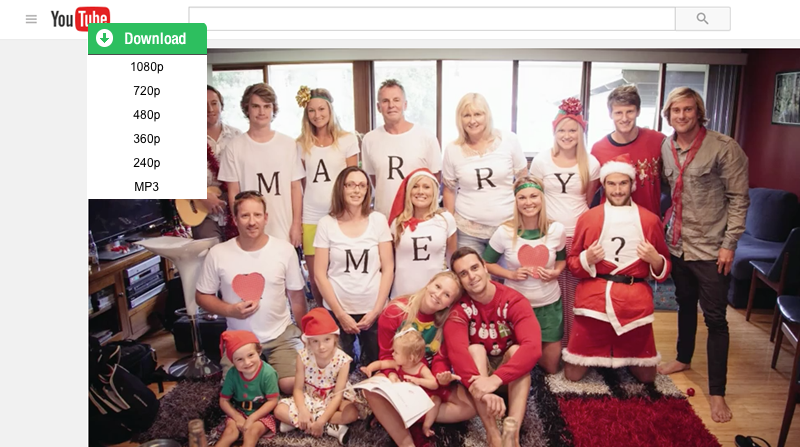 The one-click mode of iTube Studio for Mac is one of its salient features that make it more appealing to many users. It enables users to download videos from YouTube with just a single click. This feature makes it a better KeepVid alternative. Moreover, iTube Studio for Mac make your life easier as it would allow you to download multiple videos from YouTube on Mac (10.12 macOS Sierra and 10.11 EL Capitan included) all at once.
Step 3. Convert Videos If You Want
To convert the downloaded videos, you can select the target video clip in "Download" tab and click "Add to Convert List" icon to import video file to "Convert" tab.
Then click the "Convert" icon on the left of the video file bar to activate the output conversion window. Choose a format you prefer and click "OK" to start the conversion.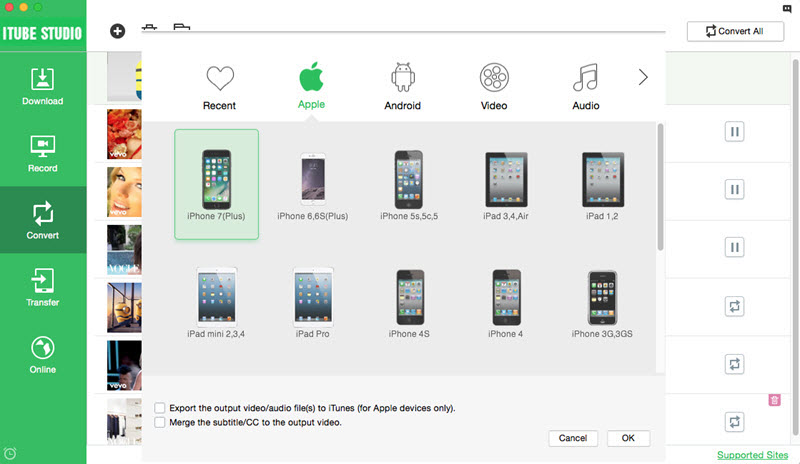 This program also allows users to convert videos to any preferred format including AVI, M4V, MPG, MPEG, MP4, MOV, WMV, among others. Another good thing about iTube Studio for Mac is its ability to extract or separate audio files with excellent audio quality from the downloaded videos that you can play in most portable audio players. Certainly iTube Studio for Mac is the best KeepVid alternative program available in the market today.
Video Tutorial on How to Download Videos with KeepVid Alternative
Part 2. Online Alternative to KeepVid
KeepVid Not Working
KeepVid enjoys unrivaled popularity as the best online video downloading site. Whichever the hosting website, be it YouTube, Dailymotion, MetaCafe, and many more, KeepVid somehow, someway gets you your video file. However, it still has its flip side. KeepVid not working problems occur many often. Below are some KeepVid limitations that may make you want to resort to alternative online video downloading sites.
1. Requires Java InstallationYou must have Java installed in your computer in order to use KeepVid. It is impossible to save videos without running Java.
2. Ads InterruptionsKeepVid comes along with innumerable ads and pop-ups which consume so much space on the web page. It's almost a guarantee that you will accidentally click on these ads and pop-ups, opening up unintended web pages. This can be very frustrating.
3. Recommends MalwareClicking on the 'Download Button' in the ads and pop-ups normally directs user to download iLivid Video Downloader. iLivid has been reported as a malware by most user, and you wonder why KeepVid should even recommend such ads in the first place.
4. No Batch DownloadYou can only copy and paste one video URL at a time, which means one download at a time. This can be time-consuming especially when you have a several videos to download.
5. Running ProblemsKeepVid occasionally develops hitches and thus may not run smoothly and correctly. Sometimes the website becomes unavailable all together.
6. Low Quality OutputSometimes the results are just not what you expect. An excellent video may turn out shoddy once download is complete. KeepVid might even fail to save it.
7. No download HistoryKeepVid doesn't keep a download history for its users. It is thus impossible for users to revisit their downloads from the site.
Online Alternatives to KeepVid
For those who don't want to install anything to download online video, many online video downloaders other than Keepvid are available, for example, XYDownloader (download videos from any sites including YouTube, Facebook, Vimeo, Adult sites and 1000+ sites), Vixy.net, Savevid.com, catchvideo.net, etc., and more sites like KeepVid. You could have a try. Most likely, you have to endure the advertisements on these free online video downloaders. It's a pity that Mac users will always have no luck due to Flash limits on Mac. iTube Studio for Mac is the best KeepVid alternative desktop program if all these don't download video for you.
1. Vixy.net
With Vixy.net as a KeepVip alternative, you can easily download or convert YouTube videos to MP4. Its added advantage is that it allows you to multitask, form downloading torrents, to downloading videos, to audio recorder, and even screen video recording. Furthermore, it's simple to use, and other than MP4, it supports other formats such as MOV, AVI, and 3GP.
Cons: It supports limited media file formats.-Very slow processing speed-Too many ads and pop-ups which can be annoying.
2. SaveVid.com
Savevid.com is apparently considered to be the best among KeepVid alternatives. With Savevid you can still download videos from multiple trending online video sites such as YouTube, Myspace, Metacafe, Game trailers, Facebook, among others. Additionally, whether you want your videos in FLV, MOV, AVI, WMV or MPG formats, SaveVid has you covered.
Cons: Unless you have Java installed, SaveVid will be of no use as you won't have a path to connect your video URL. Although the website supports numerous sites, it is render incapacitate when handling the RTMP protocol video such as Hulu.
3. CatchVideo.net
Catchvideo.net is another KeepVid alternative which allows you to download videos from a couple of selected sites such as YouTube, Sevenload, Dailymotion, Metacafe, etc. It also allows you to convert YouTube videos to various video formats. There is no need for registration, and it's as simple as typing in the video URL, selecting the file you want to download and then clicking the Catch button.
Cons: There are limited output video/audio formats supported. Unless you use the stream catch mode, you cannot capture videos, SWF and MP3.
4. Savefrom.net
Just a few clicks and you'll be watching as your media file downloads. That's Savefrom.net! Not only does it make it easy, but also convenient to download audios, videos, and other media file types from 40+ websites and social networks; YouTube, Facebook, Sondcloud, Myspace, RapidShare, among many more.
Cons: To save your video file, you first have to copy its name from the description field, after which you save it in the field containing the file name. Unless you do this, you'll have to get a FLV player in case you don't have one. Due to traffic,the website is occasionally jammed or becomes unavailable.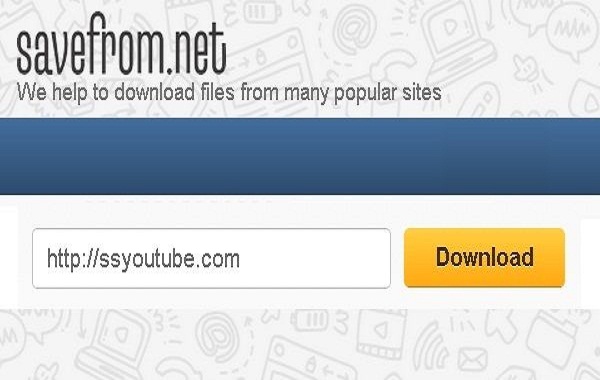 5. ClipNabber
ClipNabber is another reliable KeepVid alternative for downloading website-hosted videos. Although YouTube videos are the favorite with this site, it can still handle videos from other hosting websites such as Megavideo. Further credit goes to its suitability to convert MP3s and WMA format files.
Cons: Media files' output formats are finite. Compatibility issues arise with some hosting sites such as Dailymotion.-Occasionally, errors come up while downloading YouTube videos.