RealDownloader is popular video downloader to help you download videos from many popular streaming sites, including YouTube, Vimeo and Dailymotion. You will have a download button on the browser, allowing you to download the video from your briwoser directly. RealDownloader is highly integrated and compatible with Windows Internet Explorer browser. However, RealDownloader might stop working sometimes. And RealDownloader is not working on Mac Safari. So there is no RealDownloader for Mac available. For Mac users, you need to get help from alternative to RealDownloader for Mac to download videos. Here is the best solution for you.
The Best Alternative to RealDownloader for Mac (10.13 macOS High Sierra)
iTube Studio for Mac is just the right tool for Mac users who have been searching for Real Player Downloader for Mac. The program is highly integrated with many different web browsers and compatible with Safari and the latest Mac OS X 10.13 High Sierra, 10.12 Sierra, 10.11 EL Capitan and 10.10 Yosemite. It offers not only surpasses the benefits of Real Downloader but comes with none of the problems either. It is a stand-alone application that can be used directly via its own interface or through its integration with your web browser, and enables the downloading of video content from over 10,000+ different streaming sites. (And iTube Studio for Windows is also the best alternative to Real Player Downloader for Windows users.)
Why Choose This RealDownloader for Mac Alternative:
You can download videos from YouTube, Facebook, Instagram, and 10,000+ sites.
It enables a download extension to help you to download videos from your browser.
You will have built-in browser to access and download the videos directly in the program.
It helps you to convert the videos to any video and audio formats.
You can also preset the video download to iPhone and Android devices.
It allows you to transfer the videos to your iOS and Android devices conveniently.
Steps to Download Videos Using RealDownloader for Mac Replacement
Step 1. Download and Install the RealDownloader for Mac Alternative
Free download the program on your Mac. And then drag the program icon to the "Applications" folder to install the program on your Mac. And then launch the program.
Step 2. Download Online Videos on Mac
After you run iTube Studio for Mac and play online video on Safari or Chrome, you can download the video in your browser. You will get a big "Download" button on video window, shown as below picture, click it to download video.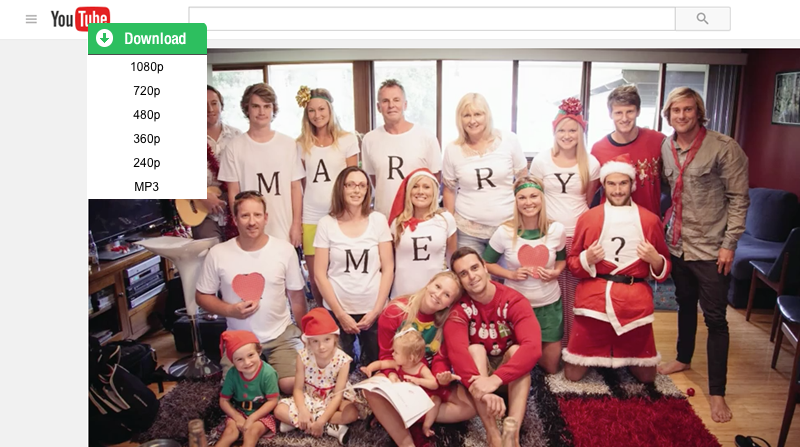 Alternatively, copy the video URL and go to the main interface of iTube Studio for Mac to click "Paste URL" for downloading.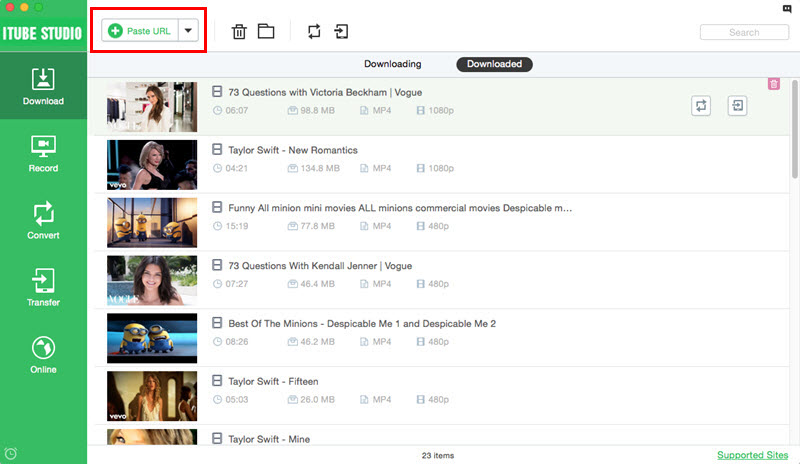 Step 3. Convert the Downloaded Videos (Optional)
Once downloaded, you may find that the video is not in a suitable format, especially if you want to view it on a mobile device of some kind, and here iTube Studio can convert any file, again, very simply.
First add the downloaded videos to the "Convert" menu. In the "Downloaded" tab, you can click the "Add to Convert List" icon to add the videos to the convert list.
Next open the "Convert" menu. Simply click "Convert" for the video you wish to change to go to the conversion menu, where there are several tabs for different kinds of device and formats. Click "OK" and the file will be converted immediately.
Common Issues While Using Real Downloader to Download Videos
Whilst Real Downloader does the basics well, as a software package it is missing some elements that users would perhaps need, notably conversion tools to ensure you can watch your downloaded content on your chosen device. In addition, it is incompatible with Safari browser and Mac OS X (EL Capitan included). And Firefox has blocked RealDownloader plugin.
Perhaps the biggest stumbling block for Real Downloader and why many will look for an alternative is that RealDownloader has been discontinued and thus cannot be downloaded anymore, which in the meantime causing video downloading problems.
Issue # 1: RealDownloader Stopped Appearing on Firefox - It's a pretty common issue when the RealDownloader doesn't show up while you're browsing the streaming websites. Plus, if you're using Firefox browser, this issue is more prevalent & recurring.
Solution # 1: In order to avoid this problem, perform the following steps. Navigate to Firefox >> Tools >> Add-Ons >> RealDownloader Plugin.plugin. Next, enable this plugin & RealDownloader should work now.
Issue # 2: RealDownloader Stopped Appearing on Safari - The similar issue can be also observed if you're using Safari browser on your Mac. This is a well-known & repeated issue.
Solution # 2: In order to overcome the aforementioned issue, you will need to perform the following steps. Navigate to Safari >> Help >> Installed Plugins >> RealDownloader Plugin.plugin.
Once you've verified that the RealDownloader plugin is installed on your Mac, perform the following steps in order to enable the RealDownloader plugin.
1. Open Safari & from the top left corner of this browser tab, click on Preferences.
2. Now, click on Security icon.
3. Under Web Content, verify if "Enable plug-ins box" checkbox is checked for RealDownloader.
Issue # 3: RealDownloader Doesn't Detect Videos - Sometimes, Real Downloader for Mac doesn't necessarily detect videos & throws you an error that there're no such videos to download on this webpage. It's a pretty frustrating issue.
Solution # 3: If the users face the aforementioned issue, they will need to restart RealDownloader. Plus, as a user, you will need to reinstall the application or you may need to restart your Mac to overcome this issue.
Issue # 4: RealDownloader Can't Covert Videos to Other Formats - This software doesn't come with video conversion features. Thus, you can use this tool in order to convert videos.
Solution # 4: If you really need a right tool in order to download video contents & further convert those videos for sharing or uploading, then you should look for an alternative video downloading software.
Issue # 5: RealDownloader Tool Has Been Discontinued - The makers or developers of RealDownloader tool have discontinued this software & thus it can't be downloaded anymore. Plus, there are no such official supports & users still get frustrating errors while using this tool.
Solution # 5: Probably, this is the biggest stumbling block about Real Downloader. And, that's why most of the previous users are already looking for an alternative to this tool.