There is often confusion about the difference between plugins and extensions, and they are different. Plugins can respond to media on a specific page, and either play it, show it or interact with it in some way, whereas extensions can add things into web pages or the browsing experience, and are primarily effecting the browser itself, rather than the web page. With that out of the way, safari has a robust plugin module that allows it to display and take full advantage of the rich and diverse range of content to be found on the web. Now let us go on to know about Safari Extensions and Plugins.
Why Choose This Safari Video Download Extension:
iTube Studio for Mac (iTube Studio for Windows) is an all-in-one video downloader.
It is not only compatible with Safari, but also supports Internet Explorer and Firefox.
Whenever you want to download the video, you only need to click the "Download" button to add it to the download queue.
The fabulous program lets you convert media files to almost any video and audio format.
It also provides various presets for portable devices.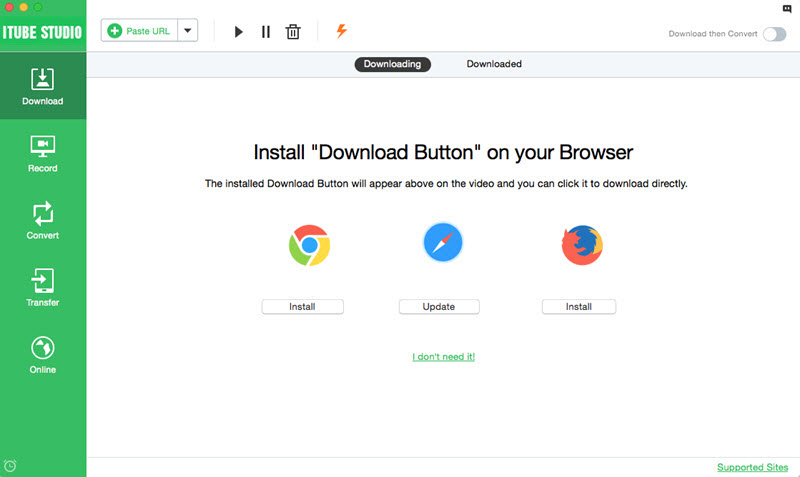 Part 1. The 8 Best Safari Extensions
Extensions provide a wide array of added functionality to safari, changing the appearance and/or operation of the program itself, Apple's own website has hundreds available for download, and includes everything from accessing your Gmail account without visiting he page to a weather report for your location in real time. As a means of adding in the precise things you require when browsing, extensions cannot be beaten, and there are so many, if you can think of something you would like to have at your fingertips, an extension probably exists for it.
Add-ons is the collective term for Plugins and Extensions, when something like disabling all add-ons is being discussed, it means all extensions and plugins, returning the install to its native original state. The terms add-ons, extensions and plugins are often used interchangeably but they do mean different things in reality, so to avoid confusion it is worth remembering what each one means.
1. Evernote Safari Extension
Evernote is a tool that allows you to collate information, be it text, images or even video and audio. The Evernote plugin lets you select information from a webpage and "clip" it directly into an Evernote folder, great as part of a research project, whether it is research for writing an article to planning your wedding, Evernote can be helpful.
2. LastPass for Safari
LastPass is a password manager, a tool to help you organize, remember and use passwords for your various internet accounts. We all know that we should use a separate password for each account we open, whether its social media, forums or online shopping, most of us quickly collect far more accounts than we can remember separate passwords for, and inevitably end up using the same one. LastPass solves this for you. One single master password to access your LastPass account coupled with the extension (which is available on all formats and browsers so you can access you password account anywhere and on anything you want) means you can have a different password for each account without needing to remember them. The extension will fill in forms for you with both your username and password, and it can even generate new (very strong) passwords for you every time you sign up for a new account and add them directly to your list. All passwords and usernames are stored on LastPass's secure servers, so nothing is held locally, so you never need worry about a password again.
3. Instapaper Safari Extension
This is another collation application, allowing you to save notes, articles, images, videos and so on into a central account whilst browsing the web. The extension adds in some keyboard shortcuts to allow you to save a complete article, highlight text and so on directly from within safari, making collating your research that much easier.
4. 1Password Safari Extension
This is another password manager, offering you a password generator to create new, strong passwords, auto fill to fill your passwords and username into forms as you need, and an account that can be synced and accessed across numerous platforms via the various extensions to allow you to have access to the same passwords whatever device you require them on.
5. Xmarks for Safari
Xmarks is a bookmark syncing extension that allows you to back up your bookmarks and then sync them on a different platform and even a different browser. Take your bookmarks with you on every device, and update them on every device as you go along. Very convenient and very effective.
6. Zotero for Safari
Another collating tool, Zotero allows you to capture and save important information as you browse the web, for research and general use it allows you to save text, PDF files, audio, video and images, anything you want can be saved and organized for later referral. Great for anyone, whether gathering ideas for birthday presents or your final dissertation, there is a use for Zotero.
7. Google Toolbar for Safari
This is a clever extension that adds Googles range of apps and services into a toolbar on Safari for easy access. Gmail, YouTube, Docs and Calendar etc., all easily available, along with SSL searching and Google+ notifications all there for your convenience.
8. Add to Amazon Wish List Safari Extension
Our final extension is quite a simple one, but for anyone who buys as much as I do online, it is one you will appreciate. This extension allows you to add anything you find on any webpage at all, to your Amazon Wish list. This one is created by Amazon themselves, and it's a great idea, as even for things you cannot actually get from amazon, you have a record of those things you come across and think are great all in a single place, your Amazon Wish List.
Browse for more extensions for Safari >>
Part 2. Top 5 Safari Plugins
1. Safari QuickTime Plugin
QuickTime is a media player, it is built around the premise of delivering high quality streamed media to end users, both video and audio, using advanced compression techniques that mean less data transfer and smoother playback for slower speed internet connections.
Made by Apple, QuickTime is used as a streaming platform for all kinds of video, instructional, movies and so on. One of the benefits of the QuickTime compression is that it not only allows high resolution video to be streamed, it also reduces the amount of data required to do so, enabling a high quality output with a low overhead in data for the end user, the plugin allows QuickTime content to be displayed directly within the webpage itself without any user input.
2. VLC Safari Plugin
VLC is a multi-format media player that plays almost any type of media file you are likely to come across, it can play streamed content or locally downloaded content as required and can convert media to other formats. VLC is an open source package and the plug in is installed with the media player package itself, the beauty of VLC is that it works without requiring codec packs for different media types, playing all media, both audio and video, as required. It also has the benefit of utilizing graphics hardware to accelerate rendering taking the load off the CPU where possible.
3. Silverlight for Safari
Another media player, Silverlight is Microsoft's entry into the streaming media field, used to display video, animation and games, it is a versatile environment that can be used in many ways.
The Silverlight plugin is perhaps most commonly used in the Netflix subscription streaming service, the plugin is required for the streaming to work. Other TV streaming has taken up Silverlight as well, with Sky in Europe using it as the basis for the streaming service provided to its subscription customers. Offering a high quality video output it seems eminently suitable for this application, although it can on occasion cause issues with buffering for some people.
4. Safari Java Plugin
Java is the frontend for the Java development platform that enables network and embedded applications to work smoothly and securely. Having the Java plugin enables you to access web pages with Java content without doing any extra work.
Java can be found in everything from an embedded game in a web page to trading platforms for the financial industry and everything in between, because Java is not platform specific, it is commonly used to develop cross platform utilities that can be used by users regardless of how or on what device they access the webpage content without any need for different versions.
5. Safari PDF Plugin
The Safari PDF plugin is supplied by Adobe, the creators of the PDF format. PDF is a universal format for e-books, allowing a file to be viewed by anyone on any platform as long as they have a PDF viewer, without changing the source file in any way.
The PDF viewer comes in handy when looking at e-books, the PDF format allows not only a direct copy of a physical book, but has the capacity to include rich media and other enhancements. Being cross platform, a PDF file can be shared at will to anyone you know regardless of what sort of device they use, with the knowledge that they will be able to open and view it, and see the exact same thing you do. Adobes plugin enables you to open PDF content directly within the browser itself to save opening up a separate reader to accomplish the task. Get the Best PDF Editor>>