Video sharing sites are one of the top online content moving machines. Think about it! How many times a day do you check YouTube for a new video? Or How often does someone share a video with you, knowing that you would watch, enjoy and possibly share it? Yet sometimes it can be time consuming to watch every video on YouTube or any other video sharing site. You may want to watch them offline sometimes, then you need video downloader to download these videos. This is why we need video downloader programs such as Tubebox.
If you know what Tubebox is and have tried it, you probably understand that these programs can be helpful when you want to download Online Videos. Yet they also have their limitations and shortcomings. In this article we are going to critically analyze Tubebox. Highlight its limitations and advantages. We are also going to provide you top 3 better Tubebox alternatives.
Part 1. What is Tubebox and why we need Tubebox Alternatives?
Tubebox is a free online downloader that allows users to not only download popular videos from popular video sharing sites but also save the downloaded videos to watch later. One of the major selling points of this program is that it is very easy to use, thanks to a very simple user interface. It is also capable of converting the downloaded videos to several different formats.
The program does however have a few shortcomings that may make it very difficult for you to use. Some of them include:
A huge portion of the program is in German and the translated version can be a bit difficult to download.
A lot of users have reported that the Tubebox downloader installs a lot of other unwanted programs to their computers.
Most of the customer reviews for this product are not positive with most users lamenting the program's ineffectiveness.
Part 2. Best Tubebox Alternative – iTube Studio
By far the best Tubebox alternative is iTube Studio. This program is primarily made to help you download videos from any online site. That's because it supports over 10,000 different video sharing sites. There are a whole host of great features as well. Some of these great features include the following:
Key features
Best Tubebox alternative to download online video.
iTube Studio allows users to download videos from just about any site you can think of. You can download videos from YouTube, Vimeo, Vevo, Facebook, Dailymotion, BBC, NBC, Yahoo and thousands of other sites.
Once you have downloaded the videos, the program allows you to convert the videos to over 150 different formats.
Directly download video as MP3 or extract audio as MP3 or WMA files.
Support 4K and other HD videos.
It enables you to record video as well.
Download vides in 3x faster speed with task scheduler.
Download multiple videos simultaneously.
Convert various video/audio formats such as MP4, AVI, MPG, WMV, MP3, WAV, M4A, etc.
Convert to any portable device of your choice - Android phone or tablet, iPad mini, iPad 4, iPad Air, iPod Touch 5, iPhone5, PSP, Xbox, etc.
Integrated built-in FLV and MP4 video player.
Here's how to use iTube Studio to download online videos
Step 1 Begin by installing the program to your computer. Now navigate to your favorite online video sharing site and open the video you want to download. Copy the video's URL.
Step 2 Launch iTube Studio and the click on "+Paste URL". The program will analyze the video. After you click Download button, it will begin downloading the video immediately. You can click on the "Pause" button next to the progress bar to pause the download process.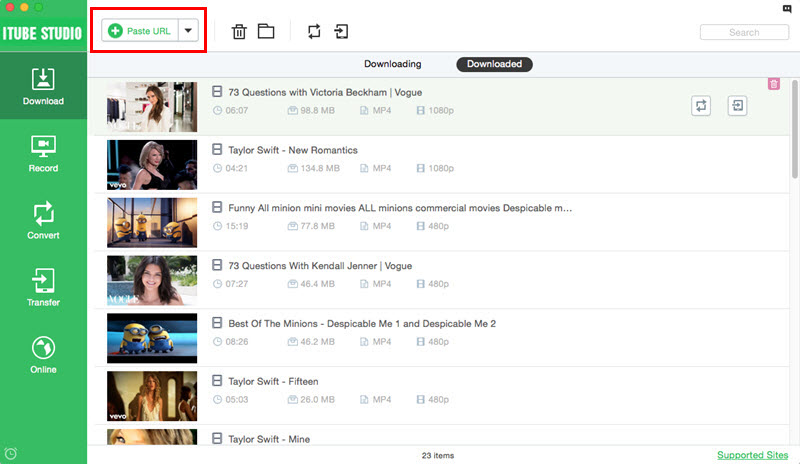 Step 3 After you click Download button, it will begin downloading the video immediately. You can click on the "Pause" button next to the progress bar to pause the download process.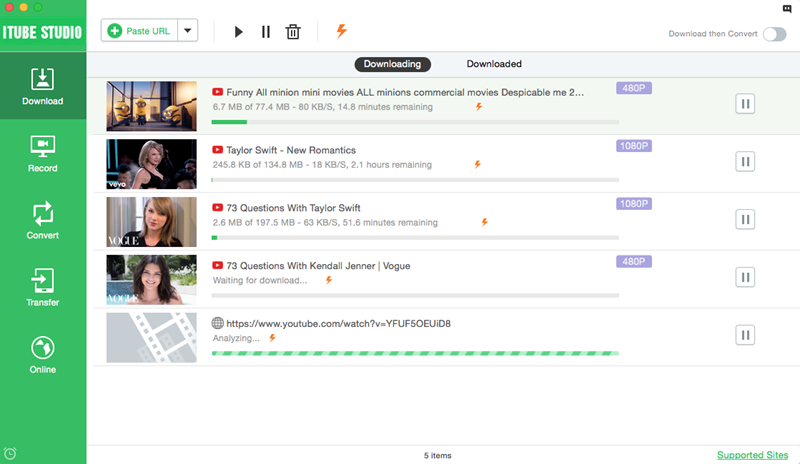 Step 4 Once the video has completed downloading, click on "Downloaded" to view the video. If you want to convert to other format or want to support the device, you can click "Convert" to convert the file to any format.
Part 3. Free Online TubeBox Alternative – savefrom.net
With all its cool features, iTube Studio is a paid application so if you would rather not pay for a video downloader or you just want to download one video and hence can't justify the cost, you can try savefrom.net. This is an online application that makes downloading online videos very easy. It is also completely free. You may not be able to download videos from as many sites as iTube Studio, but this free web application supports most of the major video sharing sites.
Using it is very easy. You can just enter the URL of the video in the provided text box and then click on "Download" and the video will be downloaded instantly.
Part 4. TubeBox Alternativ -Video Tube
Video Tube is an app that allows users to stream and watch online videos from online video sharing sites such as YouTube, DailyMotion and Vimeo among others. While it may not be an application to download online videos, it is a great app when you want to manage how you watch videos from these sites. This is because the program allows users to browse through popular, trending and featured videos as well as search and view videos directly on your device.
Considering that it may be difficult to just understand Tubebox, it is our hope that the above alternatives will help you easily access and download online videos. If you download lots of videos online and want an easy way to keep track of, convert and access the videos, iTube Studio is a great choice for you.