You might find many YouTube videos appear on many other video sites with only a video URL. In this case, a best direct YouTube downloader and converter can help you to download videos from URL. But the most direct and easy way is to use a URL video downloader to download any video from any site using URL without opening the videos or navigate to the video-sharing sites. That's true! Download video from URL link is the easiest way that you can capture the video you find on YouTube and convert it to your desired format so you can use it on your iPhone, iPad or iPod device. Here is the solution for you to download any video online with URL.
Part 1. The Best URL Video Downloader
iTube Studio URL Video Downloader (or iTube Studio URL Video Downloader for Windows) is such a video downloader that allows you to download video from URL on any site. This URL downloader automatically detects videos when you are playing them on your browser like Internet Explorer, Chrome, Firefox and Safari (Mac Version). You just need to copy the URL of any video online to be downloaded and click the "Paste URL" in this URL downloader program, and this video downloader from URL will do the rest for you. Another simple way to download video from URL is that you can drag and drop the video URL to iTube Studio, and the URL downloader will immediately start downloading your video by analyzing the video URL. iTube Studio URL Video Downloader also enables to download multiple videos from URL up to 1,000 URL links. You can just input the video URLs, seperate by Enter button, and then click the Download button to download videos from URL simultaneously in one click.
iTube Studio - Best URL Downloader to Download Videos from Any Site using URL
*** Feature 1: Support to download videos from URL from 10,000+ sites
iTube Studio allows to download videos online using URL links from YouTube, Facebook, Vimeo, Myspace, Dailymotion, Metacafe, MTV and other 10,000+ video and music sites. Even for videos from anonymous sites, you can download the videos with the URL link. In case that you couldn't find the video URL, you can also activate the RECORD feature of iTube Studio in order to capture the online live session with 1 click. That is to say, you can have any online video saved if the video can be played.
*** Feature 2: Download any video from online URL for up to 1,000 URL links at the same time
With the latest version of iTube Studio, you can download multiple videos simultaneously by entering all of the video URL links into the downloading blank. There must be cases that you find some favorite videos, save the URLs in order to play them for the other day. Now iTube Studio could do you a great favor! You don't have to open the videos any more, just copy and paste all the online video links to the program, and click the Download button. Within minutes, you will download any video from any site using urlin your local folder successfully.
*** Feature 3: Private Mode to fully protect your privacy
When you finished download any video from any site using URLS, Have you ever encountered cases that someone accidentally watch your downloaded video and you both feel embarrassed? Let iTube Studio tell you how to deal with this case! First of all, activate the Private Mode, set a password (remember to make sure no one is watching), then add the videos into the Private List generated from the previous step, click to confirm, ta-da! No one could watch the videos any more unless they get your password.
*** Feature 4: Download then Convert Mode
Nowadays our life is full of all kinds of digital devices, iPhone, iPad, iPod, Android phones and tablets, Kindle Fire, Game Consoles, etc. Most of them support media functions like video and music playing. What to do if you want to play your favorite video or music songs in multiple devices? Here is the solution! iTube Studio provides not only downloading videos from url service, but also converting feature to let you directly download and convert your target video to MOV, AVI, MP3, AAC, and preset format for devices. With the Download then Convert feature, you can even preset the output format before downloading. Quite inteligent, right?
*** Feature 5: Transfer downloaded videos within the program
Wanna to watch the videos downloaded by URL video downlaoders in your mobile devices? Spending time on turning to third party programs? No need! Just sync your mobile devices to your Mac or Windows PC, select the videos you want to watch, enjoy the fast-speed transferring of this ultimate one-stop URL video downloader.
Part 2. How to Download Any Video from Any Site using URL
Now taking the Mac version of iTube Studio URL video downloader for example, I will show you how to download any video online from URL on Mac or Windows with iTube Studio URL Downloader, and convert to device compatible format as you want. For URL Video Downloader for Mac, you can download videos on Mac macOS 10.13 High Sierra, 10.12 Sierra, 10.11 El Capitan, 10.9 Mavericks, 10.10 Yosemite, and the lower. Windows users could also follow this guide, for the steps are quite similar on iTube Studio URL Downloader for Windows.
Step 1. Open the URL Video Downloader
Download and install this URL video downloader. Afterwards, you're ready to download video from any URL of the supported sites.
Step 2. Copy and Paste URL to Download Video
This URL video downloader for Mac provides you with 3 ways to download video from URL:

1) Copy and paste URL of the video;
2) Drag and drop URL icon to the dock icon;
3) Click the "Download" button on the page.
Personally, I prefer "Copy and paste URL" method to the others. You can just copy the video URL from online site or from the address bar of your browser and activate the URL downloader to click the "Paste URL" button at the top left corner. You'll see the video is added to the downloading queue.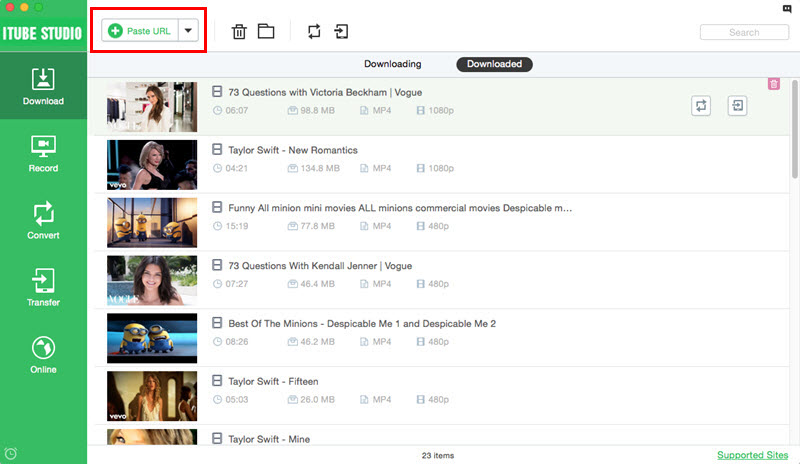 Alternatively, you can click the video URL link to open the video with your browser, and you will see a "Download" button on the video window. Simply click the button to download the video. If no Download button is found in your browser, click here to get more info on how to download video from browser extension.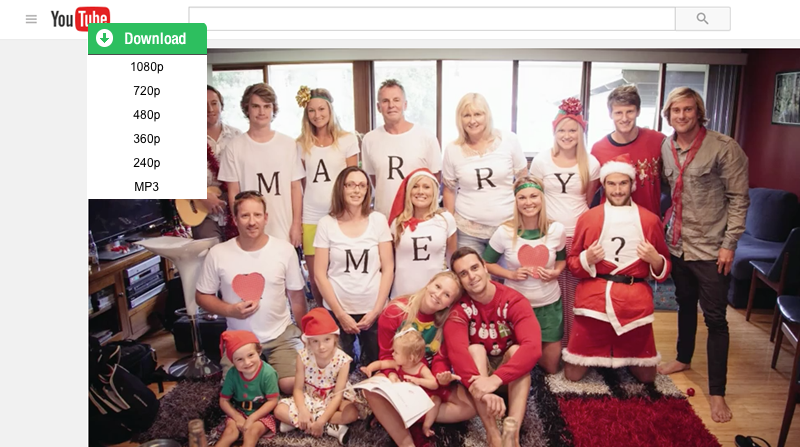 Optional: Convert downloaded video from online link to other formats
The video will be downloaded to FLV or MP4 format. To convert the downloaded video, in the "Download" menu click the "Add to Convert List" icon for each video on the "Downloaded" tab.
Then you should open the "Convert" menu and choose the video and click "Convert" icon on the right corner of your video. In the dialog that appears, choose the format you want to convert to.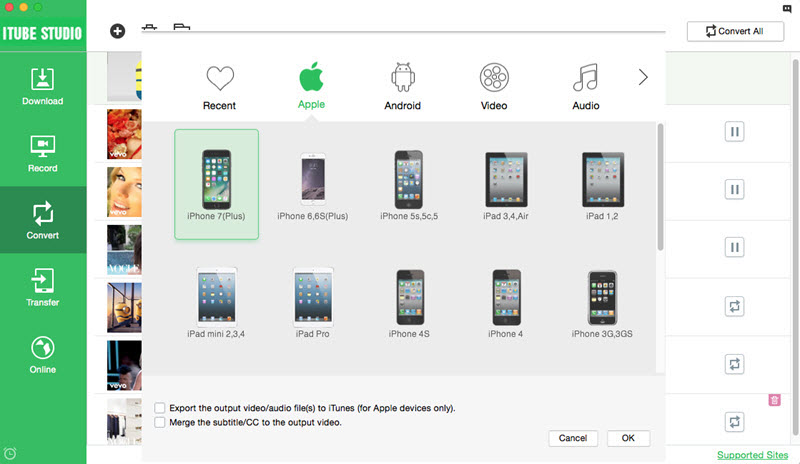 With this Video Link Downloader, it's easy to download video from URL within your browser. If necessary, URL Video Converter can convert videos for use on your device directly like iPhone, iPad, or iPod. Of course, you can play it on your computer later, or whenever you want. Downloading video using url lets you benefits from watching video with no ads, no buffering and without Internet required.
It takes a step further and enable free YouTube downloader. You can take that favorite YouTube video with you wherever you do on whatever device you happen to have. This is a lower version of iTube Studio, but it is totally free for YouTube video download. If you only need to download videos from YouTube, this would be a great choice for you.
Video Tutorial on How to Download Video from URL
Part 3. Recommend 10 URL Video Downloader to Download Video from URL Online
#1. Catch Video
With Catch Video URL video downloader, you can download videos by URL link from YouTube, Facebook, DailyMotion, Vimeo and various other video websites. This site supports various video resolutions, and also supports to convert videos to MP3. However, Catch Video doesn't hold a downloading or converting server by itself, leading to other sites when clicking several options. This may bring uncertain harms to your computer.
#2. Online Video Converter
Online Video Converter also supports to download videos from URL to your local folder by inserting the video URL. Although it's more converter than video downloader, it features for several common video and audio formats. Besides, it suppports several main popular online video sites like YouTube, Funny or Die, Facebook, Vimeo, etc. The disgusting thing is that this online video downloading site is full of annoying ads and it takes time closing when you click the ads by accident.
#3. SaveFrom.net
As a well-known popular URL video downloading tool for so many years, SaveFrom helps you to download online videos from YouTube, Facebook, Vimeo and 40+ other websites from URL or browser addon. You can either copy and then paste the URL in SaveFrom site, or install its download helper plugin in your browser to download videos by the Download button. SaveFrom features a clean and simple interface, all you need is to copy the video URL and click to download. It's also a wonderful tool to download videos from websites.
#4. Video-Download
Video-download.co is another free web URL video downloader which allows you download online videos to MP3, MP4 and other formats. You don't need to install software since the downloading is processed in cloud service.
#5. KeepDownloading
KeepDownloading seems to be a full solution for downloading any videos online from URL, it not only provides with a URL video downloader online, but also features for URL video downloading for Android tablets and mobile devices. Keepdownloading supports to download videos from URL from YouTube, Facebook, Vimeo, Dailymotion, etc. but the site also comes with annoying ads.
#6. Save the video
Savethevideo.com comes with a simple and clear interface for downloading videos by URL. The downloading method goes the same, copy and paste the video URL in the downloading blank. But Savethevideo supports less video site than other URL video downloaders above, and it also carries site ads.
#7. FBDown.net
By entering the URL of Facebook videos, you can easily download any videos online by URL links from Facebook in FBDown.net. This site keeps updating and will leave a clear notice on what they have improved for the latest version, it also supports to add a download plugin addon in your browser to easily download videos with a Download button. But this URL video downloader only supports Facebook site, if you want to download online videos from other site, you have to change for another URL download.
#8. Video Grabber
Video Grabber, as a well functioned URL downloader, not only offers video downloading online service, but also provides with online video converter and video recorder tool. You can easily switch for another service in this site according to your need. In addition, Video Grabber also shows a popular video download list or recent download videos to help you find more interesting videos.
#9. SaveVideo.me
With SaveVideo.me downloader by URL, you can easily download videos from Dailymotion, Facebook, Vimeo, Twitter and other popular video sites. Easy as other online URL downloaders, just copy the video URL and then paste into the search box to download your preferred videos. But be careful with the ads, cuz you may be redirected to other junk sites easily as well.
#10. AceThinker
AceThinker provides with online URL downloader service plus a desktop video downloading software. The downloading steps are clear and simple, but the download host server is provided by API from other sites, which means that the downloading experience may be not as stable as original ones.
Although these URL video downloaders online offer an easier way to download videos from URL, they are always come with ads or bad experience when you hold a frequent demand or have to download a huge video file. iTube Studio URL Downloader is able to download any video from any site at 3X faster speed with a Turbo Mode, you can also use this URL downloader to transfer downloaded videos to mobile devices or covnert to other video and audio formats directly. Just find the URL video downloader that suits you most!
iTube Studio - Awesome URL Video Downloader to Download Videos from Any Site
Download videos from URL from 10,000+ sites.
Exceptionally good in converting any video to more than 150 file formats for the downloaded online videos.
Its ability to record the online URL videos from the websites with its in-built screen recording function makes it stand out amongst others.
Supports all major online URL video portals and more than 10,000 video sharing websites.
The lightning speed offered by this program to download your videos 3X faster than any other program is remarkable.
This best URL video downloader equips with a video recorder which allows to capture from any online site.
It holds a Private Mode to fully protect your downloaded online URL video downloading information with a password.
Conclusion:
In this guide, we have shown the best URL Video Downloader -iTube Studio also it's detailed tutorial to use it to download any video from any site using URl links. Besides, to devisify the needs of different users, we also introduce ten of the URL video downloader online sites for your reference, you could choose accroding to the actual need for your wish. We highly recommend to use iTube Studio-the powerful best URL video downloader for downloading any videos online.