YouTube is a perfect website for watching videos today and shares every type of videos online. You can find music videos in any language, TV shows related to any channel, Movies, WWE fights, funny videos etc. YouTube shares video in different formats and 1080P video format is a perfect video resolution of YouTube to watch online but it requires a fast internet connection to buffer. You may have been troubled by a problem for a long time. That is, the 1080p YouTube videos always have no sound after downloading. If this problem keeps happening, it's time to figure out a feasible solution. You will find a powerful YouTube downloader which can fix the missing sound itself. Here in this article we are going to discuss some tips and solutions to download 1080P video with perfect sound.
Part 1. The Reasons and Solutions of 1080p YouTube Videos No Sound after Downloading
We can understand that how frustrated it can be when you are watching YouTube videos and not getting any sound of videos. After discussing with some technical people and knowing about YouTube properly, we got some solutions related to these problems. Below we are going to share some reasons and solutions related to this problem.
Reason #1: YouTube video is playing online but no sound problem
Solutions: this problem happens to so many users while watching YouTube videos online they are able to watch 1080 videos but no sound. This problem is very common and very easy to solve. First you should test your computer and play any song offline on your computer. If you can't get sound from the offline songs too, please check the sound card of your computer. Turn the sound card on or check whether your voice is muted or not. If it is mute then please turn it on. There is one more possible reason is that the videos which you are trying to watch may be protected with copyright. That's why you can't listen to them.
Reason #2: 1080p YouTube Videos have No Sound after Downloading - sound card problem
The bigger reason of no sound for 1080P YouTube videos after downloading is sound card issue with the device. It your sound card is crashed, definitely there is no sound for the YouTube video. If your sound card is perfect, you just need to check for the updated drivers of your laptop or computer then you can easily listen to sound from 1080P videos.
Reason #3: Potential reason for no sound from YouTube - Adobe Flash Player
YouTube is using html 5 player to play online videos for free but still there are some videos available on the YouTube which needs you to install adobe flash player to play them. If the videos needs to install player and still you have not installed it, there will be no audio in video on YouTube.
Part 2. Download 1080p YouTube with Sound directly- iTube Studio
We provide some solutions related to 1080P YouTube videos has no sound issue above but if users still facing sound problem, it is better to download these videos on your computer or mac and watch the YouTube 1080P videos offline. iTube Studio can download 1080P videos from YouTube with sound easily in one click only. iTube Studio software is available for Mac and windows and enables you to download videos in the perfect videos and sound quality easily from any video sharing site. Users can download playlists from YouTube directly using iTube Studio.
Key features:
iTube Studio allows users to download 1080P YouTube videos in one click with proper high quality sound.
You can download 1080P videos in batch without downloading them one by one.
iTube Studio can easily download videos by recording way as well.
iTube Studio can download videos by 3x faster speed using its multithreading technology.
iTube Studio can download YouTube 1080P videos in any video format according to the device and convert them 150+ audio video formats easily in just one click.
iTube Studio can download videos up to 4K video resolution.
How to download YouTube 1080P videos with sound directly to computer from YouTube
Step 1 To start downloading 1080P video with iTube Studio, first you need to install it on your computer or Mac. You can do it by visiting below URL box and install the program on your computer now.
Note: Please download the right version Mac or windows as per your operating system to download 1080 video with sound.
Step 2 Now you have to search for 1080P videos on YouTube. Play videos now. Once videos is started playing, you will see a Download button. Click on this button and select the 1080P HD resolution to download video.
Note: Please restart browser after installation.
Step 3 Now video will start downloading. Check the progress in the iTube Studio software interface in the downloading bar. You can convert these videos to any format after downloading.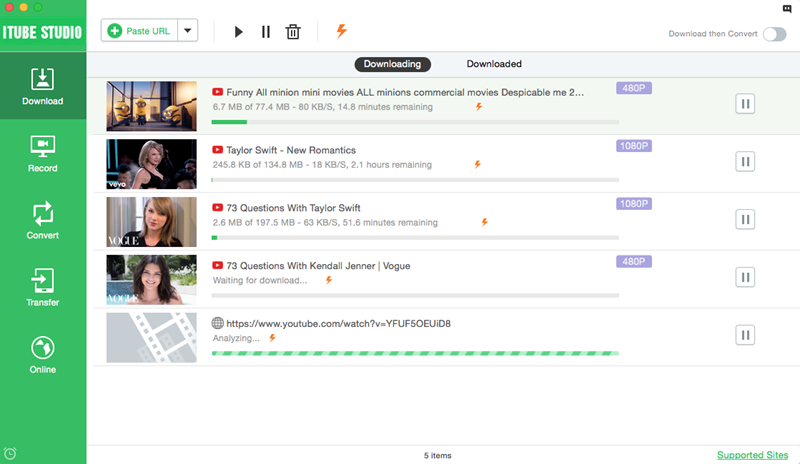 Part 3. Manual Way to Merge 1080P YouTube Video and Audio Together
Full Video Audio Mixer enables you to mix separately downloaded audio and video file. To join audio and video files, you need to download audio music and video music separately first. There are so many other functions also available in this software. You can remove audio from a video file directly. It allows you to convert video and audio to any other format easily or you can cut video clips as well. Users can easily increase the actual volume of video file as well using full video audio mixer software.
How to merge 1080P YouTube video and audio together
Before starting the process of merging YouTube 1080P video and audio, users have to download video and audio separately from YouTube. Once it is downloaded, install this software to join them together.
Step 1 Once you have downloaded both video and audio files of 1080P video and installed this software. Drag the video files from the downloaded folder and click on Open button to load the file. Now drag the top slider and set the start point of video and drag the bottom slider to set the end point of the video. click on Cute Mute video to cut the video without audio now.
Now you have to drag audio file from the file folder and drop into the preview windows and click on the Open button to load it.
Step 2 Now drag top to the set the start point, and drag bottom slider to set the end point of the audio. Now you can set the options like click on delete, cut, paste button, edit and + button to adjust volume. Once everything is set, you just need to click on Mix button to add audio to 1080P video now.
We have discussed so many things above related to no sound for 1080pvideos. Like reason and solution, download videos directly with sound in 1080P resolution and adding audio to videos manually. After discussing these all things we can say it is better to download 1080P videos directly to computer. That is possible with iTube Studio only. The third part of this article is about joining video and audio together. You can see by using this way you have to download video first which is no sound and then audio of that video. Then you need to download this mixer software. After installing this software you will get your video files with perfect sound. This is really a long process so I would like you to suggest about download videos directly in the 1080P using iTube Studio instead of doing a long process.