Samsung TV, like other Samsung devices is an excellent example of hardware and software. The franchise has sold millions of units all around the world and has an established user base. This article focuses on some tips and tricks that will come in handy while using YouTube on Samsung phones and Samsung TV. It will be beneficial to all Samsung users.
Part 1: How to use YouTube on Samsung TV
To use YouTube on Samsung TV, you need to complete the signup process. For this, follow these steps:
1. Go to the YouTube application on your Samsung TV and navigate your way to the sign in screen. Stay on this screen until for the rest of the steps.
2. Go to youtube.com from your laptop or computer. Activate YouTube from your laptop or computer.
3. Fill in your Id and password when asked for. Use the Google ID that you use YouTube with.
4. Once you're in, you may be presented with a list of Google identities associated with your account. This list includes:
a. Your Google+ profile name or your email address.
b. Any Google+ pages managed by your account. Select a Google+ page that is linked to a YouTube channel otherwise you will not be able to sign in.
5. After you have selected an account, enter the activation code shown in the YouTube app on your Samsung TV.
6. Click Allow access and wait for the confirmation screen in the app. Once the screen appears, you will be able to enjoy YouTube from your Samsung smart TV.
Part 2: How to download YouTube video to Samsung TV
To download YouTube videos to your Samsung TV, you will need to make use of any third party software that will let you download the videos from YouTube. This article makes use of the iTube Studio software to get videos from YouTube downloaded with ease. iTube Studio is a quick solution to the YouTube video downloading problem and it not only supports YouTube but thousands of other video hosting websites like Vimeo. With iTube Studio, downloading videos from almost any site over the internet is easy and trouble free.
Convert YouTube to iPhone compatible format.
Download videos from 3000+ video sharing sites.
Download and convert videos in one-click.
Converts videos to fast all video/audio formats.
Download videos 3X faster with task scheduler.
Download YouTube playlists & channels in Batch
Download YouTube HD videos including 1080 P and 4k
Download YouTube video to mp3 with one click.
Record any video from online websites.
A built-in video player to play videos.
Step 1. Use iTube Studio to download YouTube video to computer
1. Download and install iTube Studio to your computer using the given link above. When the installation is complete, launch iTube Studio.
2. You will have two options to download videos from YouTube to your laptop or computer.
a. You can directly paste the link of the YouTube video that you want to download within the interface of iTube Studio.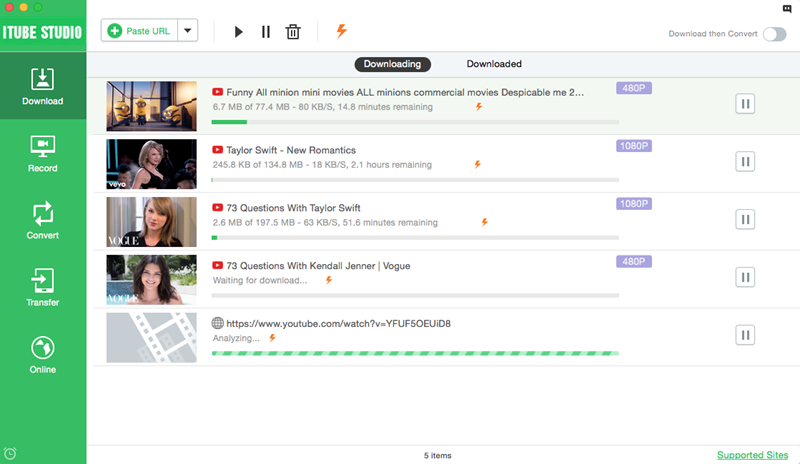 b. Alternatively, you can open your browser and go to YouTube, type in the name of the video that you want to download and click on the "Download" button that appears in the top right corner of the screen.
Step 2. Transfer videos from computer to Samsung TV
Now all you have to do is to transfer videos from your laptop to your Samsung TV. For this purpose you can make use of an HDMI cable to attach the two devices. Then simply copy paste the videos from the computer to the Samsung TV. Once the transfer is complete, you will be able to enjoy your favorite YouTube videos on your Samsung TV.
Part 3: How to download YouTube video on Samsung phones
YouTube does not allow users to download videos from the site to their mobile phones which can be troublesome for users who like to keep their music collection with them at all times. For all such users, we will be demonstrating a way to download videos from YouTube to their Samsung smartphones. To begin downloading YouTube videos to your Samsung smartphones, follow these simple steps:
Step 1. Download the TubeMate apk to either you laptop or your computer. TubeMate is a free application that works with the YouTube application allowing users to download any YouTube video to their Samsung smartphones instantly. TubeMate is not available on Google Play Store so follow the link given to download the apk from the official website.Download from here .
Step 2. If you have downloaded the apk to your laptop or computer first, transfer it to your Samsung smartphone by means of a USB cable. Otherwise, if the apk is in your phone already, move on to step 3.
Step 3. Tap on the apk from your phone to begin the installation. Give any permissions that the app may require to function properly and hit the button marked "Install", and wait for the installation to complete.
Step 4. Launch the TubeMate app from your Samsung smartphone and search for your desired YouTube video by making use of the magnifying glass in the top right corner of the screen right next to the search bar.
Step 5. Once you have found the video that you were looking for, press the green arrow that appears in the bottom left corner of the screen to begin downloading that video to your Samsung smartphone instantly.