In order to create stunning videos/movies with After Effects, users should learn to use different plugins. However, there are more tips and tricks for you to help you become a video editing pro like different visual effects and various shortcuts and even alternatives.
When people talk about creating great looking visual effects, they can't skip Adobe After Effects. This is the industry leading digital motion graphics software, especially for movie post-production. If you have mastered After Effects, you are also the professionals when making slideshows or website intros.
There is even steep learning curve for After Effects than Photoshop, the same software from Adobe. But with the help of After Effects video tutorials on YouTube, you can learn it on your own, and it's totally free. Will you still want to spend money to learn After Effects?
AE Tutorial Tips:
1. Use iTube Studio to download all these program for offline playback.
2. Only download After Effects tutorial for personal use it. You are not allowed to distribute it in any way. Take your own risk to use the downloaded After Effects video from YouTube.
3. Visit YouTube.com for more After Effects tutorials.
Part 1. Best YouTube Downloader- iTube Studio
Convert YouTube to iPhone compatible format.
Download videos from 3000+ video sharing sites.
Download and convert videos in one-click.
Converts videos to fast all video/audio formats.
Download videos 3X faster with task scheduler.
Download YouTube playlists & channels in Batch
Download YouTube HD videos including 1080 P and 4k
Download YouTube video to mp3 with one click.
Record any video from online websites.
A built-in video player to play videos.
Step 1.

Download these After Effects tutorials by copying link.
Step 2.

Click on "+ Paste URL" to download these tutorials easily.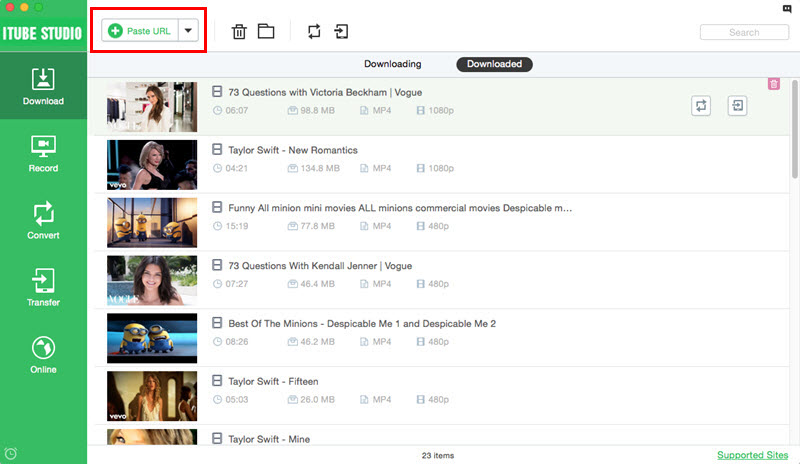 Part 2. 9 Easy After Effects Tutorials on YouTube
1 After Effects Basics - Introduction
Views: 670K+
After Effects version: CS4, CS3
This After Effects tutorial goes through all the basic techniques you need to know to get started with the program. Firstly all work done in After Effects is saved with an ".aep" extension(After Effects Project). The process of importing and exporting files will be discussed here. What' more, we will focus on discussing on these below: An introduction to the toolbar panel which will be often used when working on various projects; A brief overview of some functions etc. You will know how footage is organized on the project panel. It also includes Rearranging and resizing different panels in the after effects window for easier usage.
2 After Effects Tutorial - Create a Composition
Views: 290K+
After Effects version: CS4, CS3
This After Effects tutorial goes over creating a simple composition. You will know how to add footage to a composition. Here we will indroduce two ways in which the time can be adjusted. One by dragging the current time indicator along the timeline and the other by clicking the "go to time" button and imputing the exact time. A brief overview of source files will be indroduces here to tell you where they are located and when added to the composition. You can use features such as zoom to make the composition panel more effective. This tutorial also shows a few keyboard shortcuts which can be used to for zooming. And finally, using the keyboard to adjust the time frame by frame.
3 After Effects Tutorial - Composition Panel
Views: 210K+
After Effects version: CS4, CS3
This After Effects tutorial focuses on advanced features on the composition panel. It starts off with safe zones, explaining the difference between action safe and title safe zones and how to toggle those safe zones with the use of the keyboard shortcuts. It also demonstrates the use of the grid on the composition and how it helps to make an animation more accurate. It also explained the basic uses of the ruler. This tutorial states instances in which the background color is needed to be changed from black and how to go about doing so. The toggle transparency grid is indroduced, and a feature that is also present in Adobe Photoshop which toggles the background colour from its particular colour to a transparent background.
4 After Effects Tutorial - Basic Animation
Views: 410K+
After Effects version: CS4, CS3
This After Effects tutorial covers the basic animation of objects. The tutorial introduces various keyboard shortcuts which can be used to revert the time indicator to the beginning. It introduces the keyframe feature in After Effects, what they are used for & how they are used. It goes through how to transform the position of objects in a composition by using keyframes and further on, adding multiple keyframes to change the animation. This tutorial will shows the ways to toggle between straight lines and curvy lines in an animation. Finally, it demonstrates how to change the path of the animation by shifting the already positioned keyframes.
5 After Effects Intermediate Tutorial by Zolaboy
After Effects version: CS5, CS4, CS3, CS2, CS
This intermediate After Effects tutorial quickly teaches intermediate skills which will aid in creating better animations. It introduces masks and demonstrates the masking of objects which means separating the object from its background. It demonstrates how to apply different settings to a mask which includes feathering and transparency along with explaining instances in which these features will be useful. The uses and features of varies panels are explained which includes the info, audio and preview panels. Finally it highlights how to make your way around your work area which will help to make the work flow much easier and smoother.
6 5 Cool Intermediate Tips for After Effects
After Effects version: CS3, CS2
This After Effects tutorial goes through five intermediate tips in after effects. These tips will aid in more efficient work flow and also improve the quality of the animations. The first tip is the feature 'easy ease' which slows down the animation at a certain point making the animation seem more organic. The other tip is the use of the graph editor to make the animation more organic as a lot more settings build in. Using the motion tracker can speed up to creation of the path of an animation which also allows for the animation to have more of an organic flow. Finally, using the plugin brainstorm can create awesome animations and create abstract backgrounds.
7 How to Create a 3D Scene with Lights and Shadows
After Effects version: CS3
This After Effects tutorial demonstrates how to create a 3D scene with light and shadows. It explains the places in which you can get various textures for your background and how to download fonts and install them in After Effects. It demonstrates how to use various light and shadow techniques to get the perfect 3D look, how to apply these light and shadow to text. It also takes you through using a camera layer and shows how to use various features of the camera such as the orbit tool to create an animation of the 3D scene.
8 Create 3D Video for YouTube with After Effects
After Effects version: CS3
This After Effects tutorial demonstrates how to create a fairly simple 3D text animation. It begins with importing a background and text, making both three dimensional. A camera is then added and the settings are changed. And keyframes are placed in order to animate the position. Compositions are duplicated and changes are made respectively for both eyes to create a 3D experience. These are merely the basics needed to create a 3D video. It highlights the method in which the rendered 3D animation can be uploaded unto YouTube to create the 3D experience.
9 Create Particle Orbusing Trapcode Particular and Optical Flares
After Effects version: 7, CS3, CS4, CS5
This detailed After Effects tutorial demonstrates how to create an Orb Particle Animation with the use of two plugins Optical Flares and Trapcode Particular along with using a few expressions. Two lights are created then controlled by a null object. An expression is given to that null object which allows random movement and rotation of the light. The Trapcode Particular effect is added to the light to create a light trail. A space world environment is created using the same plugin Trapcode Particular. Flares are added from the Optical Flares plugin using one of its presets. The environment is added to the light trails. Lens fares are added to the light to create an amazing animation.
This is a basic tutorial about After Effects, professional video editing software. However, if video editing is new to you, consider iTube Studio video downloader, which is a powerful but easy-to-use tool for users just starting out. Download the free trial version below.