If you are a big fan of downloading HD videos for free from YouTube, right video downloader tools must be important to you. You can find quite a few free online YouTube downloader from internet which allows you to download YouTube HD videos directly online. But it is well known that online tools will comes with this or that limitation such as file size, video amount and download speed. In this article, we will introduce 10 best tools to download YouTube video free online.
Part 1. Top 10 Free Online YouTube Downloader
If you are looking for a safe and easy YouTube downloader, Free Video Downloader for Mac (or Free Video Downloader for Windows) can be the best choice for the purpose. With this free video downloader, you can download HD videos in 3x faster than any other video downloader software. This software helps in downloading YouTube videos and movies for free on your Mac and Windows. It can detect and identify the videos you are watching using Safari, Firefox, or Chrome and allows you to download the videos in just 1 click.
Key Features of iTube Studio:
This software supports to directly download YouTune to MP3 in one click.
It supports to download different videos from more than 10,000 videos sites.
The all-in-one tool can download and convert videos to any format to play on different media devices.
You can record online videos from Hulu, Netflix, Vimeo, BBC iPlayer Live, iTunes, and more sites in i click.
Part 1. Top 10 Free Online YouTube Downloader
There are a few other popular websites to download YouTube videos free online. Given below is a list of 10 free online YouTube downloader:
1. Keepvid
Keepvid It is simple software. There are a number of websites from where you can download using Keepvid – Facebook, Flickr, Metacafe, TED, and Dailymotion. However, Keepvid doesn't work on Mac sometimes.
2. Savevid
Savevid is free and it also lets you download videos from multiple sites like Vimeo, Veoh, and Dailymotion. It lets you choose the quality you want to download.
3. Zamzar
Zamzar can download videos from different video sharing sites. This free online YouTube downloader is also a video converter. With the help of the software you can convert videos, audio files, documents, and images.
4. Keep-Tube
To download videos using Keep-Tube you just need to copy and paste the URL of the videos you need to download. Videos can be downloaded in various formats. However, one of the biggest drawbacks is that it can only download HD videos from a few sites like YouTube.
5. Clipnabber
Clipnabber is a very easy to use website for the purpose of downloading videos. You can also rip videos from various sites including Metacafe and Veoh.
6. Savemedia
With Savemedia you can download almost any video from YouTube or other similar video sharing site. Downloading is simple and you can also bookmark your favorite videos.
7. Savevideo
Savevideo is the software that allows to download videos from multiple sites in addition to YouTube. You just need to copy and paste the URL of your favorite video and put it in the search box of the downloader to download directly.
8. Deturl
As you watch your favorite video on YouTube, you just need to copy and paste the URL in Deturl. This software will start to download the video instantly in the desired format. You can also just add deturl.com in front of the URL you want to download from and it will automatically get downloaded and saved.
9. Catchvideo
Catchvideo is the video converter and downloader. You can download videos of different formats with it. However, it is not as fast as the other downloaders. So, you need to be patient if you are downloading a large video.
10. YTD Video Downloader
With YTD Video Downloader you do not just download videos, but also convert those in multiple formats. You can watch free videos with the video player of the YTD Video Downloader. It is super easy to use and is really fast.
Part 2. How to Free Download HD YouTube Videos Unlimitedly
If you are using Free YouTube Video Downloader, you must know that there are three ways in which you can use the software to download YouTube Videos for free. Given below is a short discussion on the three different, but easy ways:
3 Ways to download YouTube Videos
1. Via download button
This free YouTube downloader enables a "Download" button that you can quickly start downloading the video. It also provides a "Download All" button allowing you to download all video in a YouTube playlist, category or channel.
When you open the YouTube video, you can see the download button on the video window. Simply click the button to start downloading.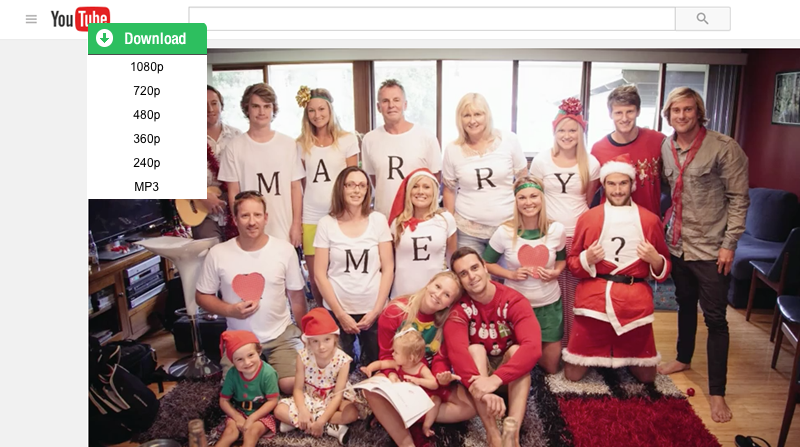 2. By copying video URL
You also can copy the YouTube video URL and navigate to the program to click the "Paste URL" button. The video will be downloaded.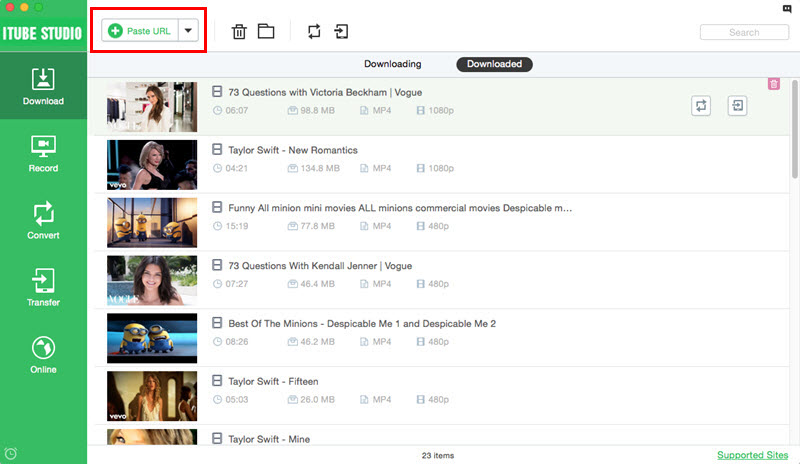 Step 3. By dragging video URL
The simplest way is to directly drag and drop the video URL to the program dock. It will start downloading the video immediately.
The Free YouTube Video Downloader comes with a built-in media player that lets you play the downloaded videos. Just double click the video to play it.