Nowadays we can easily enjoy music on any of our devices. But how can we download music from YouTube for playback offline on our iPhone, Android, or Mac. A YouTube Music Downloader could be the best helper. While there are numerous free YouTube music downloader out there, only a few stand out of the crowd as being really innovative and easy to use. No worry! Below we help you to pick up top 12 best YouTube music downloader for Android, iPhone, Mac and Win.
Part 1. Top 10 Free YouTube Music Downloader for Mac and Windows
iTube Studio for Mac or iTube Studio for Windows PC allows you to download free YouTube music in a single click. Besides YouTube, it also lets you download videos or music from Vimeo, Google Music, Dailymotion, Yahoo Music, Facebook, Myspace, VEVO, Metacafe, and 10,000 more.
Why Choose This YouTube Music Downloader:
It can downlaod the videos or music to any formats like MP4, WMV, MOV(QuickTime), AVI(XviD), 3GP, MKV , MPEG-1, MPEG-2, MP3, WAV, M4A, MKA, etc.
You can directly download YouTube to MP3 and only extract audio from videos easily.
It supports to record online live videos which you can not download from the website directly.
Also you can directly transfer the converted or downloaded video/music file to your iPhone, iPad, iPod and Android devices.
How to Use This YouTube Music Downloader:
1. The steps to download music with this music downloader is very simple.
2. After you launch this program on your computer, play the music or video you want to download. And you will get a "Download" button on the video window.
3. Just click the button to download the music or video.
4. Alternatively, you can simple drag and drop the YouTube URL to the program for downloading.
2. MediaHuman YouTube to MP3 Converter
MediaHuman YouTube to MP3 Converter is a free YouYube music downloader that really stands out of the crowd when it comes to innovation. It's a lot faster than most online converters and it's also quite easy to use as well. What makes it stand out is the support for both YouTube and Vimeo, as well as the ability to download videos at a very high quality, something that not all applications are able to do unfortunately.
How to use: Using the MediaHuman YouTube to MP3 Converter application is rather simple, you will have to grab the YouTube URL you want, then press the Paste URL button located in the top left corner of the application. After that you can easily press the OK button and wait for the downloading and conversion processes to finish. After that you can easily check out the downloaded songs right in their download directory. You may easily add them to your music player if you want.
Pros: The application downloads and converts very fast and it brings a very fast response time. The audio quality remains the same like in the case of the downloaded video, which is great, and it also brings playlist support, iTunes import support as well as simultaneous downloads.
Cons: The application has some problems working properly on older Macs or older versions of the OS.
3. Abelssoft YouTube Song Downloader
Abelssoft YouTube Song Downloader is far from being a new application, it has been around for a few years now. It comes with two different versions, a free one and a version you need to pay for. The app enables you to download videos and songs as well by using a very unique and interesting interface that does its job quite well. It's a good tool for those that want to download only high quality versions of the songs, as it automatically tries to find that.
How to use: All you have to do is start the application and enter the name of the desired song or artist. Then you will have to browse the results and find the song that you want. Once that is done, you can easily preview the song and its video, which is a very interesting feature. If you like the quality, you can opt to download the video or the audio, whatever you need. Once you start the download process, the app will give you a very informative overview regarding the download status. You can choose to download music to MP3 and OGG formats.
Pros: Clean interface and informative download process.
Cons: Downloads might stop out of the blue sometimes.
4. Evom
Evom is another YouTube free music downloader that allows you to drag and drop YouTube videos then convert them to the desired format, and it also brings support for numerous audio formats. Unlike other similar applications, this tool is specifically built for speed and comes with special features when it comes to Flash videos. In addition, it takes advantage of your Mac's multicore processors, which is really important.
How to Use: The download process is rather simple and it requires you to drag and drop the desired link onto the main window of the application, then you have to select the output format. You will have to wait for the download process to complete and, after that, you can easily enjoy your newly downloaded files.
Pros: Special features for flash files, fast download speeds and simple, yet very efficient interface.
Cons: Downloads might stop at times.
5. Clipgrab
Clipgrab is a free YouTube music downloader for Mac that brings a very interesting YouTube downloading experience to your Mac. It brings complete support for Vimeo, Dailymotion and YouTube, while also allowing you to convert the videos to multiple formats which include MP3, OGG, WMV and MPEG4. The download speeds are very fast and the application works as well as you might expect.
How to use: Clipgrab is very easy to use, you just need to insert the link onto the main window of the application, choose the output format, quality and then you will need to press the Grab this Clip button. All the YouTube music downloads can be seen in the lower side of the window and you can access them at any given time, if you want.
Pros: Intuitive downloads menu and the ability to manage downloads with ease.
Cons: Cancel button is located near the Open target folder button and you can easily press it by mistake.
6. 4K YouTube to MP3
4K YouTube to MP3 is an app that was specifically created to take care of all audio extraction needs. It supports multiple sources, such as YouTube, Facebook and Vimeo. The download process is pretty straightforward, which is surely amazing for a tool of this scope.
How to use: All you need to do is to grab the YouTube URL of the video you want to download then you will have to paste it onto the main window of the application. You can check out the progress of the download at any time and, when it finally completes, you can easily listen to the song without any problem.
Pros: Clean interface and fast download process.
Cons: Downloads might hang at times.
7. Freemake YouTube Music Downloader
Freemake YouTube music downloader has been offering a high quality service to people around the world starting all the way back in 2010. Since then it has grown to become an extremely reliable downloader, with there being no registrations, limitations or any hidden costs and fees to it. You can easily grab both the downloader and the video converter right from their home page, and from there on out you will be able to not only download whatever video you please, but also convert in the right format for your needs. All you are required to do is run Freemake YouTube to MP3 Boom, use the search bar to find the song you want, and then simply click the download button.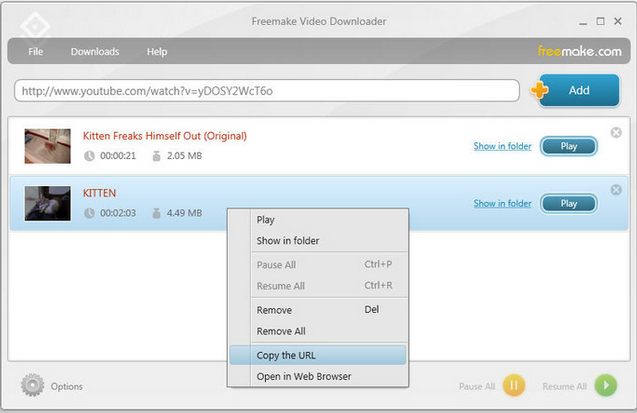 8. DVDVideoSoft YouTube Downloader for Mac
The DVDVideoSoft YouTube Downloader for Mac may very well be a new feature, but the company has released nothing but excellence onto the market so far. This program allows Mac users to download any YouTube videos quickly, easily, and most importantly, free of charge. They can be downloaded in all of their original glory, even high-definition and 4K, and 1,5 to 2 times faster than all other YouTube downloaders for Mac.
9. Fastest Video Downloader
Fastest Video Downloader may very well be the new kid on the block, but it's ascending quickly to becoming a fantastic free YouTube music downloader right on par with all the other big names in the business. The great thing about it is that as the user, you're not only limited to downloading videos from YouTube seeing as how the software supports other video hosting sites such as Vimeo, Vevo, Dailymotion, and thousands of others. The files can be converted into many formats to suit your needs, including AVI, MKV, 3GP, and can be played on any device including the iPhone, iPod, PSP and Android. The setup is quick and easy, there are no fees, no signing up or any limitations on how much you can use it.
10. YTD Video Downloader for Mac
YTD Video Downloader for Mac is one of the real dinosaurs in the field, available for free to everyone around the world all the way since 2010. The development team behind it has been continuously working over the years on making more and more improvements, tweaks, fixes and even some additional features, making it one of the most dependable downloaders to be found. At the start it was nothing but a free YouTube music downloader, but it has evolved to encompass all the other great video hosting sites that are starting to pop up, allowing you to download virtually every single video you come across on the internet. While there is a professional version that comes at a cost, the free basic one is more than sufficient, allowing you to find, convert and download any desired video with only a few clicks of the mouse. It's very easy to navigate and efficient in its use of your system's resources, meaning you'll find it works faster than most other video converters.
In conclusion, there are quite a lot of YouTube music download applications out there, but this list is comprised only with the best of them. While most YouTube music downloader might encounter some errors when downloading files from the popular video platform, they are still very reliable and easy to use, allowing you to grab all the songs you need in a matter of minutes.
Choose the Right YouTube Music Downloader that is Best for You
| Choose the YouTube Music Downloader to Download Music Easily | | MediaHuman | Abellssoft | Evom | ClipGrab | 4k Youtube to MP3 |
| --- | --- | --- | --- | --- | --- | --- |
| Support for multiple sites | | | --- | | | --- |
| Download high quality music | | | | | | |
| Downloads video and audio | | --- | | | | --- |
| Optimize presets for iPhone, iPod and other devices | | --- | --- | --- | --- | --- |
| Play and manage music | | --- | --- | --- | --- | --- |
Part 2. Top 10 YouTube Music Downloader Free for iPhone, iPad and Android
For iPhone and Android users, you do can edirectly download YouTube music on your devices with free YouTube music downloader apps. Below we help you to pick up top 10 free YouTube music downloader apps for Android, iPhone and iPad.
Top 5 YouTube Music Downloader Free for iPhone, iPad and iPod
1. Box MP3 Free Music Manager
This is an amazing YouTube music download app that you should seriously consider using if you are an iPhone user. It has some interesting features and specifications that are going to make the music download process a breeze. Searching for the music is so easy with the use of hashtags. It also allows you to listen to live radio absolutely free of charge. Another thing that you will love about it is the fact that you can create playlists according to category, mood or any other specification.
2. Beats Music
Beats music is a great app for people who want to stream music fast or download it to their device. It gives you access to over 20 million songs from all genres. You will have a great time exploring different types of music when you have it on your iPhone. Using it is very simple. You just need to download it from app store and install it, choose the music that you would like to listen to, press play to load the music and then press the Download button to download it.
3. Freegal
You will not be disappointed with Freegal because it is one of the high rated music apps on the apps store. It is totally free and has a number of exciting features that you will love. Using it will not be a problem at all because it has a simple and stylish interface. It features an easy browsing option that allows you to locate the music that you are looking for very easily. It often includes many of the latest songs and today's top artists in its library. The songs can be divided into playlists and categories very easily.
4. iDownloader
iDownloader does not only support downloading of music from YouTube and other sites online, but it also supports video downloads. It comes with a music player and photo viewer that you will find useful when playing your favorite music or viewing your favorite photos. It also comes with a web browser that you can conveniently use to search for the music that you want to download to your iPhone. It will be a great addition to your iPhone app stash because of the numerous management and sharing features that it comes equipped with.
5. VDownload Lite
You can use VDownloadLite to download both music and videos very easily. It has a simple user interface and features numerous improvements to the normal formula. It is equipped with a high quality player that allows you to play your music easily and supports and unlimited number of resources. To use it, you simply need to download and install it on your iPhone and then use the integrated browser to search for the songs that you want to download. After finding the song that you would like to download, all you will need to do is press a download button.
Top 5 YouTube Music Downloader Free for Android
1. Videoder
This is one the best YouTube music downloaders to use if you have and Android device. Besides allowing you to download your favorite music from YouTube, it also allows you to convert the music to audio formats of your choice. You can use it to download any music video from YouTube directly into MP3 format. You will not need to go through the trouble of downloading the video separately and converting it later on. It supports download of videos in different resolutions, including 720p, 480p, MP4, FLV and 3GP. It has a built-in search engine that allows you to search for the videos you want to download easily.
2. TubeX
With TubeX, you are going to enjoy very fast download speeds when downloading your favorite music from YouTube. It supports downloading of multiple music or videos at the same time to allow you to get all the music you want to your Android device faster. It also supports download resume. In case internet connection is lost when you are downloading the videos, you can continue downloading from where you left without having to start from the beginning. It also comes with a built-in player that allows you to stream videos easily.
3. TubeMate
TubeMate allows you to download videos and music from YouTube very easily. It is regarded as one of the best YouTube downloaders for android. It offers video resolution that is going to fit perfectly with your android device. Downloadingvideos with it is very simple. All you need to do is search for the name of the video. It has a very simple interface and has easy navigation. It also offers amazing download speeds to allow you to get the videos you want on your android device faster. You can download the videos in various screen resolutions and video quality including high definition.
4. WonTube
This is another great application for downloading YouTube music to your Android device. You are going to find it very useful if internet connection on your device is very slow. It automatically allows resume or re-download when your device reconnects to the internet. It also has new features that you will like such as the share button that allows you to share music to social networks.
5. YouTube Downloader from Dentex
This is a great Android YouTube music downloader developed by XDA. It supports all the available formats on YouTube including those that are not in the normal MP4 format. It automatically converts the videos that are being downloaded to MP3 format for listening on your Android device. It also allows you to copy and paste download links from other apps. If you see a video that you would like to download when you are using another app, you simply need to copy the link of that video and post it to this application and it will start downloading the video.