A variety of factors make it not easy to download YouTube videos to mobile devices. To solve this problem, many software developers devote themselves to developing mobile YouTube downloaders. You will be free to choose the best one but it has to be compatible with your mobile device whether a phone or tablet. Examples of these downloaders include YouTube Downloader (Nokia, FVD- Free Video Downloader and Mobile YouTube Downloader.
Why Choose This YouTube to Mobile Downloader:
This YouTube downloader supports to download 4K UHD, 4K, 1920P, 1080P videos in one click from 10,000 video sites.
It can directly download YouTube to MP3 and convert downloaded YouTube video to any format to play on mobile devices.
It can convert YouTube videos to other 153+ formats including MOV(QuickTime), MP4, MP3, M4A, WAV, etc.
Also you can directly transfer downloaded videos to your iPhone, iPad, iPod and Android mobile devices.
List of Top 10 YouTube Downloaders for Mobile Devices
1. TubeMate YouTube Downloader
It is one of the most famous downloaders for YouTube in the market today. With this one, you can easily search, access, share and download YouTube videos without difficulties. It is good for multitasking which means it's possible for the user to surf over the internet or do other things online as downloading proceeds in the background. Notable features for TubeMate YouTube Downloader are quick download mode, resume downloading and multiple resolution options. MP3 stands out as the main format for audio supported by this downloader while video formats include FLV, MP4 and WEBM. If you have Google Play, you will not be able to enjoy using this downloader because it is not available under the platform.
2. Tube Downloader
It is easy to use and fast in downloading which is the key feature that this downloader spots. The top benefit of using YouTube Mobile Downloader for Mobile is high quality audio and video output after downloading while the process of installation is simple. Unfortunately, some versions of this downloader may lack key functionalities for YouTube which can be very discouraging. The downloader supports popular formats that include MP3, FLV, AVI and 3GP but there are many others that you can consider as well.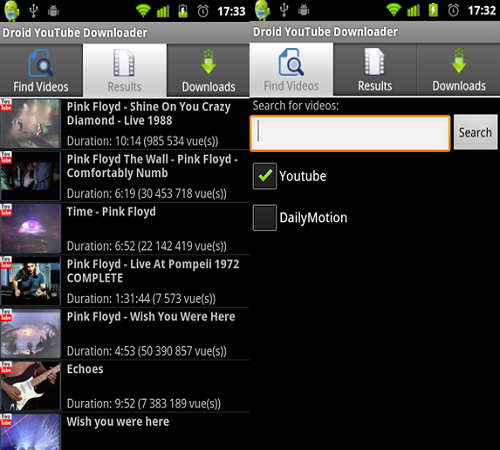 3. YouTube Downloader
You just need a single tap to have all your favorite YouTube videos downloaded into your Android and many other mobile devices. A built-in player and browser are the key features for YouTube Downloader and you will be happy to get the best from that. If you want to stop the downloading process or delete any downloaded videos, this downloader has all the features to make that happen in the right way.MP4, FLV, AVI and 3GP are some of the formats supported by YouTube Downloader. This downloader is always best at its functioning so you should expect value in return. Once you have downloaded your YouTube videos with this downloader, you can get to watch them at any given time and from any place.
4. Titan Downloader
This is an app from Android that comes with important recommendations on what to watch. It allows for subscription to channels of your choice which comes with easy accessibility when playing YouTube videos. The other benefit of YouTube is easy video sharing through e-mail and social networking sites like twitter, Facebook and Google+. Voice search and instant search are the prominent features for YouTube which is one easy way of getting the right videos to download. YouTube supports many formats that include WEBM, FLV, MP4, MPEGPS, AVI, WMV, MPEG4, MOV and 3GPP.
5. Mobile YouTube Downloader
It allows you to download YouTube videos in different formats like MP3, FLV, AVI, AAC, WAV and 3GP. It is available for free which is an advantage you will enjoy over any other downloader. This application will give you the freedom to browse, download and watch YouTube videos right in your mobile device and that's a notable feature for your consideration. This is highly possible because it can support resolutions of up to 720p while high definition quality is assured. At some instances, the downloading process might turn to be complicated and unfruitful which is a disadvantage that you need to be extra careful about.
6. HD Video Downloader
A period of three seconds is enough for this downloader to have your YouTube videos downloaded into your mobile devices and stored appropriately. That's how fast it is and it's a benefit that you can look up to always. HD Video Downloader supports formats like FLV, MOV, MPG, WMV, MP4, AVI and 3GP. Batch download is the key feature for this downloader and you can have hundreds of videos downloaded at the same time. Its user interface is clean and easy to use but it can develop complications in case you are downloading very large contents.
7. FVD Free Video Downloader
This is one downloader that gives users a lot of problems because their terms and conditions are not very much friendly to YouTube. Despite that, FVD-Free Video Downloader will always be a good choice for downloading YouTube videos. Multilanguage interface is the major feature for FVD- Free Video Downloader because it comes with 14 languages that can be translated. On the positive end, this downloader will facilitate for downloading of videos from many sites and comes out as being easy to work with. As noted, this downloader is protected by copyright laws thus it can land you in legal trouble once misused. Its supported formats include FLV, MP3 and WEBM.
8. YouTube Downloader Free
This is one of the best downloaders for high definition and high quality YouTube videos. Unluckily, high definition playback is missing in any devices with RAM of 256MB thus the download option will be hidden. You will have the option of choosing the right resolution to use for downloading your videos and this option is available once you have opened the video file. AVI, MP3 and MP4 are the common formats supported by YouTube Downloader Free but you can be on the lookout for many others. An easy-to-use interface is its notable feature and is a great application to use in downloading YouTube videos.
9. Droid YouTube Downloader
It is free from adware and other types of virus attacks so you should feel secure and comfortable in using it with your computer and mobile devices. You will be at will to make searches for your favorite videos on YouTube or any other online site and then download to your device. Audio extraction from video is its key feature which means you can save the files in MP3 format. Other supported formats are AAC, OGG, MKA, MP4, FLAC, MPEG, WEBM and 3GP. It is fast in downloading which will make the whole process look easier than it is.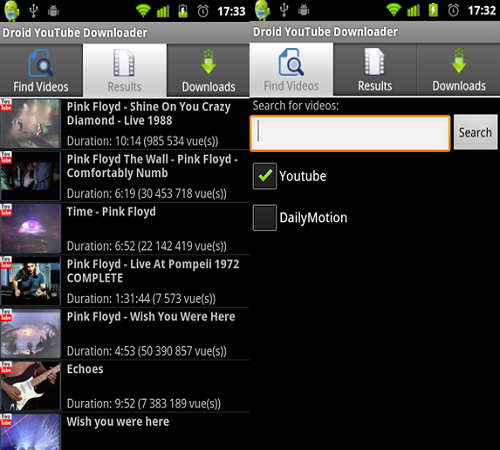 10. YouTube Downloader (Nokia)
This downloader can support resolutions of up to 720p and in high definition quality. It is flexible enough to allow for browsing of YouTube videos, downloading and watching from any mobile device. The biggest advantage of the YouTube Downloader (Nokia) is that you get to watch YouTube videos offline even without necessarily having access to any internet connection. Depending on the version of Nokia phone that you are using, the following formats will be supported; MPEG-4, AVC, AVI, ASF and 3GPP. Compatibility is a big issue with this downloader and it will occasion frustrations once there is any sort of incompatibility that occurs.