As an Android phone or Android tablet user, you may need to find a number of YouTube downloader apps from Google Play Store to stream and download online YouTube videos. Always, it is difficult to find a best and most fitting software. No worry! It is a good news that we have listed top 11 best YouTube downloader for Android below for you to help to choose your best YouTube downloader app to download and enjoy videos on Android device, even without a network connection.
Part 1. Top 11 YouTube Downloader for Android
Note: iTube Studio is only for Mac and Windows. If you love this program, please download and run it on your Mac or Windows PC.
iTube Studio for Mac (or iTube Studio for Windows) is a high recommended YouTube downloader for Android. It can download any videos from YouTube, as well as YouTube 4K videos in super fast speed. It comes with conversion feature that allows you to convert videos to any video/audio formats or directly to Android, iPhone and other devices, even to the video editing software.
What you can do with iTube Studio::

• 1 click download videos from YouTube, Vimeo, VEVO, Facebook and 1000 more sites.
• Batch download videos and manage the download with scheduler.
• Convert video format to fit any devices, sites, and software.
• Directly transfer YouTube videos to Android, iPhone and iPad.
• Play video directly with the built-in media player.
2. KeepVid Android
KeepVid Android is a free and fast Android YouTube downloader. It can help you to download videos and music from YouTube and other sites on your Android devices for free. With it, you can download HD videos and download multiple videos at super fast speed.
Why Choose KeepVid Android:
Free download videos and music from YouTube and other sites.
The built-in web browser allows you to download videos in program directly.
You can 1 click download YouTube to MP3 in high quality.
You are able to batch download videos at one time.
3. EasyTube
If you are looking for an Android YouTube downloader, you can try EasyTube. It is one of the simplest methods to download YouTube videos to your Android device.
How does it work?

All you need to do is to get this YouTube Downloader free download for Android. Once you have downloaded it, just tap on the file and accept installation. Then you can open the app.
As you will be able to see, EasyTube will show some categories for YouTube videos by default but you can also browse your own videos. Once you have found what you are looking for, you tap on Download. All available formats for the video will show up, and additionally you will be able to download a copy of the audio in MP3 format. All you need to do is tap on the one that you want and download will start automatically. You can later access your downloaded videos and audio on Downloads at the options, and even playback them on its embedded video player.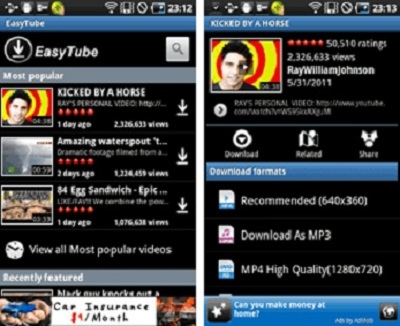 4. TubeMate YouTube Downloader for Android
TubeMate is a very easy YouTube downloader application that you can download on your Android device. You just accept the download and installation and you will be good to go.
How does it work?

After installing the application and open it for the first time, you will see a much more polished interface, very similar to the actual YouTube app. From this point you can use it just about the same way. The only difference is that once you find the video that you want to download, you will see a green arrow at the top of the application, to your right hand. Just by tapping on it, you will be able to download the different versions available of the video or once again, extract its audio. A download library and video player are also available on this app.
5. YouTube Downloader
A very complete application to download and manage your YouTube videos. You can get YouTube Downloader.
How does it work?

YouTube Downloader allows you to operate in two different ways, the first, just like the apps we checked above, is searching and downloading the video from within the app itself. The second method, is to just use the default YouTube app. From there you can Share the video and select YouTube Downloader. However you choose how to use it, you will be able to choose which version of the video you want to download or if you want to extract the MP3 audio. If it is the first time that you run the application, it may ask you to download a small plugin, but do not worry, this will happen only once. Now, from the Dashboard section of the application, you will be able to access your recent downloads and open them in the integrated media player.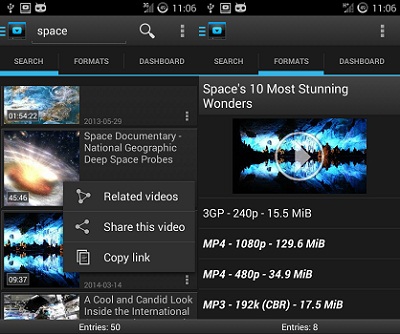 6. Videoder
Finally, for the sake of simplicity Videoder is an Android YouTube downloader application that you can use to easily download the versions available of YouTube videos to your device. You can go ahead and download and install it.
How does it work?:

Despite not having a video player itself or being able to extract the audio from the videos, Videoder does a very good job in a clean interface that is easy to use. It relies on the Android default video player or any other media players to show the videos. Like the other downloaders it will let you choose from the different versions of the video available for download and give you quick access to the downloaded videos, all from two tabs Search and Downloads.
7. Tubex
Tubex is YouTube downloader for Android that downloads files at a very high speed. It has an inbuilt player that allows you to stream videos online. It also allows one to choose the preferred video quality before downloading. It uses resume break points technology that allows one to pause and resume the download process.
How does it work?:

After downloading and installing the app,launch it to open the interface. Click the Tubex icon and type the name of the file that you want to search for. Click on your favorite video among the results. This will prompt three options, click download to proceed. After clicking, a list of options on resolutions will be generated. Click on your preferred resolution and download will start automatically. Finally, click on the download tab to see the progress as the file is being downloaded.
8. Vidmate
Vidmate is an Andriod App that downloads files at a high speed. If you search for files and you are not ready to download at that particular moment, it has a feature called "save for later". Once you click on it, your file is saved and it will be available once you launch the app later on. It also provides security for sensitive files through its feature called content locker.
How does it work?:

Launch the app after you have installed it. When interface opens, type the name of your preferred file. It searches and gives you a list of files to choose from. Select your favorite file and click download. The file will be downloaded automatically. Click the download symbol on the upper right corner to view the progress of the download and also to view other downloaded files.
9. YTD Video Downloader for Android
YTD Video Downloader for Android is an android app that is capable of downloading multiple files at the same time.
How does it work?:

Download the YTD video downloader App and install it on your device. Launch the app and once the interface is open, click on download tab. On your browser, open youtube and search for your favorite file. Click on it, once it is open, highlight the URL on the top of Youtube interface. Right-click on it and select the option "copy". Minimize the Youtube interface and get back to the YTD video Downloader Interface. Once you are there, the URL that you had copied is pasted on the search bar. Click on the download tab and your file will be downloaded automatically.
10. SnapTube
SnapTube downloads videos from youtube fast and conveniently. It has the ability to categorize videos since it has a section of most viewed videos, popular videos and also daily recommendations. One can search for a video among these categories or by typing the name of the video on the search bar.
How does it work?:

Install the SnapTube App and launch it. Type the name of the file on the search bar. On the search result click on your favorite file to select it then click download and your file will be downloaded automatically.
11. ClipConverter - Online Solution
Actually this is not an app, ClipConverter is actually online YouTube downloader for Android that is optimized to work on mobile devices. You can also access the complete version of the service on your computer.
How does it work?

All you need to do is to open the video that you want to download using the YouTube app or its mobile website. Once you have found the video tap on the options button and then select Share... and then Copy to clipboard. Now you go to clipconverter.cc on your mobile browser and paste the address you copied before on the clipboard, select the format you want to save your video in and tap on Start. Your file will be ready to download to your device within minutes for you to enjoy anytime you want.
As you can see, using a web service does not require you to install anything on your phone and can be very easy. But usually the apps themselves can be much faster and provide a lot more options. Just before we review them, you need to know how to install apps other than using the Google Play Store.
How to install applications on your Android device from APKs

We already know if you try looking for YouTube downloaders on the Play Store, you will find nothing much useful. But an alternative is to download the application package file (.apk) and install it yourself. The first thing you need to do is to enable app installation from other sources different to the Google Play Store. For this, go to your apps and look for Android Settings within them. Once there, go to Security and make sure you enable the Unknown sources checkbox. You can now go all the way back to Home, and you will be able to install any applications, even if they are not available at the Play Store.
The Verdict:
Even if Google does not make it easy to find the best tool for downloading YouTube video on Android, you do have several alternatives to choose from, but when it comes to apps, many times it is not really about how complete they may be, but more about how you can actually use the features available and maybe more important: how pleasant the experience is for you in terms of design. And while that is really your choice, here is a quick guide through the features of the downloaders we just checked upon:
| Products | Available video formats | Embedded video player | Audio extraction | Multiple downloads |
| --- | --- | --- | --- | --- |
| iTube Studio | FLV, MP4, MOV, AVI, and more | Yes | MP3, M4A, WAV, etc. | Yes |
| ClipConverter | FLV, MP4 | No | MP3, M4A | No |
| EasyTube | 3GP, MP4 | Yes | MP3 | Yes |
| TubeMate | 3GP, FLV, MP4 | Yes | MP3, AAC | Yes |
| YouTube Downloader | 3GP, FLV, MP4, WebM | Yes | MP3 | Yes |
| Videoder | 3GP, FLV, MP4, WebM | No | No | Yes |
| Tubex | 3GP, FLV, MP4 | Yes | No | No |
| Vidmate | MP4, FlV, MOV, AVI, WMV, 3GP, MPEG | No | No | Yes |
| YTD Video Downloader | MP3, MP4, wmv, FLV, MOV, 3GP, AVI | Yes | No | Yes |
| SnapTube | 3GP, FLV, MP4 | Yes | Yes | Yes |
Part 2. How to Download YouTube Videos to Android
If you are looking for a safe and easy way to download YouTube videos for Android devices, here iTube Studio for Mac (or iTube Studio for Windows) is a great helper for you. This desktop YouTube downloader works well on Mac and Windows PC, including the OS X 10.11 EL Capitan, Yosemite, Mavericks, Mountain Lion, Lion, Snow Leopard and Windows 10, Windows 8, Windows 7, Windows XP, Windows Vista.
Below features make it outstanding on YouTube download:
3X faster download YouTube 4K UHD videos.
Download videos from 10,000 more sites.
Convert video to any video and audio format.
Preset for Android, iPhone, and other portable devices.
Steps to Download Videos from YouTube to Android
Step 1. Launch YouTube Downloader
Download and install this desktop YouTube downloader on your Mac or Windows PC. Then launch it and go to the main interface as image shown.
Step 2. Download YouTube Videos in 1 Click
Now go to YouTube.com and find your favorite video. When you open the video, you will get a "Download" button on the video windows. Simple click the button to download the video.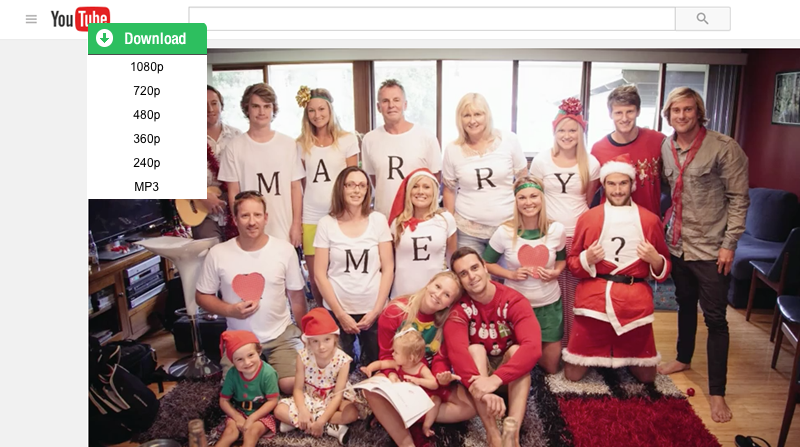 Step 3. Convert YouTube Videos
If the downloaded YouTube videos are not supported by your Android devices, you can convert the video format. To do so, find the video you want to convert from "Downloaded" tab in the "Download" menu at first. When you put your mouse button on the video, you can see the "Add to Convert List" icon on the right of the video list, try to click this button to import video to "Convert" menu.
In "Convert" menu, you can find your video, please click the "Convert" button, in the open up format selection window, you can select an output format or choose a device name as target output. Lastly, click "OK" to start the conversion.