To freely download anime MP4 videos on Mac or Windows and enjoy them in your Android or iPhone (X/8/8 Plus/7/7 Plus/6s) deivces all the time, what you need is a program like iTube Studio, which can aid you to download any anime MP4 videos. And here you will be also provided top 10 anime sites to download free anime MP4 videos. Just choose the best one to make you satisfied.
Part 1. Top 10 Sites to Download Anime MP4
There are all kinds of great websites that will allow you to download MP4 anime videos at absolutely no cost whatsoever. Even Kissanime is down, you can still access Animehaven, Watch Anime, MasterAnime, and more. Here are some of the best sites where you can get awesome anime MP4 downloads any time.
1. WAO Anime TV
Use this site to watch and download your favorite anime series and movies, all in HD. You never have to spend any money to use this site.
2. Soul-Anime
Find more than 1,000 anime series with over 40,000 episodes that you can watch and download here. The videos are also English-subbed.

3. Anime Fushigi
The absolute best anime is here, as well as anime posted by users is here, and you can download it all easily and for free by clicking on the download button, which is located at the top of the media player.
4. Anime Seed
In addition to being able to watch and download great anime, you can also use this site to chat with other users and make friends with people from all over the world in the forum and chat rooms. To download, simply click on the button that is located at the top left corner of the screen.
5. Anime Dreaming TV
As soon as the newest Anime series air in Japan, you will be able to watch and download them here once it is subbed or dubbed. You can download videos from the sister site, www.animedl.com.
6. Haruhichan Anime Tracker
Find all kinds of great anime here that is free to download. There is also a release calendar, so you will know when you can see your favorite anime series. Don't forget to check out the chat feature, where you can talk to others who share your love of anime.
7. AnimeFansSFTW
Your favorite anime is here, and it is all free to download. Watch episodes of Yu-Gi-Oh!, Go! Princess Precure, Joukamachi, and a whole lot more.
8. Anime Stash
All you have to do is register (for free), and you can watch loads of awesome anime, and download MP4 versions to watch any time at your leisure.
9. Boontan Anime
Create a free account, log in, and check out the anime tab, where you can bring up loads of awesome videos that are free to download. The site supports download managers, and downloading is simple.
10. Cyber 12
You don't need to register to use this site to download anime MP4 videos for free. In most cases, you can play the MP4 LQ videos with your iPhone. If you do have problems watching videos, post it at the forum and you will get all of the technical support you need.
These are just a few great websites you can use to watch and download anime MP4 videos. There are loads of other great free sites you can use, as well as many paid services that offer even more of your favorite anime series.
Part 2. How to Download Anime MP4
If you want to download your favorite Anime MP4 videos, you can try to use the best Anime MP4 downloader. Follow the step by step guide to free download awesome MP4 Anime videos in high quality.
iTube Studio - One Click Download Anime MP4
Free Download MP4 Anime with Extension or URL:
3X faster download any videos from 10,000+ sites with orginal qualtiy maintained.
Convert videos to 150+ video/audio formats, or preset video download for any devices.
Automatically detects the online videos, and download multiple videos at one time.
Transfer downloaded Anime MP4 videos to mobile devices with USB cable connected easily.
Manage and play the download MP4 Anime on the program directly without limitations of OS.
Step 1. Install and Launch the Anime MP4 Downloader
Before using this tool to download MP4 anime, first download and install iTube Studio for Mac (or iTube Studio for Windows) on your Mac or Windows PC.
Step 2. Download MP4 Anime
Then open the video in your favorite browser (Safari, IE, Chrome, Firefox). iTube Studio offers 3 options for you to download videos:
1) Play the anime MP4 video, and then click on "Download". The download button is located at the top of the video. When you click on this button, you will see a list of available resolution. Click on the one that you want, and the program will assist you with downloading the video.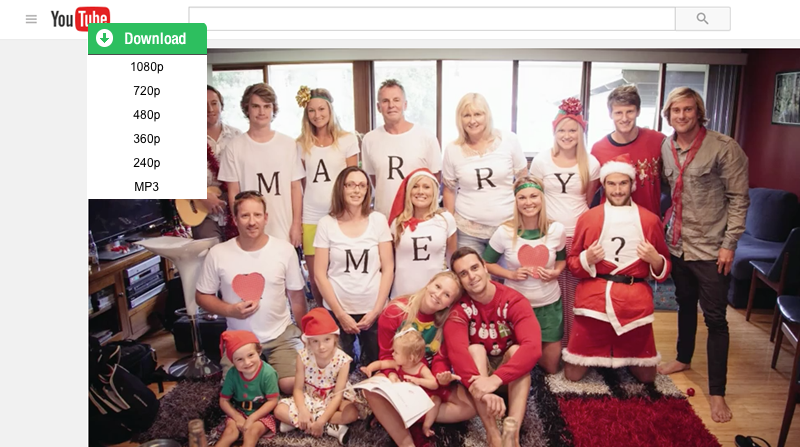 2) Drag and drop the URL of the anime you want to download to the iTube Studio for Mac dock icon from the address bar to start downloading. Or copy the video URL of the video page, and click the "Paste URL" button in the primary window to download the video immediately.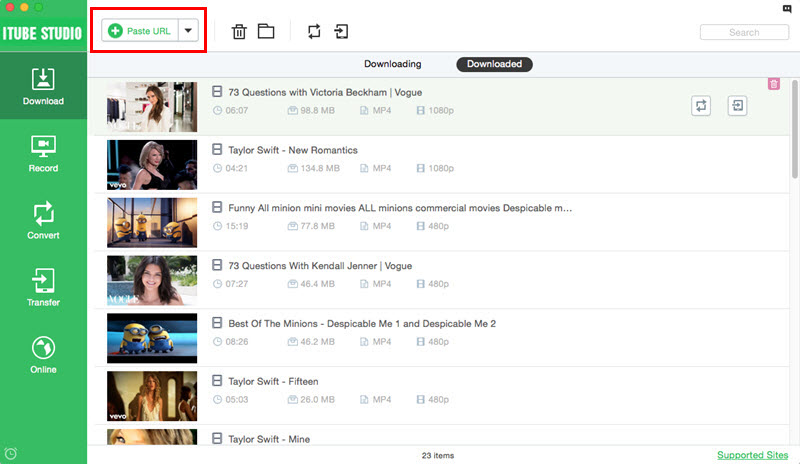 That is all! Easy no? Come and get iTube Studio Amime MP4 Downloader for your favorite movies and animiations!