"Is there a way for me to download YouTube Videos with subtitles or closed captioning" "When I download YouTube videos, the subtitles on YouTube videos cannot be downloaded. What can I do?"
Many YouTube videos will come with subtitles or closed captioning. If you are looking for a way to download YouTube subtitles, you are in the right place. Here you can learn how to download YouTube videos with closed captioning or subtitles with ease.
The Easiest Way to Grab Video Subtitles from YouTube on Mac (10.12) and Win
iTube Studio for Mac (or iTube Studio for Windows) is the high recommended free YouTube downloader to help you to download YouTube with subtitles. It can detect the YouTube video you are playing with your browser and enable a download extension allowing you to capture the video with subtitles in one click. You are able to download subtitles and transcribed with this YouTube closed captioning downloader so get .srt file that can be played on various players.
Why Choose This YouTube Downloader:
100% free download YouTube HD and YouTube VEVO videos with subtitles.
1 click download all videos from YouTube playlist, category and channel.
Download videos from YouTube and 10, 000 more video-sharing sites.
Convert the YouTube videos to any formats or directly for portable devices and any other players.
Transfer downloaded and local videos to your iPhone, iPad and Android devices.
Steps to Download Video Subtitles from YouTube
Step 1. Download and install YouTube closed captioning software
Click the above Free Download button to get the program file. And double click the downloaded file to open the installation instruction. Now you can easily install the program on your computer with the help of the prompts. When you finish the installation, the program will launch automatically.
Step 2. Start downloading YouTube video with subtitles
Find the YouTube video you want and play it. Then you will see a "Download" button on the video window. Simple click the button and select a video resolution to download the video and the subtitles.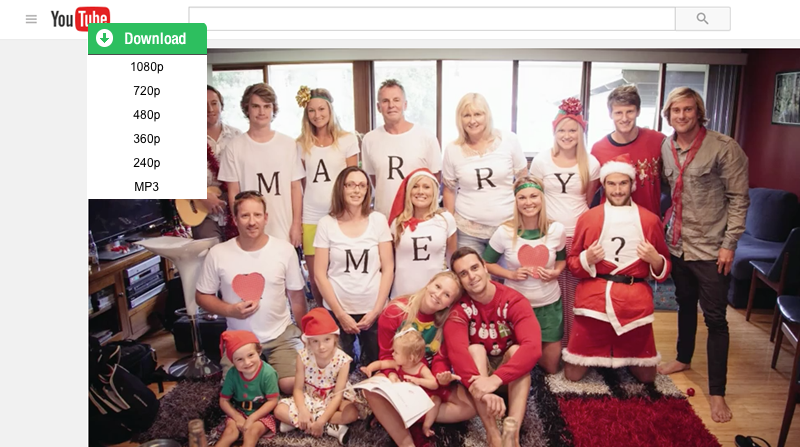 Alternatively, copy video URL from the browser and click Paste URL button on the primary window of the program. The video will be added to the download queue. And you also can directly drag and drop the video URL to the program dock. The program will capture the video immediately.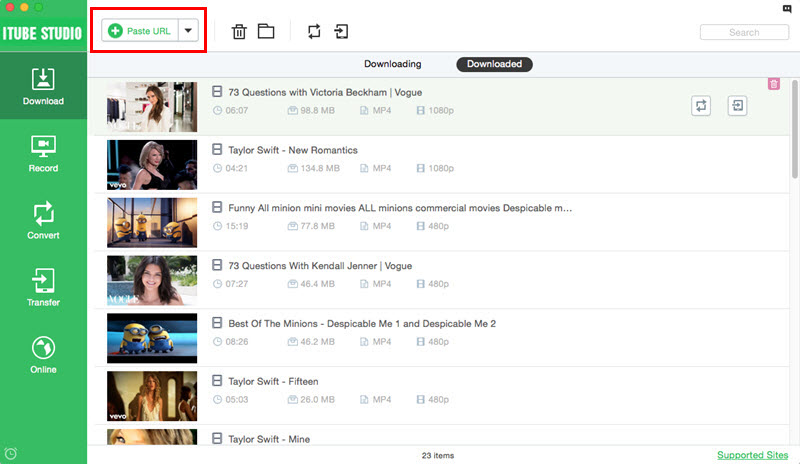 Step 3. Convert downloaded YouTube videos to any formats
If you want to play the downloaded videos with subtitles on any players, you can convert the video to your desired format. First add the downloaded video to the convert list.
And then go to the "Convert" menu and click the "Convert" button. Then you will get a pop-up window with output format options. Select your desired video/audio format or a device model to set it as target output. Lastly, click "OK" to start the conversion. When you're done, you can put the video to your device and play it anywhere anytime..
More Tips about YouTube Subtitles
Just like on TV, it is possible to get subtitles on YouTube. Videos marked with a small CC mark at the bottom have one or more texts. When you click on the CC mark, you can choose which one you want to see. Besides the language, in which the subtitles have been supplied, it is also possible to get Google to translate them into almost any language.
It is obviously far from all videos that comes with subtitles. There is also a possibility to have a machine transcribed version, but it is only for videos in English language and it is still in beta. The popularity of subtitles is increasing with an enormous speed. Thus, there are lots of websites offering a huge catalogue of subtitles. Many people visit these websites to interpret the content of movies.
If you have uploaded videos to YouTube, you can also upload subtitles for them. It's not difficult, if you know how to do it.
Perhaps someone might think: Why should I be using energy to create subtitles for my video? Well, you have probably shared the video on YouTube because you'd like it to be seen. Either to spread a message or get visitors to a page. With subtitles, you can reach a larger audience. Mainly, the hearing impaired can enjoy your video by reading the texts, and secondly you can potentially get visitors from many other countries thanks to possibility of translation.
Another advantage is it is more likely the video is showing up in search results. Google loves words, as the saying goes. And I'm convinced that Google's search bots also goes through the subtitles on YouTube. You can create a text file with text and upload to YouTube. It should contain cues for when the text is displayed and removed.
You can choose which of your uploaded videos you want to work with. The page will then show the video. Click the pause button at the position you want the first subtitle, click the "Add Caption", write the text and how long time it should be displayed. When you have put all the texts into the system, you can see a preview to see if it looks OK and then correct any errors you found. The text can either be downloaded, sent as email or sent directly to YouTube.
You can also create text in a video uploaded by someone else, but you cannot add them directly to YouTube. Instead you get the option to send the text file to the owner of the video.