YouTube fans can stream a large number of videos and hot songs online for free on YouTube. However they can not download video and music from YouTube directly. If you have the same annoyance when you enjoy YouTube videos and songs, here is the good news that actually it is easy to download music from YouTube to iPad, iPod or iPhone as long as you have got a reliable YouTube music downloader. So in this article, we will share you the easiest and safest way to download YouTube music to iPad, iPod or iPhone (including iPhone 7) for enjoying songs anywhere anytime even without network connection.
Part 1. How to Download Music from YouTube to iPod, iPad, iPhone
Easily Download Music from YouTube to iPad, iPod and iPhone (including iPhone 7) Devices:
To download music from YouTube, you need a reliable YouTube music downloader. Here, I highly recommend iTube Studio for Mac (or iTube Studio for Windows PC), which is the best application to help you to get music from YouTube on Mac (macOS Sierra, OS X 10.11 EL Capitan and 10.10 Yosemite included) in only one click. What's more, it comes with preset function that lets you directly download music from YouTube to iPad, iPhone or iPod compatible format.
Download videos or music from YouTube, VEVO, Vimeo, Facebook, Dailymotion, Google Music, Yahoo Music, and 1000+ sites in only a single click.
Directly download YouTube to high quality MP3, M4A, MKA, or WMA. And quickly export downloaded videos or songs to your iTunes library.
Optimized presets for iPad, iPod, iPhone, Android phones, Android tablets, Playstation 3, PSP, Xbox 360, Nintendo Wii, and other portable players.
Download videos or audio to MP4, MOV(QuickTime), MPEG-1, MPEG-2, WMV, AVI(XviD), MKV, 3GP, etc. And convert existing FLV/MP4/WebM videos.
Allow you to transfer downloaded videos and your desktop videos to iPhone, iPad, iPod and Android devices.
Step-by-step Tutorial on Downloading YouTube Music to iPad, iPod, iPhone, etc.
Step 1. Download and Install the YouTube Music Downloader
After downloading the application, you can install it by using the provided installation wizard. Just follow up the instruction to finish installing the program on your Mac. When completed, the program will launch automatically.
Step 2. Preset for iPad, iPhone, iPod or Android
Check the "Download then Convert Mode" button on the top right corner of the primary window, a window for selecting output format will appear.
To play YouTube music on iPod, iPhone, iPad or Android, MP3 is recommended. Now you can click on the "Audio" tab and select MP3 as output format.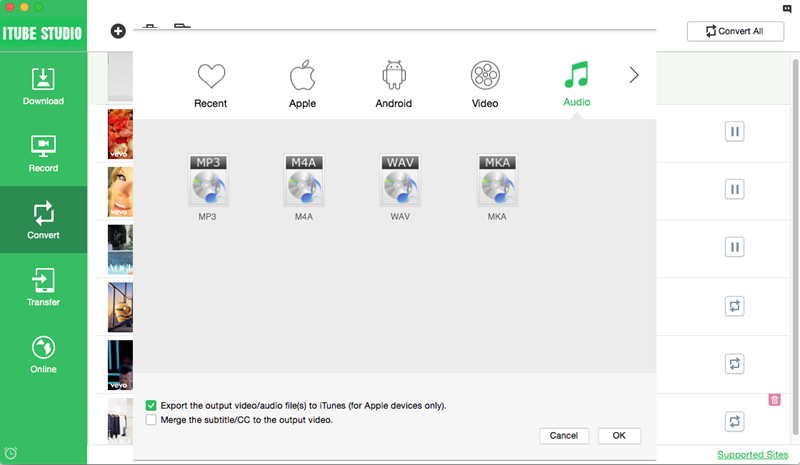 Alternatively, you can directly download the YouTube music for iPod, iPad, iPhone or Android. To do so, in the output format window, click "Apple" or "Android" and then select your desired devices as the target output. For iOS devices, you can check the option of "Export the output video/audio files to iTunes". Lastly, click "OK" to confirm your settings.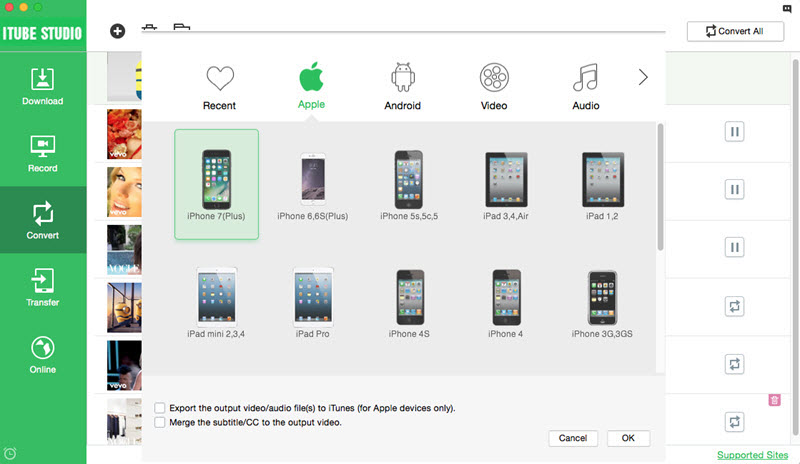 Step 3. Start Downloading YouTube Music to iPad, iPod, iPhone or Android
Open Safari, Chrome or Firefox and search the music you want on YouTube.com. When you play the music, you can see a "Download" button on the top left corner of the music page. Then you can choose any one of below three options to process downloading.
1) Directly click the button, the program will load the music file and start downloading.
2) Navigate to the address bar and drag the direct URL for the YouTube music to the program, the music will be captured immediately.
3) Copy the direct music URL and click the "Paste URL" button on the primary window, the music will be added to the download queue.
Now, enjoy all YouTube music with your iPad, iPhone or iPod with no more puzzled!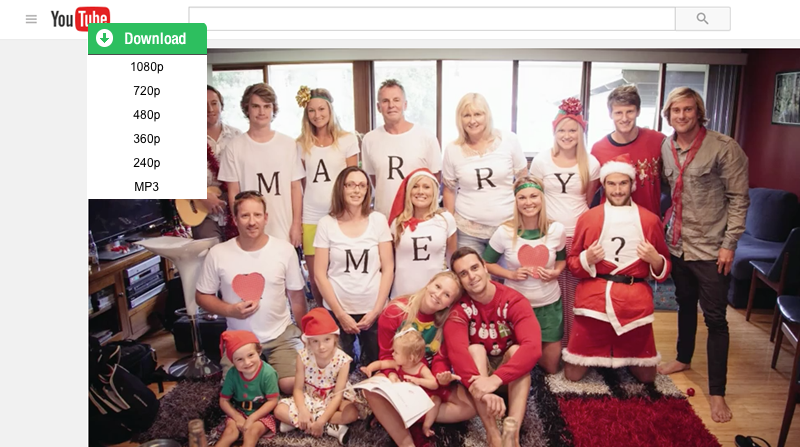 Part 2. Free YouTube Music Download Apps for iPhone, iPod, iPad and Android
When it comes to YouTube music download app for iPad, iPhone, iPod or Android, there are quite a lot of free apps that are available on the market. Below are the Top 3 free YouTube music downloader apps for iPhone, iPod or iPad.
1. Freelegal
This is a free YouTube music downloader for iPhone that can process free YouTube music downloads for iPhone or iPad. By using it, you can download all types of music available on the YouTube and also from other sites.
Pros:
• Easy to use interface that facilitates downloading of YouTube music.
• It has more than 7 million different MP3 songs that can be downloaded via your local library.
Cons:
• You might get crash sometimes.
2. Beats Music
This is a fantastic music app for those who would like to stream music fast and then download it into their iPhone devices. You download the app from the AppStore and then install it. Search and choose the music you would like to download, and then hit the DOWNLOAD button.
Pros:
• Interesting concept with a large song Database.
Cons:
• The interface can be a bit confusing at the first use.
3. iDownloader
Not only being a music downloader, it also provides video downloads, players and photo viewer when accessing a web browser. This app brings a lot of numerous management as well as sharing features that make it a great addition to your iPhone.
Pros:
• There are numerous features that make it more than just a music downloader.
Cons:
• It experiences slow download speeds and randomly crashes at times.
4. Spotify Music
This is another useful app that allows you to access & download all your favorite music from any popular platform (including YouTube) without any hassle. Next, you can now seamlessly enjoy all these new songs on your iPhone and all other ios devices (it is compatible with ios 8 or later versions). Plus, this app also allows you to easily create your own playlists as well.
Pros:
• This app comes with an extensive database. Thus you can easily store all your favorite music & enjoy it using your portable gadget.
• It features a great sound quality.
Cons:
• While, you can listen to any favorite track for free. However, in order to download music from YouTube, you will need a premium account.
• It frequently displays annoying ads. To get rid of them, you'll need a premium account.
5. SoundCloud Downloader Pro
It also comes with a huge music database. You can use it for streaming online music and download them as well. It also brings some important features like Airplay support and Background playback etc. Plus, it even features high-quality music downloads. Plus, it even allows you to personalize your listening experience too. All you will need to download the app from app store and then sign in using your email id or Facebook & Google+ account.
Download SoundCloud Downloader Pro >>
Pros:
• It features a vibrant and stylish interface.
• It comes with an enormous database with more than 135 million songs.
Cons:
• You can't easily download all the songs. You can download only those that are actually downloadable on Soundcloud.
6. Total Downloader Free
This brings an amazing music downloading platform for the iPhone users. It comes with some built-in interesting features & specifications, such as you can search music & download them within a snap, convert video files to audio files, and create your own ringtones etc. It features a stunning graphics & a new springboard icon. This app is also compatible with ios 9.
Download Total Downloader Free >>
Pros:
• It features a super fast download speed.
• It is packed with numerous other features.
• You can also integrate with app with other cloud storage platforms, for example, OneDrive, GDrive, and Webdav etc.
Cons:
• It has a sluggish management option. It's not user-friendly.
7. Video Download & Play
This particular app is primarily built in order to download videos from YouTube. But, you can also use it for downloading music as well. This particular app is compatible with ios 9. It also allows you to enjoy music offline.
Download Video Download & Play >>
Pros:
• It also features a great download speed.
Cons:
• Using this app, you can only download music from YouTube and various video hosting websites.
8. The Music+
If you love music & you really wish to take your listening experience to a completely new level, then this app will be ideal for you! It's a phenomenal music manager that allows to easily download your favorite music for free! This application is extremely easy-to-use. Also, it's completely optimized for ios 8. Using this app, you can listen more than 10,000 radio stations.
Pros:
• It features a rich & user-friendly interface.
Cons:
• It comes with only basic functions that may not be suitable for advanced users.
9. Music Free Download Pro
This is another great tool that allows you to download a myriad of your favorite songs directly on your device. Using this app, you can easily download MP3, WAV, and M4A files. Plus, when you'll browse websites, you will find numerous download options as well.
Download Music Free Download Pro >>
Pros:
• It features a clean & simple interface.
• You can play the downloaded songs using this app as it acts as an integrated player.
Cons:
• The overall download speed greatly varies. Sometimes, you may get high speeds. However, most of the times, the download speeds are significantly less.
10. VDownload Lite
It's a perfect video downloader app for iPhone. However, it can also help you to download music so easily. It's easy to use even for a novice. It supports multiple websites including YouTube.
Pros:
• It features a fast download speed.
It supports batch music downloads.
Cons:
• It contains many annoying bugs.
• Some people also have experienced frequent crashes.