Although it is convenient to play and watch videos in iPhone on the go, it will be an annoying thing if there is no network connection when you want to watch online videos. Only if you have downloaded videos to your iPhone, you can watch it anywhere and anytime. Fortunately, it is easy to find many video downloader apss for iPhone in the market. However, not all of them meet your needs, luckily, below we have listed top 10 free video downloader for iPhone (iPhone 7) so you can choose the best for you.
Part 1. Top 10 Free iPhone Video Downloaders
1. iTube Studio
iTube Studio for Mac (or iTube Studio for Windows) is in the first place of the list of video downloader for iPhone (iPhone 7, iPhone 7 Plus, iPhone 6S, iPhone SE included). It supports a wide range of online video sharing sites, including YouTube, Break, Vimeo, Facebook, and 10,000 more sites. With it, you will have super fast download speed and you can download multiple videos at one time.
Why Choose This iPhone Video Downloader::
Download videos from YouTube, Facebook, Vimeo, Metacafe, Lynda, and 10,000+ in 1 click.
You can download multiple video and the whole YouTube playlist or Lynda playlist at one time.
It can convert videos to iPhone, Android, Game console and any other video/audio formats.
Easily record videos from Hulu, Netflix, iTunes, any other video-sharing sites in high quality.
Directly transfer downloaded videos to iPhone, iPad and Android devices.
2. Best Video Downloader
This is a great video downloader app for iPhone that is compatible with a huge variety of streaming sites including YouTube, and can even download live streaming as it happens. It can continue downloads in the background even when the app is closed, has a built in search engine and integrates with your browsers bookmarks and history to make it easy to find the videos you want. There is also an included video player that offers great playback and some additional features, including a sleep timer and adjustable play speed. Very well featured and a pleasure to use.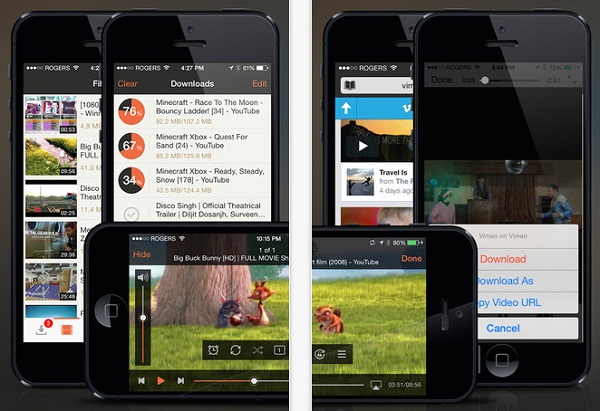 3. YTD Video Downloader for iOS
Another well featured video downloader app for iPhone with a broad range of compatibility, although it does not work with YouTube. With batch downloading to enable a set of videos to be queued for download without further user action and the ability to organize downloaded videos into playlists for easy viewing, YTD has much to offer, it does lose out on the omission of YouTube compatibility however.
4. Free Video Downloader Plus Plus
This downloader includes support for all major streaming sites including YouTube, with a broad range of format compatibility, and offers an easy to use interface, with a download button appearing when you tap any compatible video. With the ability to build a playlist of the downloaded videos, share the files directly on iTunes and sort videos by name, size and duration, there is a wealth of features for managing your media once you download it. A great experience to use and a really good choice for anyone downloading videos to their iPhone.
5. Video Downloader
If you need to download YouTube Videos on iPhone, you must download the popular video downloader app. The iOS version of the app is available at the App Store for free downloading. With the help of this free video downloader app for iPhone, you can download and convert all types of streaming contents on the Internet. You can browse your favorite videos using the application and can also watch videos and listen to the songs using the integrated video player.
6. Video Downloader Super Lite
This is one of the popular free video downloader apps for iPhone that will download videos from all websites where videos are shared. You can use this app to download videos on any of your iOS devices like iPhone or iPad. With the help of this application, it is possible to download all types of videos from the Internet.
7. McTube
It is an application that can be used with multiple iOS devices. With the help of this free iPhone 7 and iPhone 6 video downloader the user can enjoy all the features that the YouTube website has.
8. MyVid Video Downloader
It's an app that has both download and sharing features. You can download any video you like from Youtube, rename it and share it out on any social network or IM with a lot of ease. Moreover, the design of this application is great and allows the user to easily navigate with it and quickly download any video. It has a save button that you can click as you continue with the download. Once its complete, you can watch it offline. It not only has a password protection feature, but also supported for all international keyboards.
9. Titan Downloader
It's a straightforward, easy to use and effective video downloader application that you can have. In addition, this application is secure and provides the user with full video downloading feature. It allows for multiple downloading at any given time, you can cancel, pause, and resume any download. This app not only has a pass-code lock, but also allows you to delete, rename and move files. Its play back options and a fairly fast down speeds makes it the best free downloader for your iPhone. It is for this reasons that this video downloader has gained several positive reviews and is used by many people.
10. iBolt Downloader
If you want to have a quality video download, then pay for iBolt downloader. It has an inbuilt browser that you can use immediate you install it on your device. Its home screen has a FAQs section that will answer all your questions on how to use this app. With it, you can transfer downloaded video to your preferred location. Also, you can customize the way the videos are sorted, played and stored. Generally, the app has great features that will ensure that your download experience is the best and just as you need it.
Part 2. How to Choose the Best Free iPhone Video Downloader
| Products | YouTube Compatibility | Browser Integration | Max Resolution | Batch Downloading | Cost (US $) |
| --- | --- | --- | --- | --- | --- |
| iTube Studio | | | 2160P | | Free to try |
| Best Video Downloader | | | 1080P | | Free |
| YTD Video Downloader for iOS | --- | --- | 1080P | | Free |
| Free Video Downloader Plus Plus | | --- | 1080P | | Free |
| Video Downloader | | --- | 1080P | | Free |
| Video Downloader Super Lite | | --- | 1080P | | Free |
| McTube | | --- | 1080P | | Free |
| MyVid Video Downloader | --- | --- | 1080P | | Free |
| Titan Downloader | --- | --- | 1080P | | Free |
| iBolt Downloader | --- | --- | 1080P | | Free |
Part 3. How to Download Videos for iPhone (iPhone 7/iPhone 7 Plus)
For downloading your videos to your iPhone (iPhone 7/iPhone 7 Plus included), those apps make a sound solution, but for many people it will be easier to use their desktops and then simply transfer the videos onto the iPhone. For this the best solution is iTube Studio for Mac (or iTube Studio for Windows). With a simple interface that integrates into your browser, the ability to download from YouTube and over 10,000 other sites, and tools to convert downloaded videos into any format you may need, it offers a comprehensive and easy to use method of downloading all your video requirements, even 4k resolution footage.
Easily Download Videos to iPhone (including iPhone 7):
You just need a computer and iTube Studio for Mac or Windows to complete download process.
It is very Fast (Variable depending on the video file size).
It is easy to download any videos from 10,000 video sites.
It supports to download YouTube to MP3 directly.
Tutorial for Free Downloading Any Video to iPhone
Step 1. Download Any Video You Like
After you download and launch the video downloader, there will be a "Download" button on the video itself within your browser to download it. Clicking the "Download" button reveals a drop down menu that shows you every available resolution available for your chosen video, pick the one that best suits you, and the download begins. There is nothing simpler.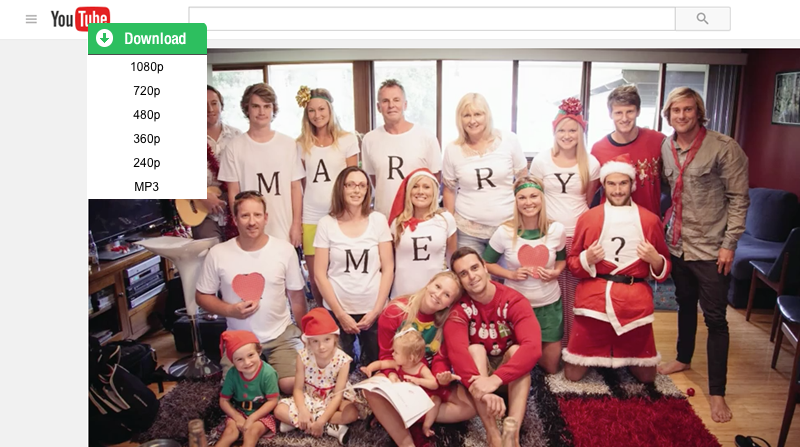 Step 2. Export Video to iPhone
Once you have downloaded the video, you can view your video listed in the "Downloaded" tab. Click on the video and it will be highlighted, you can find the "Add to Transfer List" icon on the right side of the video. Hit the icon, and the video will be added to "Transfer" menu.
In the "Transfer" menu, connect your iPhone with a USB cable, and you will see the videos waiting for transfer. Select the videos and click "Transfer" or "Transfer All" icon to start exporting the videos to iPhone.