Looking for a strong, but easy-to-use video recorder software for your next demo at work? Interested in Windows HD live-streaming or creating professional video projects? If you answered yes to any of these questions, then keep on reading to find out about the latest, most advanced video recorder software currently on the market. Whether your platform is Windows or Mac, here are the trendiest, best video recording software.
Part 1. Top 6 Video Recording Software for Mac
iTube Studio for Mac is an amazing software to make your life easier. It supports to record videos from a number of sites in your Mac like Hulu, Vimeo, Netflix, iTunes, BBC iPlayer Live, BlockBuster, Hollywood Video, CNN, Dailymotion, Metacafe, MySpace, clip Fish, MyVideo, and more. iTube Studio is the best one software for allowing you to record online video in high quality resolution and even you can make it in just one click. In addition, iTube Studio supports to download videos in batch and convert the video formats to the one you need if you want to watch them in your mobile phones.
Why Choose This Video Recording Software:
Record videos from 10,000 more online video sharing sites.
Record videos in batch and in fast speed.
Convert recorded videos into any formats.
Preset video record for your iPhone, and any devices.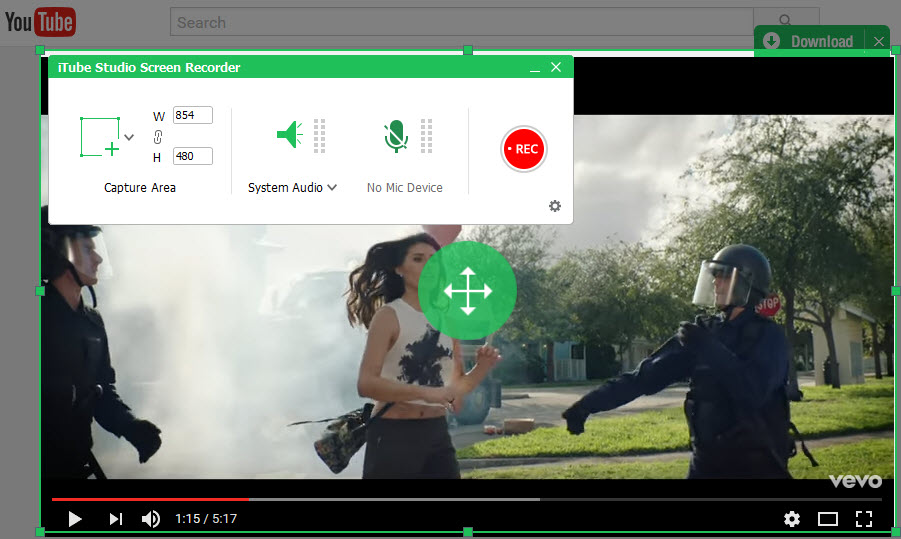 2. QuickTime Player
If you're looking for a basic, scot-free program for your Mac recordings, then you'll probably be interested to learn that Apple has a default, built-in QuickTime Player. Why is this important? Most people are unaware that this program also has the ability to do main screen recordings. If your needs are rudimentary, then you should give this simple, but effective application a try. The latest version of QuickTime also comes with several editing features in the timeline.
3. Screenflick
This software mainly focuses on recording quality and high-performance. If you're a professional gamer recording on your Mac, this is the perfect app for you. Screenflick has a five-second countdown after you hit the record button and comes with 3 recording options: a fixed location, with an immobile camera, a centered follow that constantly keeps you cursor inside the screen, and a lazy follow that moves the camera only when your cursor touches the edge of the screen. For more adjustments, you can access the advanced preferences, as well as preset shortcut keys to activate, pause and resume recordings or change camera modes. Moreover, Screenflick records your computer's audio. By using the Soundflower extension, it can also record from an attached microphone.
4. ScreenFlow
This program offers a solid structure of powerful editing tools and features and is mostly used for business-related purposes. Whether you're in need of gear to shoot your high-tech tutorial with, or you've got an upcoming job presentation and you want it to have a professional, sharp feel to it, ScreenFlow makes creating and releasing screencasts a breeze. The software features a an intuitive user interface that's similar to Apple's iMovie.
5. Screenium
This application has a lot to offer, providing its users with several conversion formats and 31 image filters, including Chroma Key and Gamma Adjust. The approachable design interface and the ease of use when it comes to the editing devices makes this program a smart, economical choice for both specialists and beginners. In terms of editing, Screenium allows you to cut clips, edit audio, do voiceovers, add text, transitions, frames and many more. In addition, you can zoom and even mute certain parts of you screencast if you want to.
6. Mac Screen Recorder Studio
This is the most detailed, comprehensive video capture software for Mac. Featuring excellent and accessible recording and editing devices, MacScreen Recorder Studio offers a playful array of editing options, including slicing or trimming videos, adding cursor effects. This software comes with flexible recording modes, timeline control and unlimited media layers, as well as several video effects, transitions and annotations that you can use to highlight useful and important sequences of your screencast. Equipped with the necessary features to brand your videos, Mac Screen Recorder Studio guarantees you'll have a set of powerful, efficient tools at your fingertips to create your next eye-catching sales presentation.
Part 2. Top 5 Video Recording Software for Windows
iTube Studio for Windows has all the key-components of a powerful, user-friendly video recording software. With a solid lineup of easy-to-use editing and saving tools, iTube Studio allows you to record videos from any sites, accepting both online and desktop sources. This means that next time you watch your favorite video on YouTube, a "REC" button will helps you record evrything. In addition to the unique online video download feature, the deep-seated player also supports URL streaming and several media formats. Via the Task Scheduler feature, you can download your online videos in batch, without any need to supervise your computer.
2. WM Recorder Bundle
This is a user-friendly application with a first-rate lineup or recording tools. With the ability to split and join both audio and video files, WM Recorder Bundle features a straightforward interface and an extensive editing device collection that's easy and quick to navigate. If you're new to video recording, but you'd like to create high-quality tutorials or tweak your presentations, then this program is perfect for you. Its accessible editing options allow for easy use, even if you're not a particularly experienced or proficient in video capture software.
3. CamVerce
CamVerce is the smartest video capture software choice in terms of editing flexibility and interface versatility. This program offers a multitude of recording devices, like adding titles and watermark, as well as resizing options. Aside from its first-rate editing and saving tools, such as multiple conversion and slicing, CamVerce allows you to record on your computer's screen, edit, draw-on-screen, export, as well as include your viewers by playing interactive files. The reason why this video recorder software is unique is that it has the option to schedule a recording for a specific day and time. Moreover, this application allows you to alter audio sources, as well as add background music or sound effects to your recordings.
4. Movavi Screen Capture Studio
This is one of the most popular and comprehensive webcam video capture software on the market. Designed to deliver exclusive, high-quality recording, both from online and desktop sources, Movavi is your go-to program if your target and platform is social media. Eliminating the need to spend heaps of money without any guarantees, this video recorder software offers solid editing and recording tools, as well as all-inclusive help and support services. In addition to its user manual, Movavi provides its customers with 24/7 support online, through video tutorials and even live chats.
5. Camtasia
Featuring an array of editing options, as well as detailed online tutorials, this freeware is suitable for both professionals and casual users. Aside from performing essential recording functions, Camtasia also allows you to use video content from various online sources, even YouTube! Whether you make videos for business or pleasure, this program is certainly worth checking out.